The Woven Belt
Durable vegetable-tanned leather
Solid brass belt buckle
Hand made in France
Back one day
Sign up here to be notified when the item is available for preorder:
What you didn't want
Beyond just being a handy way of keeping your trousers up, there are a few other things a belt needs to be. To make sure we were on the right track with our Woven Belt, we asked for your feedback. Here are the four main issues you were tired of...
1
The leather isn't strong enough 
2
They barely make it past the first bend
The leather forecast
You should be able to rely on your belt day after day, and year after year, so we made sure our leather was up to the task. 3cm large and 2.6mm thick, it's reassuringly chunky, whilst still being nice and flexible—just the stuff for our Woven Belt then.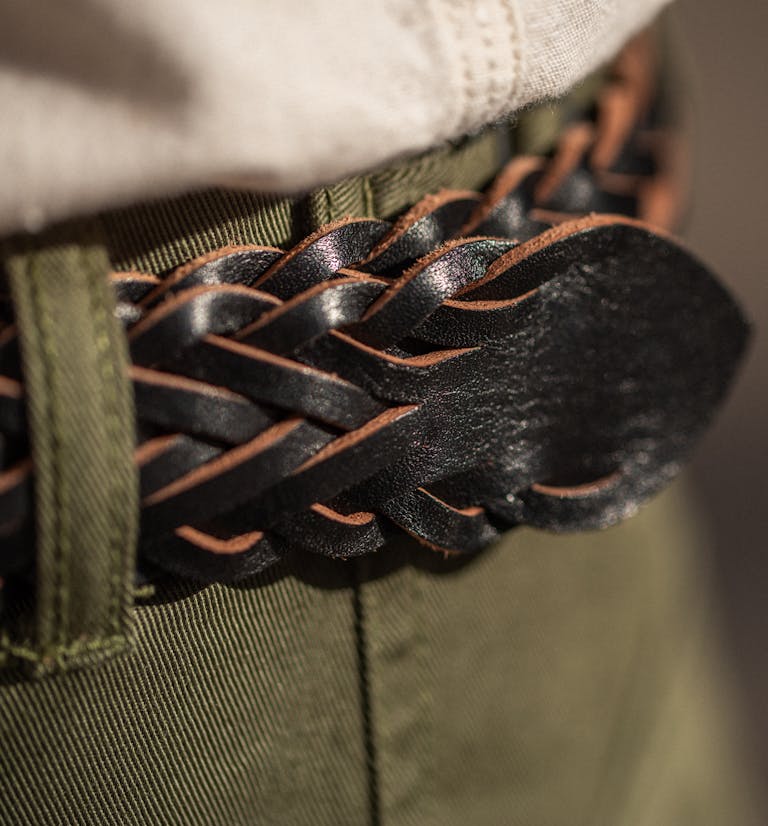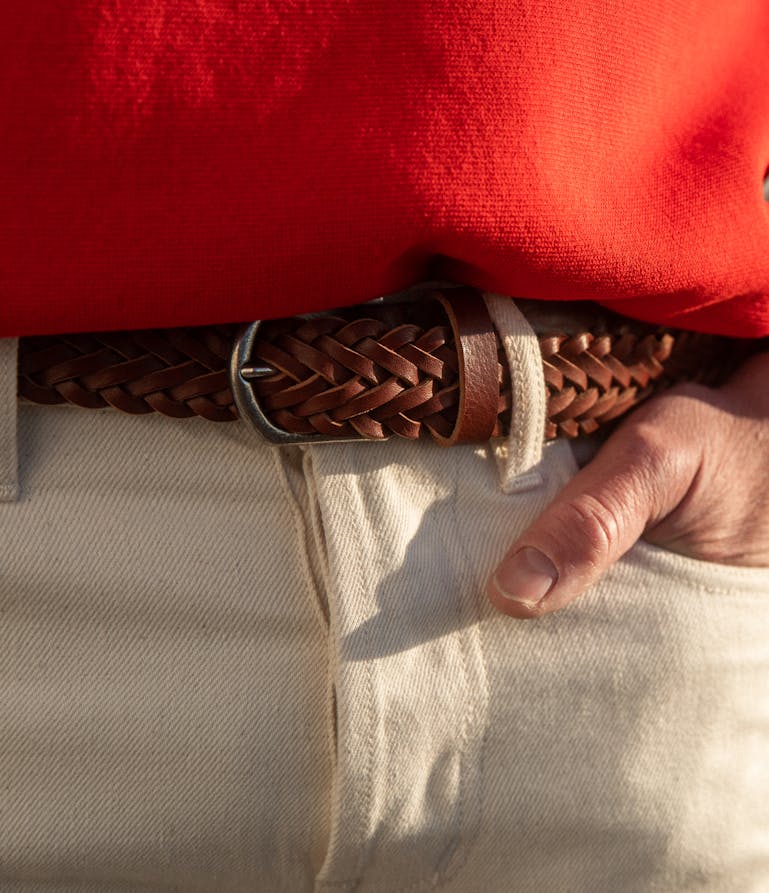 Hide and seek
Our leather is what's known in the biz as 'full grain leather'. This means it's taken from the outer layer of the hide—the strongest and most hard-wearing part. Unlike some leather, full grain is left unsanded so it retains a strong natural look that we're big fans of.
Fresh from the garden
Vegetable tanning is a traditional method of softening the leather which uses tree bark and other delights from Mother Earth's great green garden. A natural process, it's much easier on the environment than other methods like chrome tanning, and helps give a really rich patina that mere words can't really describe.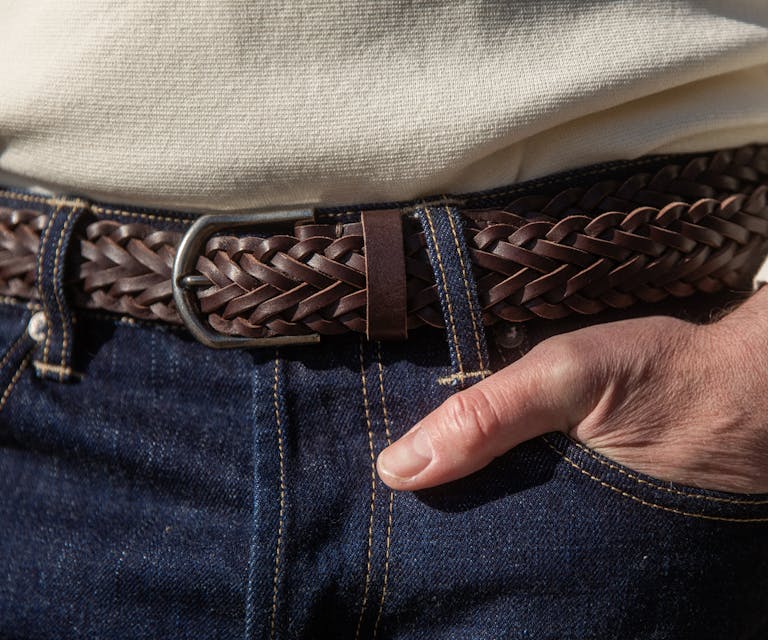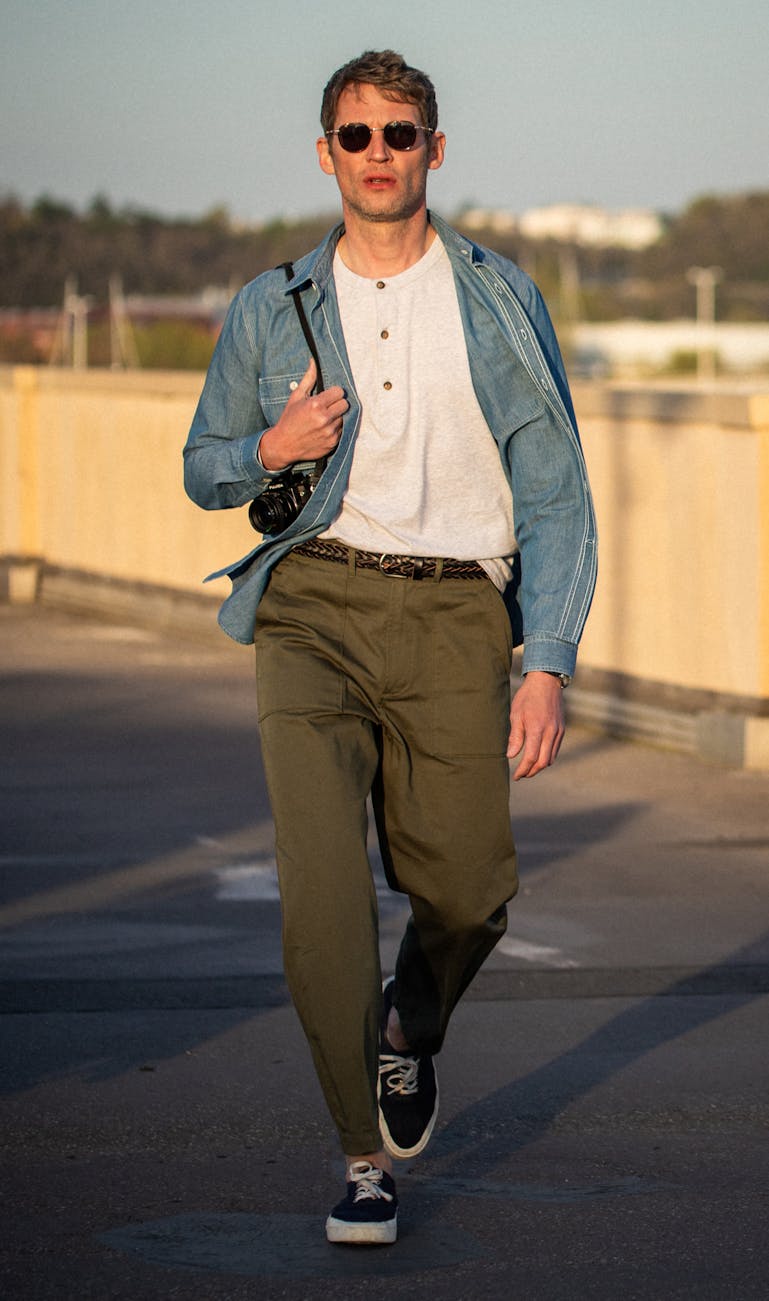 Wax on
To make sure that buckle was firmly fixed, we stitched it in place using waxed thread. An old leather workers' trick, waxing thread doesn't just make sewing through thick materials much easier, but it also strengthens the thread, gives it a better grasp on the leather and helps ward off evil spirits. Alright, that last one might have been a lie...
Buckle down
We went for a tried and tested brass buckle for our Woven Belt. It's nice and sturdy, without making you look like you're gearing up for a spot of line dancing. Not that there's anything wrong with line dancing of course, but big and brash buckles are best left to the cowboys and truck drivers of the world.
Crafty business
There's all sorts of ways to make belts these days, but woven leather belts have a certain romantic charm to them that can't really be beaten. Ours was woven in France by a family who've been honing their craft for nearly 50 years. The word 'artisan' is thrown around fairly loosely these days, but it definitely applies to this lot.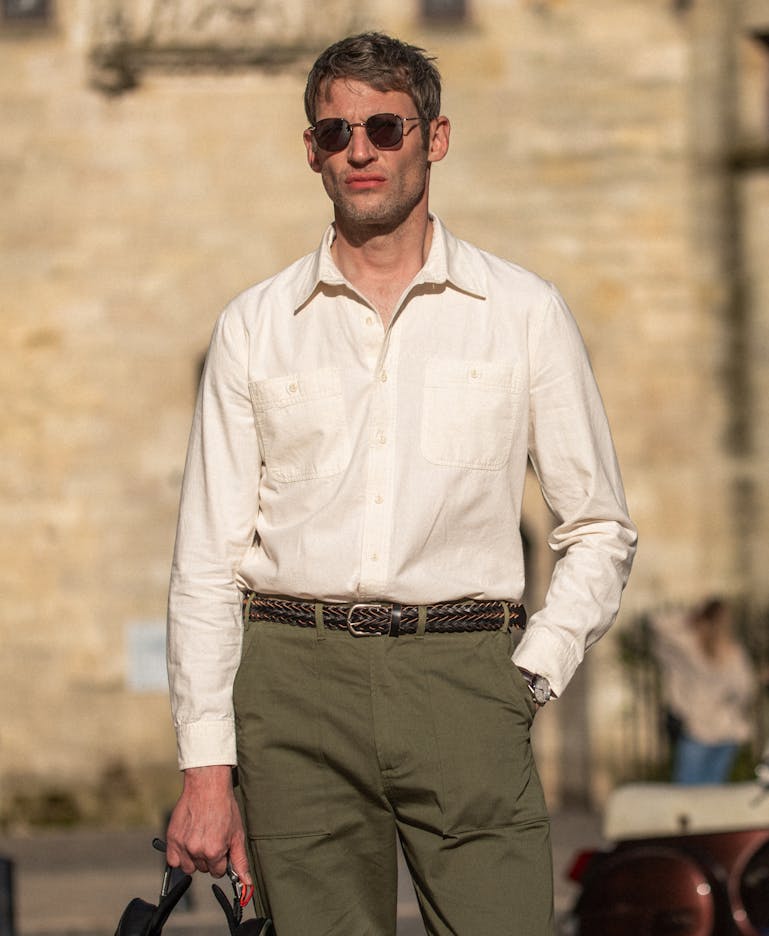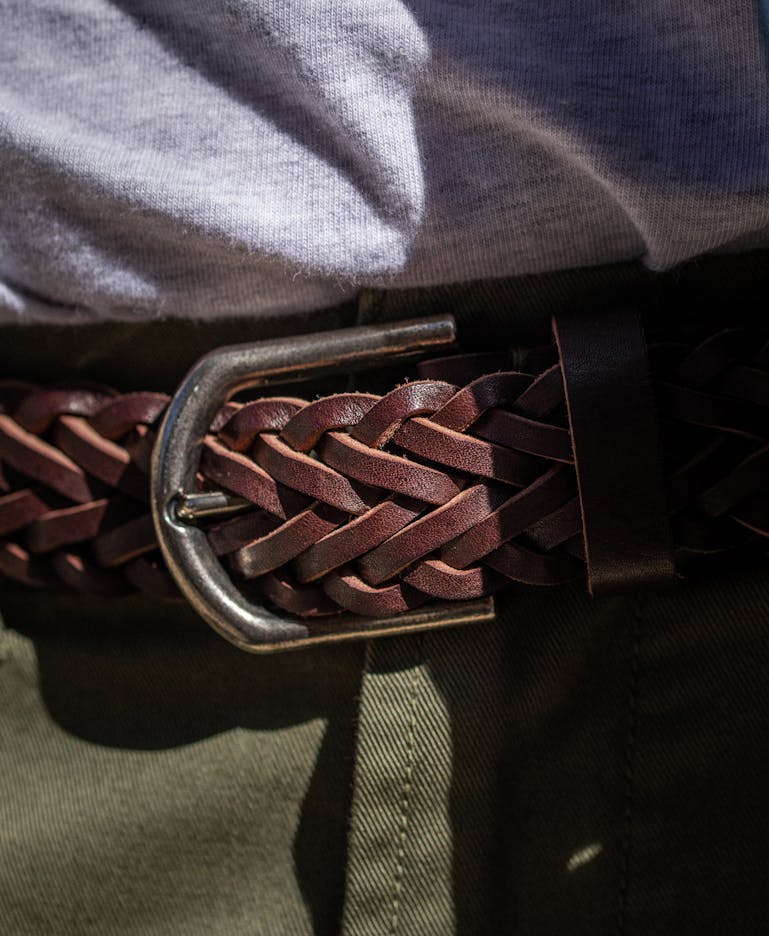 The holey grail
Ever tried to add a new hole to your belt with one of those strange hole-punching devices? Not easy, is it? Luckily the hassle is over. Because of the way our belt is woven, there's effectively endless adjustability, saving you time to do… well… whatever you want.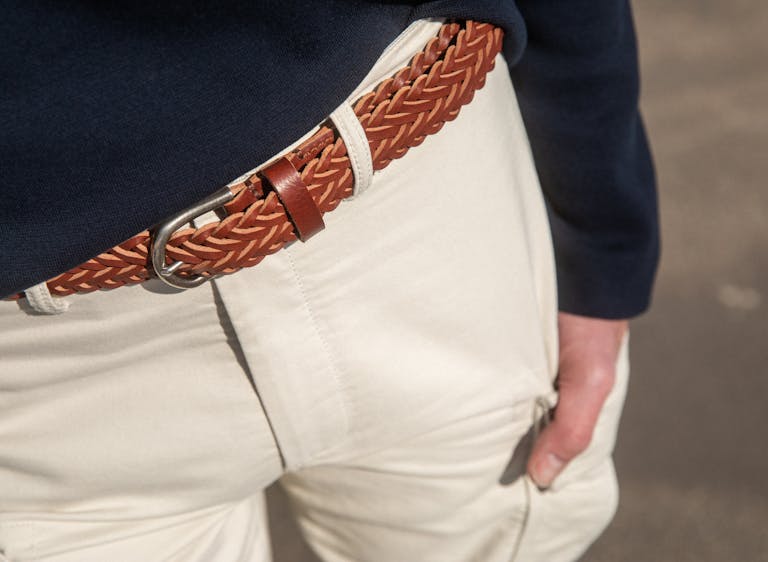 Classic colours
Classic designs deserve classic colours, so we went with three nice and natural tones that will always work. After all, you wouldn't cover a vintage Aston Martin in pearlescent paint, would you?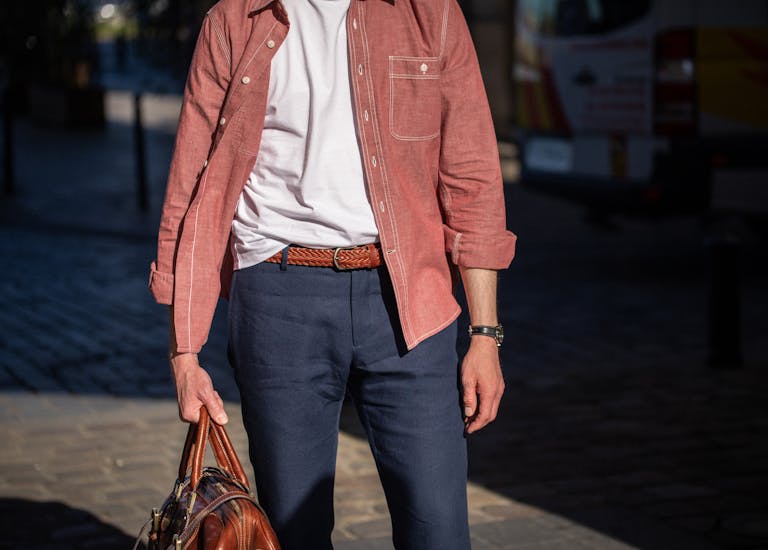 Form and function
Sort of like wearable seasoning, the Woven Belt adds a really tasty bit of hand-made flavour to any outfit. It takes the edges off anything too formal, whilst somehow simultaneously elevating the everyday. And did we mention they're one size fits all so they can stop everyone's trousers from falling down?
Traceability 
What goes into making your Woven Belt.
The materials and final garment have travelled a total of 12,324 km (7,657 miles) from field to doormat.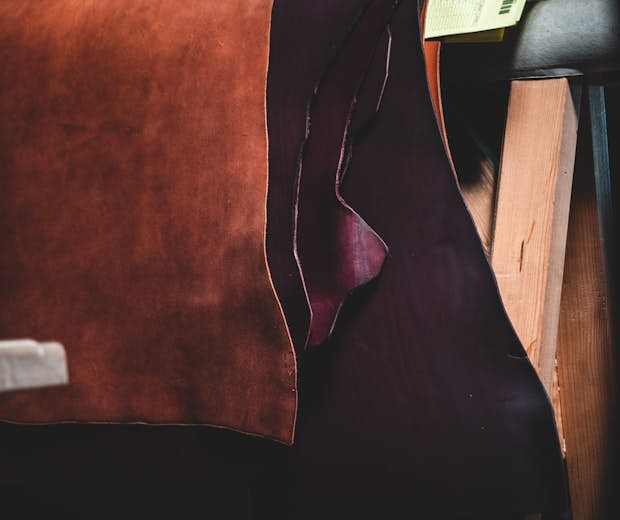 1/5
Farming
France and Switzerland

Our leather comes from French and Swiss cattle raised for meat.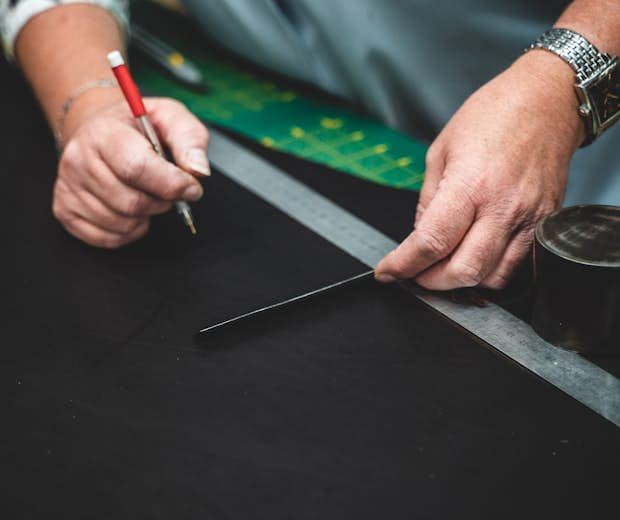 2/5
Tanning
LO STIVALE SRL Italy

Environmental certification : ISO 14001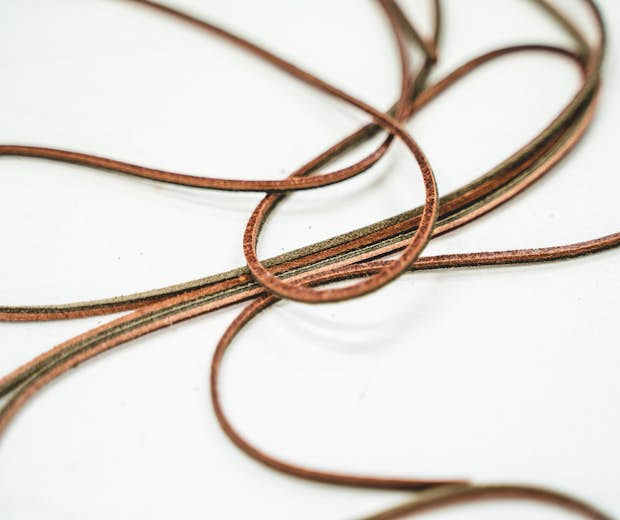 3/5
Currying
PASSARELLA SRL Italy

We fully trust their octogenarian expertise in vegetal tanning.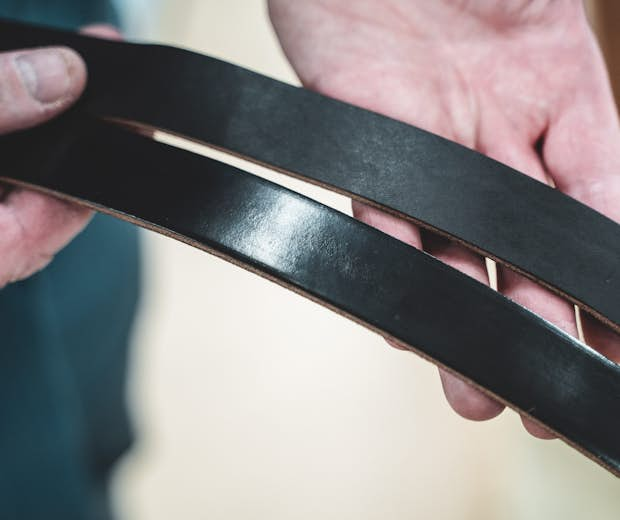 4/5
Finish
IL PUMA SRL Italy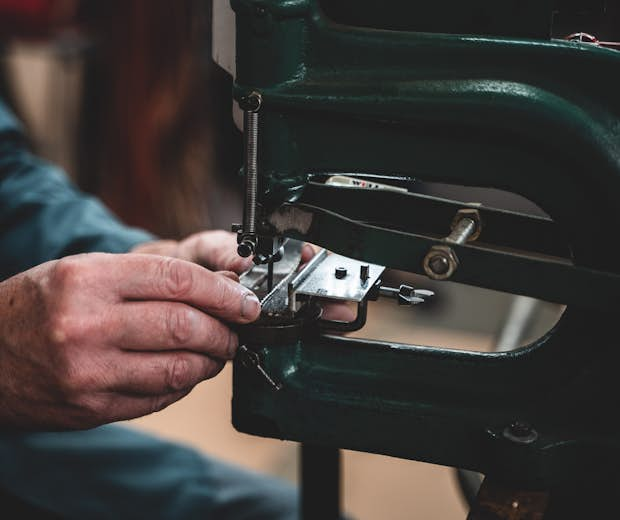 5/5
Manufacturing
ORCA France

Supplying fashion accessories since 1974, they've made a solid reputation for themselves with 500,000 belts leaving their workshop every year.
Environmental Impact 
Our aim is to always give you as much information as possible on the clothes we make so you can make an informed decision before preordering. This includes the environmental impact of each Woven Belt we produce expressed in everyday activities that we can all easily relate to. There's no point hiding from it :
1.17 kg
of CO2 emitted
equivalent to 21 kms (or 13.2 miles) travelled by car
12.3 L
water consumption
Equivalent to a 1 min shower.
18.4 MJ
energy depletion
Equivalent to 6 hours heating (in average appartment).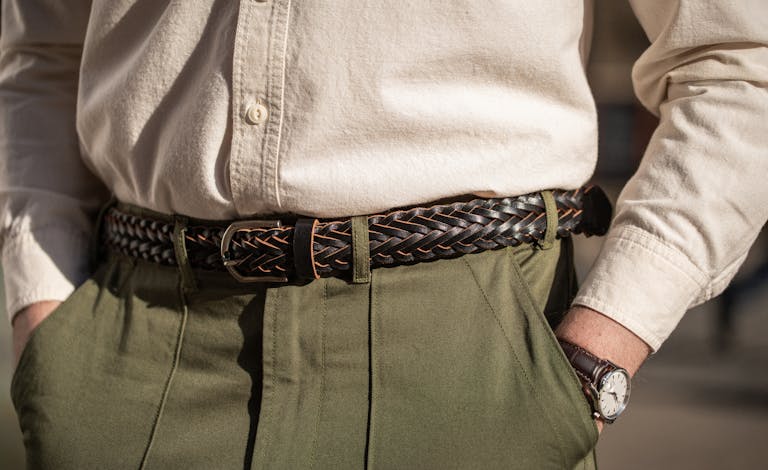 Black
Sharp and subtle, what more do we need to say?
Delivery costs
We deliver worldwide. For orders in selected European countries* including the UK, we charge a flat fee of 9€ irrespective of how much you order. For deliveries in the rest of Europe and outside of the EU, the cost is 15€.
Easy changes of size
If you get the wrong size, fear not, we accept returns and exchanges. For orders in Europe, these are free. For countries in the rest of the world, we ask you to pay the return cost and we will take care of the cost of sending out an exchange. Just log into your Asphalte account and we'll get that sorted.
Satisfied or your money back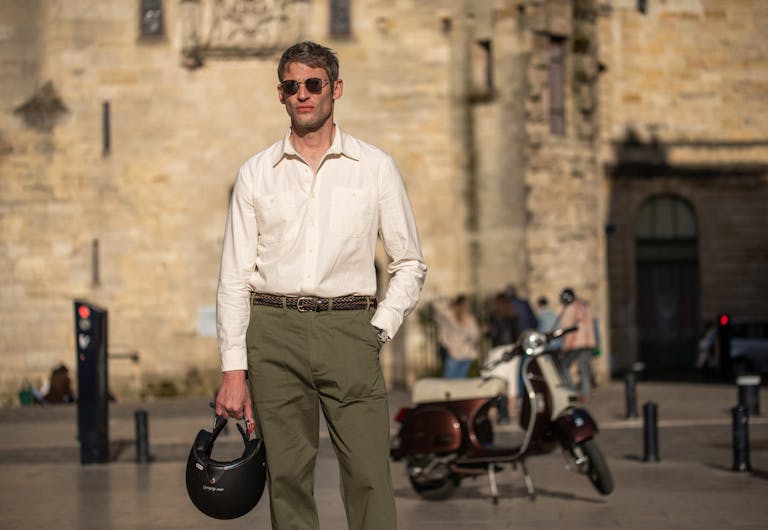 It costs nothing to try
If you ever change your mind or the product doesn't meet your expectations when you receive it, all you have to do is send it back unworn and we'll refund you. Easy.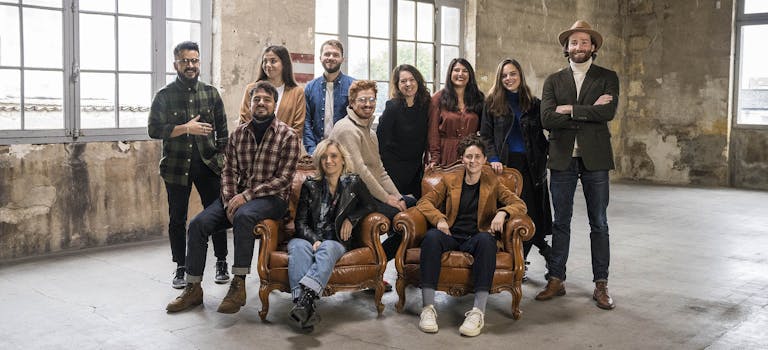 Four of us started Asphalte back in 2016. With a few years of experience in fashion under our belts, we wanted to make clothes, but not just any old clothes. Well-made clothes, designed to last, using great materials and made in good conditions. The guys we wanted to kit were our mates, who liked clothes but who weren't willing to go all out on a pair of jeans. We send them a survey to find out what they expected from a brand. Their answers were so enlightening that we opened the questionnaires up to everyone. Best decision we ever made.
Since then, you've been at the start of every clothes we make. We ask for your opinion on a product before we get busy with the design process, and that's the way forward for us.
We're not here to reinvent the wheel. We're here to make your wardrobe classics with the best materials and the best manufacturers. Above all, we're here to make things simple, stuff that you'll still be able to wear in ten years' time.
Over the last 4 years, we've gradually put together the dream team to make it happen on a larger scale. Today, there are 40 of us working to make your favourite clothes, in a quality that was once reserved for a handful of men.