The Poplin Shirt
100% organic cotton woven in Switzerland
Tailored fit and French collar
Made in Portugal
Back one day
Sign up here to be notified when the item is available for preorder:
The shirt that's smarter than you
Elegant. Comfortable. Hard-wearing. All in one garment
What you told us in the survey 
The truth can hurt. We asked for your opinion, and you shared your tales of disappointment and bitter frustration. We're talking about the search for the perfect shirt – one of the holy grails in a man's wardrobe. 
Very, very few of you have THE perfect shirt it turns out. That versatile shirt to wear for special occasions – or for every day. We share your experience.
If the collar's not too small, the sleeves are too long... and then, just when you think you've found the perfect shirt, after a couple of washes, the fabric melts like snow in the sun. 
All 1,374 of you who responded to our survey more or less agreed that the top 4 problems are:
2
The collar doesn't hold up
The shirt with no compromise
Poplin perfect
To guarantee elegance, comfort and durability, we've chosen a poplin made of 100% organic cotton by Stotz, the renowned Swiss fabric maker. The tight weave keeps the feel supple and the fabric resistant. Our poplin comes in at a weight of 125g/m2. Ideal for wearing all year round. It's good to think smart.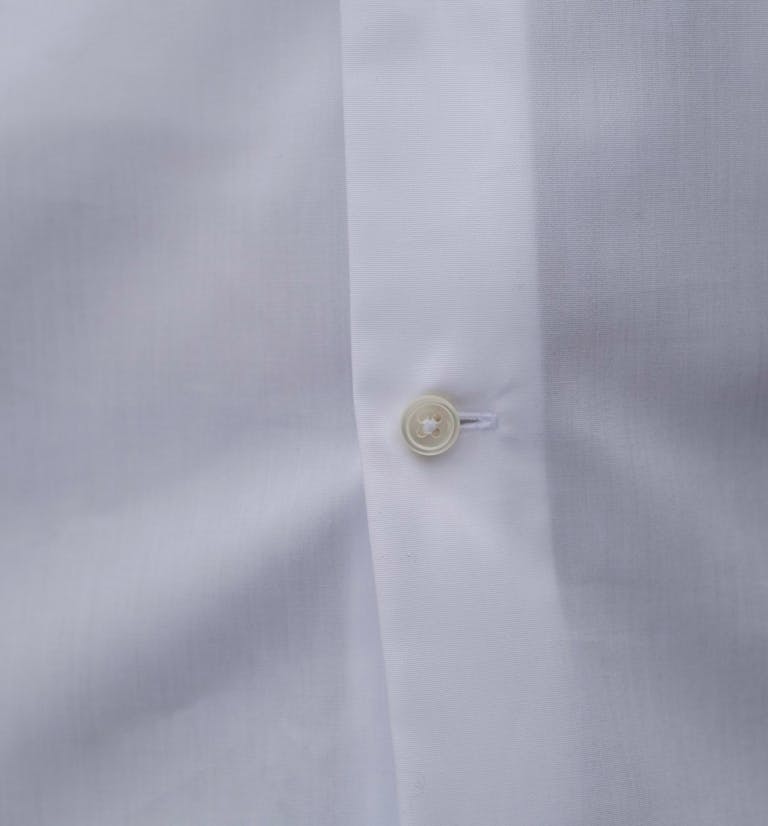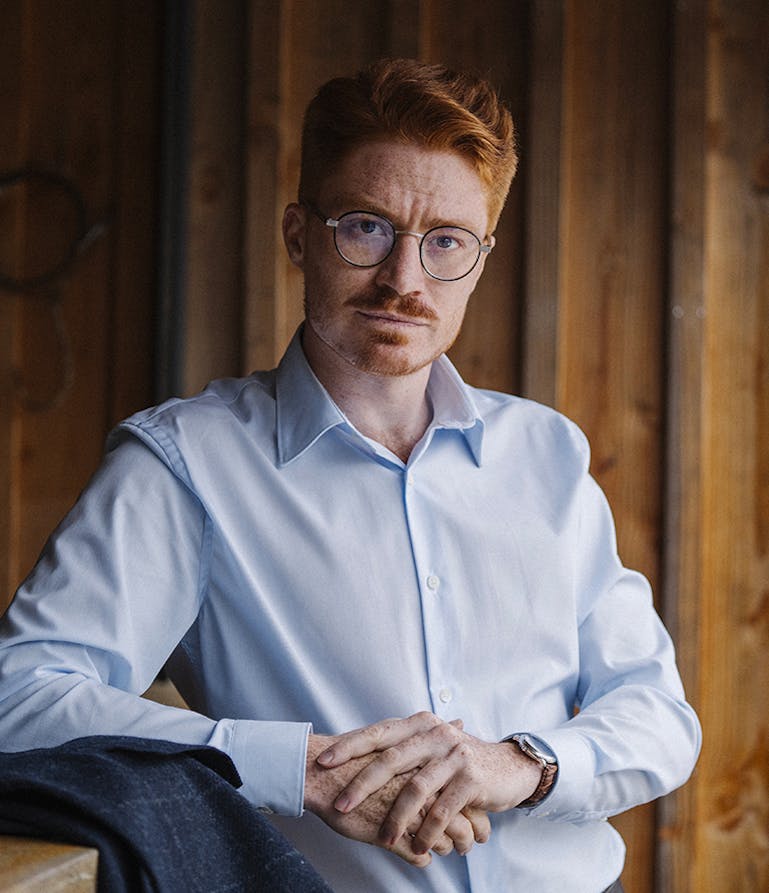 Twice is better than once
Fabric is woven by crossing lengthwise (warp) yarns with crosswise (weft) yarns. That much we all know. Well, we make the warp and weft yarns of our poplin by twisting together two strands of spun fibre to form one thread. That's called 'double-twisting'. This makes for a really durable fabric with a smooth appearance. 
Tucked and tailored
You asked us to make the cut slim, so we did. It's more tailored than for our other shirts and no back pleats in sight. And because there's nothing worse than a shirt that comes untucked we've added an extra 3cm to our usual length. That way, everything stays put.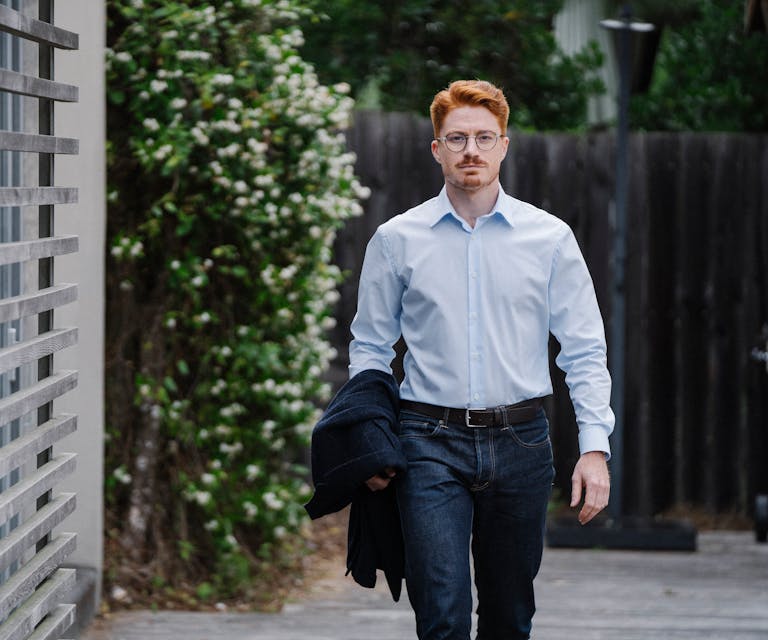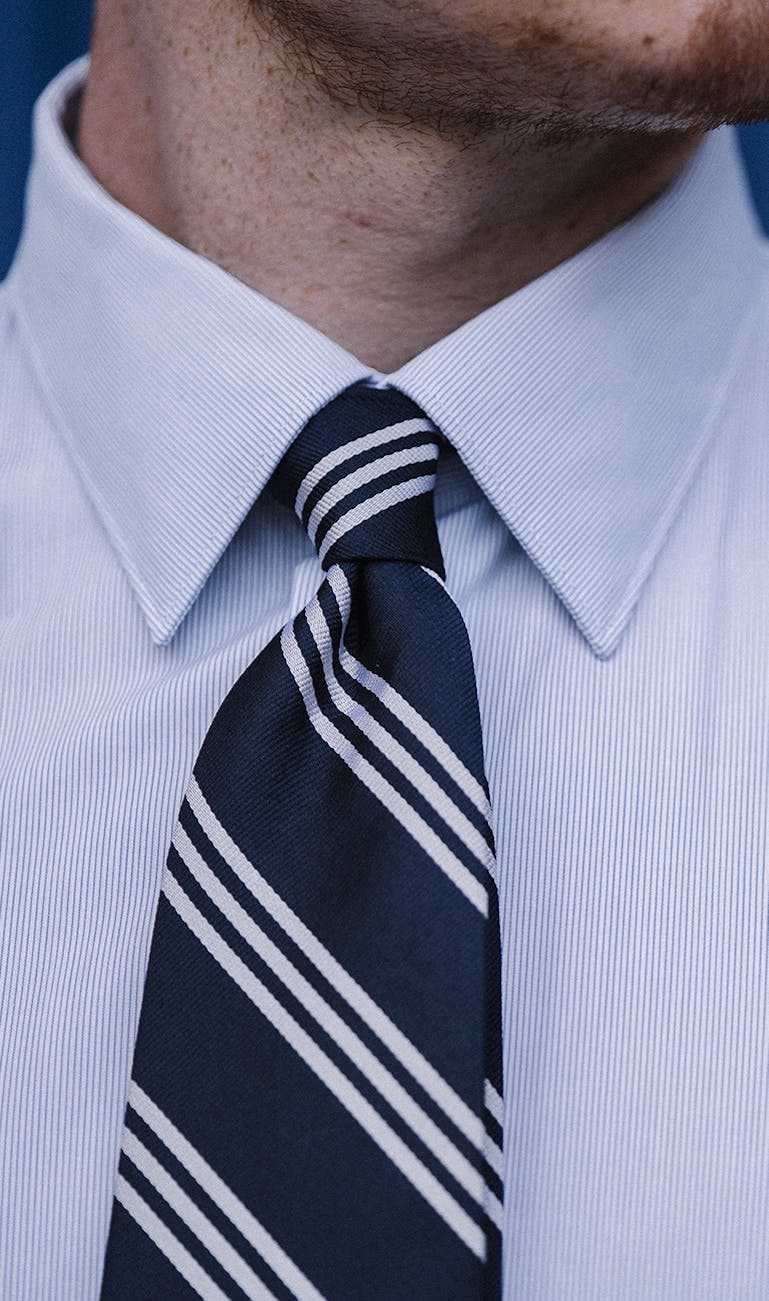 Tying up the collar
You said it. Collars are complicated: too small, too big, too stiff, too soft …. and to collar it all, the stays slip out of place. We kept our shirts on, staying cool and calm, and the result is a well-proportioned, fitted French collar with a spread (between collar points) that's just right and a 6.5cm point length. Ideal for wearing with or without a tie. 
Straight to the point
A shirt is all about the collar, so we got straight to the point and opted for a 'fused' collar, using a strong, thermobonded interfacing for easy maintenance. We also inserted non-removable stays to keep the collar points well defined and in place. It's all good, they're invisible, they wash and iron well… and they stay in place.
Making the cuffs pop
The cuffs feature the same strong thermobonded interfacing as we used on the collar. (We're not talking pyjamas here.) We've given them a stylish right-angle cut and, to make them adjustable, we've added two buttons made out of sleek and durable mother-of-pearl.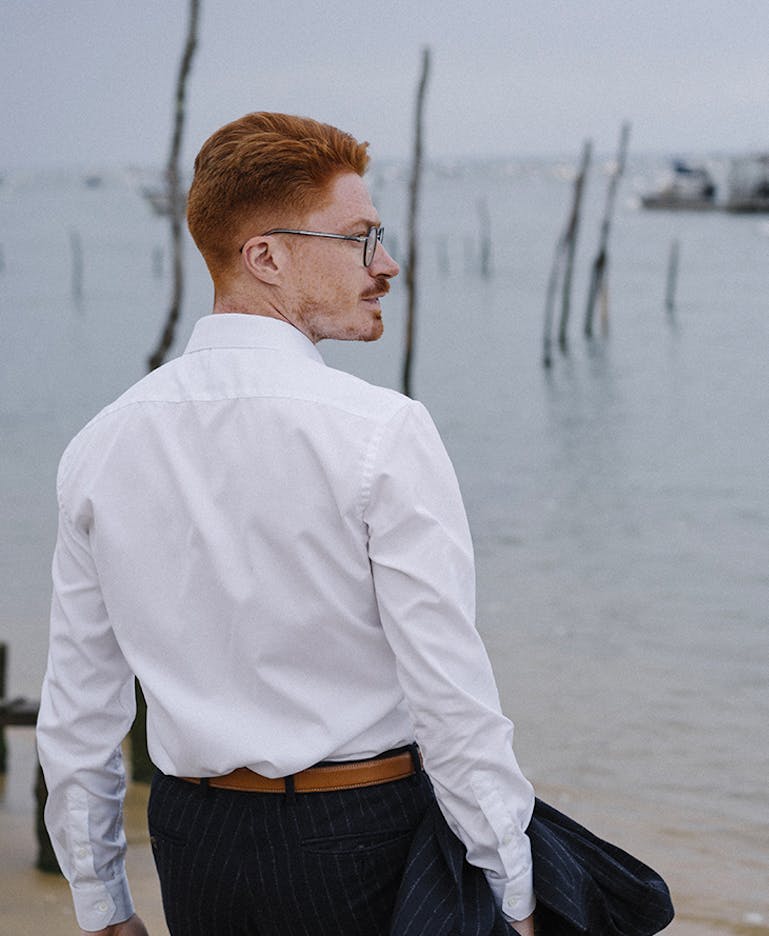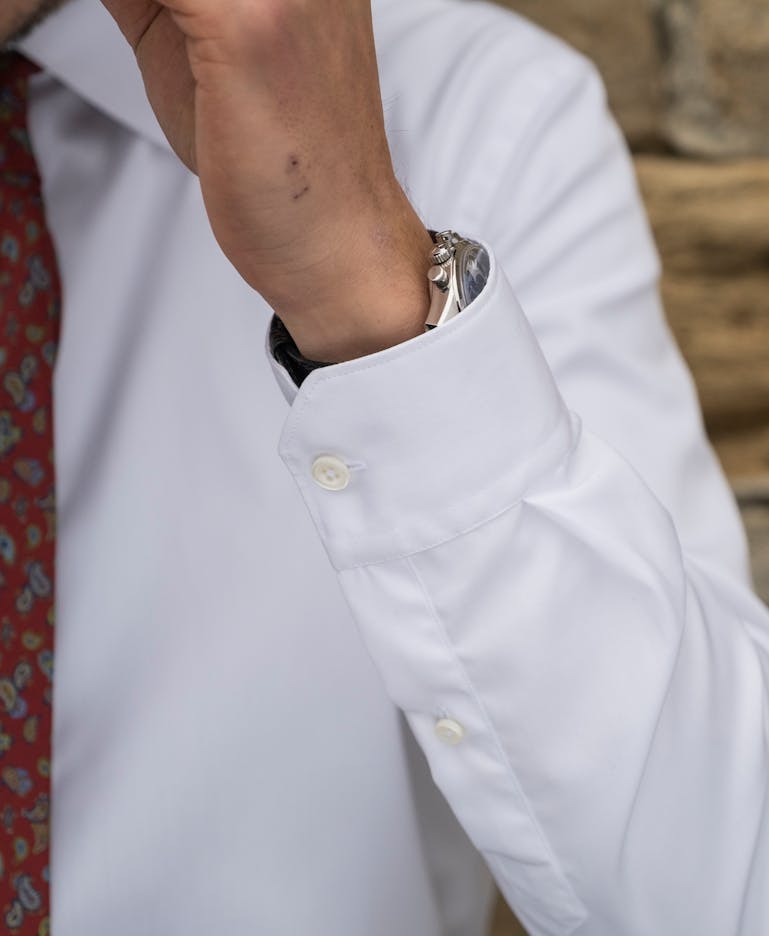 Stitching up the strength
We've worked on every angle of our Poplin Shirt, and not just on the collar and cuffs. The side seams are double-stitched to make them extra strong. And we've double-stitched the armholes. Well yeah, it's not all just about the looks – there's also the strength to think about.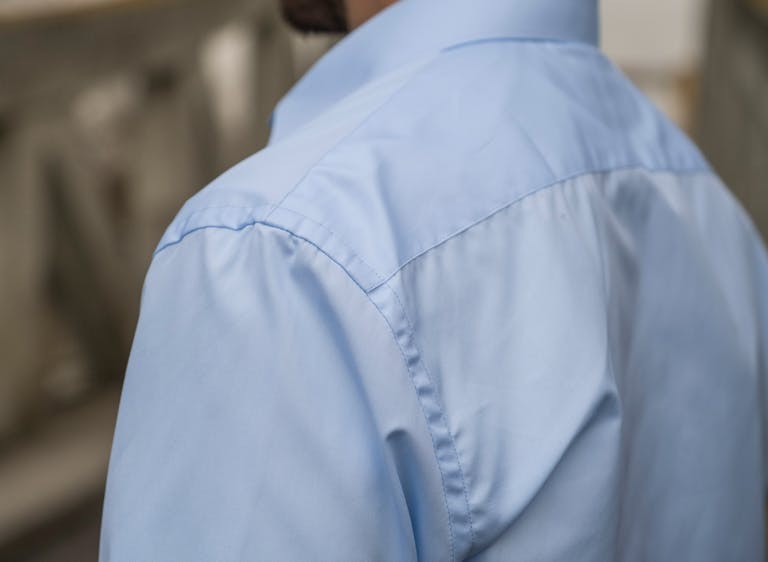 Up front
We like to get the details right…and no less the finish. We've gone for a plain front – to keep the look smooth and stylish; with a 7cm fold for the button placket, single buttonholes, and cross-stitched mother-of-pearl buttons. Buttons are easily lost, so we've given you two spares. Just in case. We like to look after you.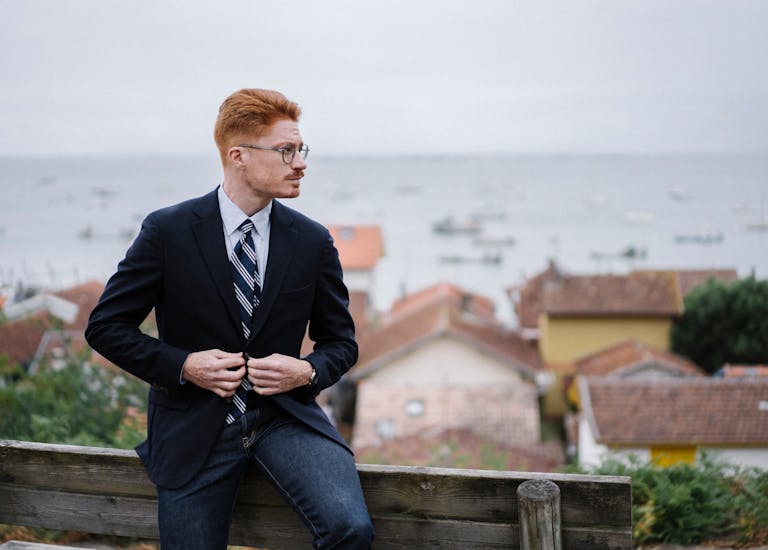 Finding your shirt
The search for the perfect shirt can be frustrating. We hear you. With your help, we're bringing you a shirt that ticks all the boxes. Our Poplin Shirt will take you from that special occasion to everyday wear. And that's for the long term.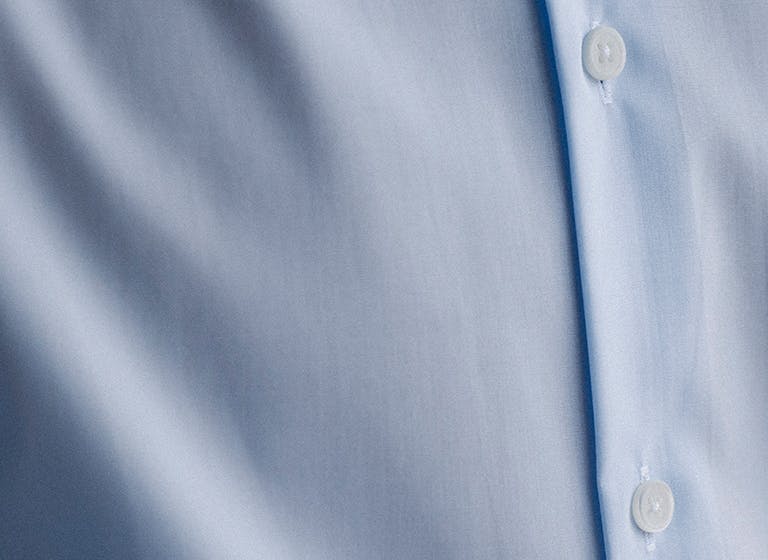 In GOTS we trust 
We opted for a GOTS-certified organic Supima cotton from the United States. The fibre is 35% longer, if not more, than the norm, making it stronger and more durable. Cotton on to that.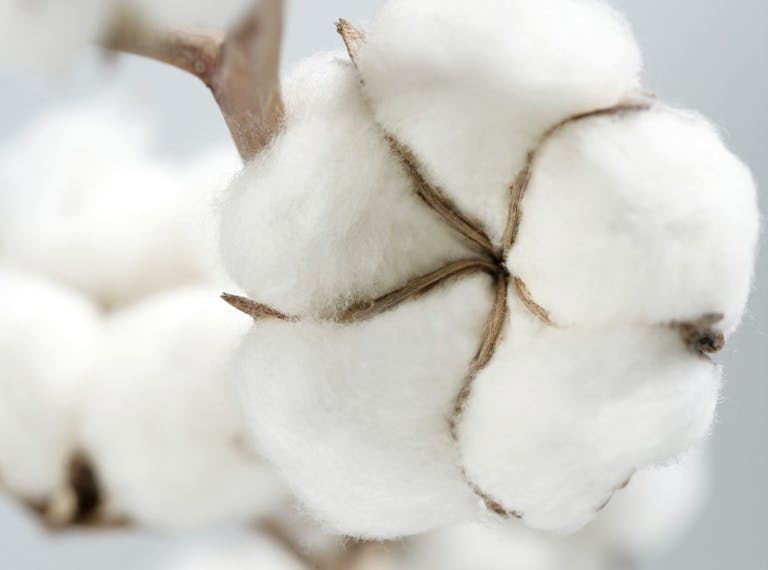 GOTS of organic
Growing organic cotton uses less water and avoids the use of chemicals that harm the environment and the health of farm workers. The GOTS certificate is the most stringent standard for organic farming in textiles. There you have it.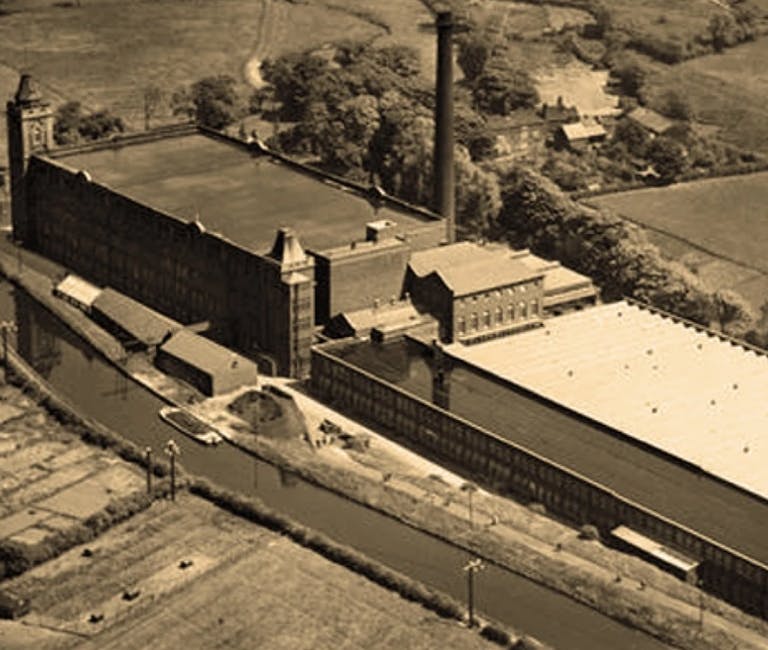 Stotz, made in Switzerland
Our poplin fabric is made by Stotz & Co in Switzerland. We source the all-weather cotton material that goes into our raincoat from the same mill. Stotz has over 75 years of experience, and they're passionate about what they do.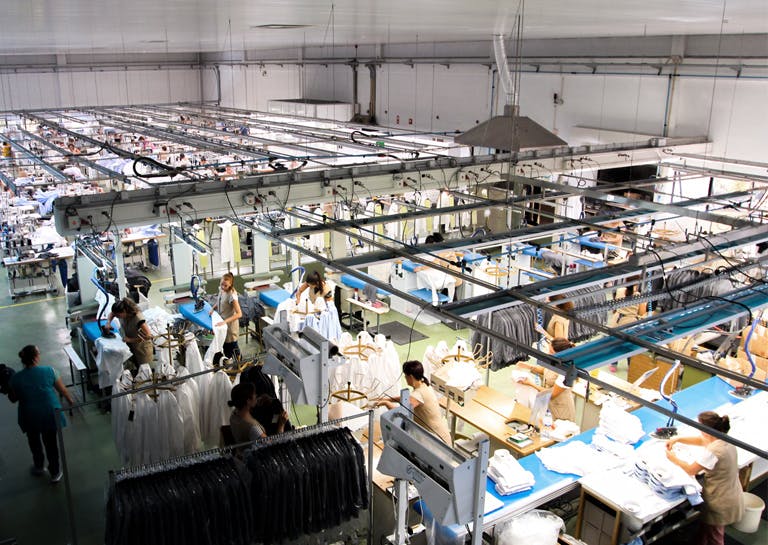 Poplin, por favor
Our Poplin Shirt is being made by Vermis, in northern Portugal. We're in good hands. They have 30 years of experience in shirt-making. We know them through Ribul, one of our long-term partners. 
Environmental Impact
Our aim is to always give you as much information as possible on the clothes we make so you can make an informed decision before preordering. This includes the environmental impact of each Poplin Shirt we produce expressed in simple terms that we can all easily understand. There's no point hiding from it :
3,19 kg
of CO2 emitted
Equivalent to 58 kms (or 124 miles) travelled by car.
87 L
water consumption
Equivalent to 1 five min shower.
64,4 MJ
energy depletion
Equivalent to 22 hours electric heating (in an average appartment).
Delivery costs
We deliver worldwide. For orders in selected European countries*including the UK, we charge a flat fee of 9€ irrespective of how much you order. For deliveries in the rest of Europe and outside of the EU, the cost is 15€.
Easy to change sizes
If you get the wrong size, fear not, we accept returns and exchanges. For orders in Europe, these are free. For countries in the rest of the world, we ask you to pay the return cost and we will take care of the cost of sending out an exchange. Just log into your Asphalte account and we'll get that sorted.
Satisfied or your money back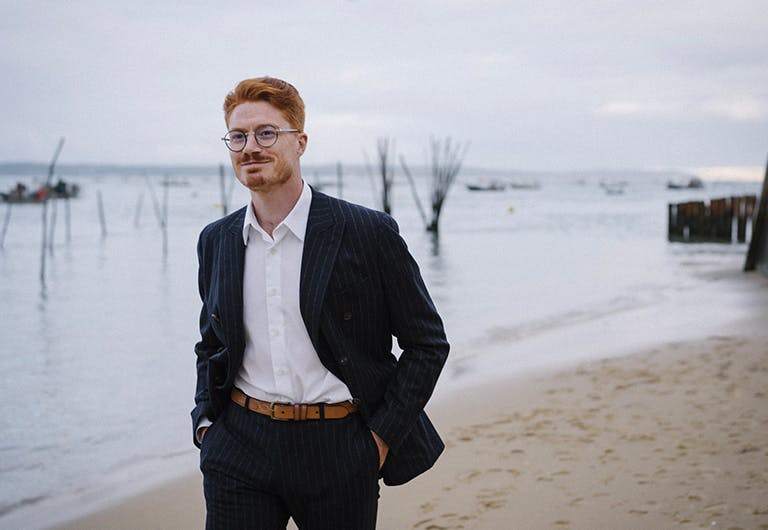 It costs nothing to try
If you ever change your mind or the product doesn't meet your expectations when you receive it, all you have to do is send it back unworn and we'll refund you. Easy.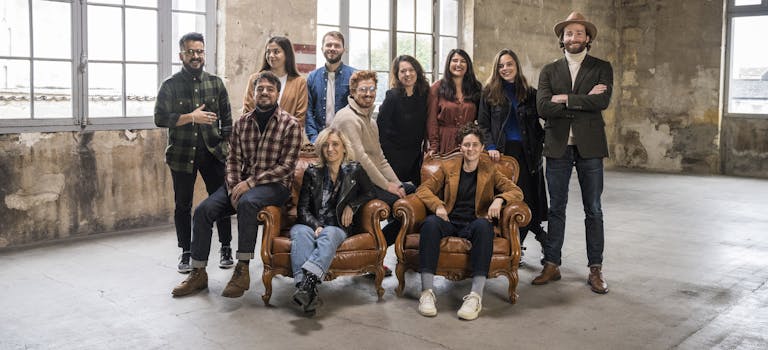 Four of us started Asphalte back in 2016. With a few years of experience in fashion under our belts, we wanted to make clothes, but not just any old clothes. Well-made clothes, designed to last, using great materials and made in good conditions. The guys we wanted to kit were our mates, who liked clothes but who weren't willing to go all out on a pair of jeans. We send them a survey to find out what they expected from a brand. Their answers were so enlightening that we opened the questionnaires up to everyone. Best decision we ever made.
Since then, you've been at the start of every clothes we make. We ask for your opinion on a product before we get busy with the design process, and that's the way forward for us.
We're not here to reinvent the wheel. We're here to make your wardrobe classics with the best materials and the best manufacturers. Above all, we're here to make things simple, stuff that you'll still be able to wear in ten years' time.
Over the last 4 years, we've gradually put together the dream team to make it happen on a larger scale. Today, there are 40 of us working to make your favourite clothes, in a quality that was once reserved for a handful of men.