The Ultimate Jeans
Japanese Selvedge 14oz denim
Reinforced seams
Tapered leg
Back one day
Sign up here to be notified when the item is available in stock:
What have your jeans been up to?
Your go-to jeans need to be as comfortable as they are reliable. We asked you if that was indeed the case with your jeans, and you told us many've been up to no good. We heard what you wanted:
1
A durable denim that doesn't tear or wear out too quickly
2
A tapered leg with a cut that lets your thighs breathe
3
A comfortable denim that doesn't box you in
4
Pockets and loops that don't give up on you.
JAPANESE DENIM
A proper old school tough nut woven on traditional shuttle looms with a signature sturdy hand that mellows gracefully over time.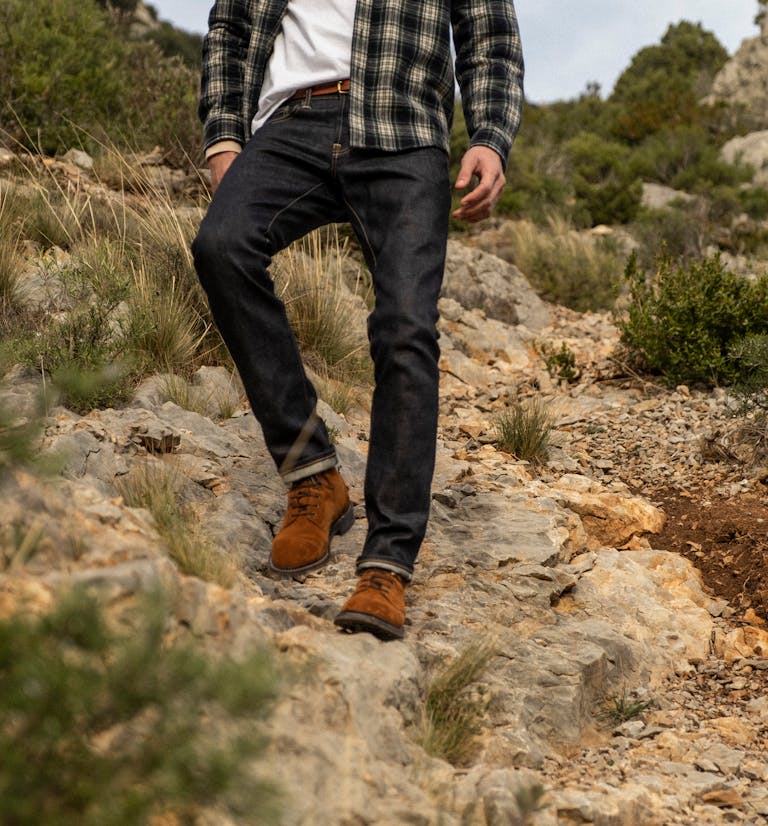 TAPERED LEG
The ultimate cut, not tight around the thighs or slim at the hem (17cm - 7" - for a size 30). It gives a gently tailored look that's comfortable and allows your jeans to adapt to your body shape.  
COTTON ON
The Rinse (pre-washed) and Stone jeans are all 100% cotton. The Raw has a 5% Polyurethane content in for comfort. After a few weeks of wear, the crisp raw denim'll ease up and mellow just like its other 2-legged friends.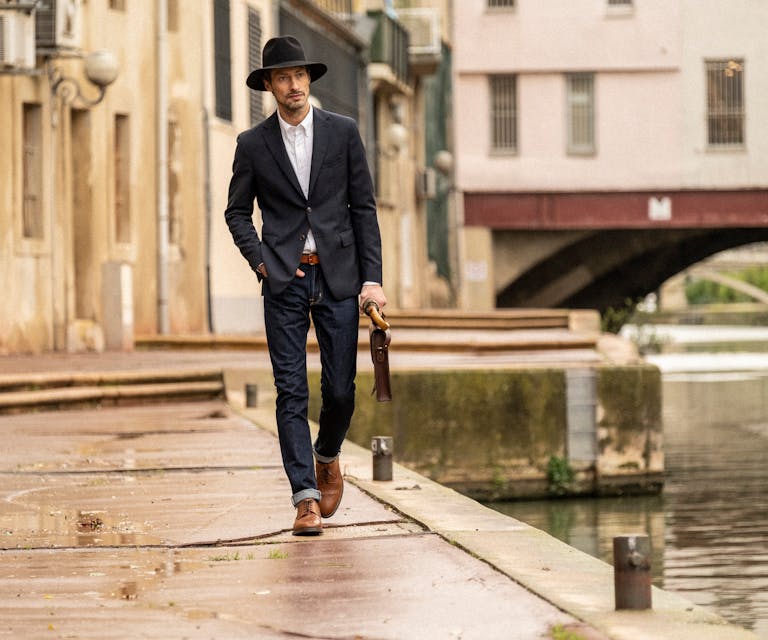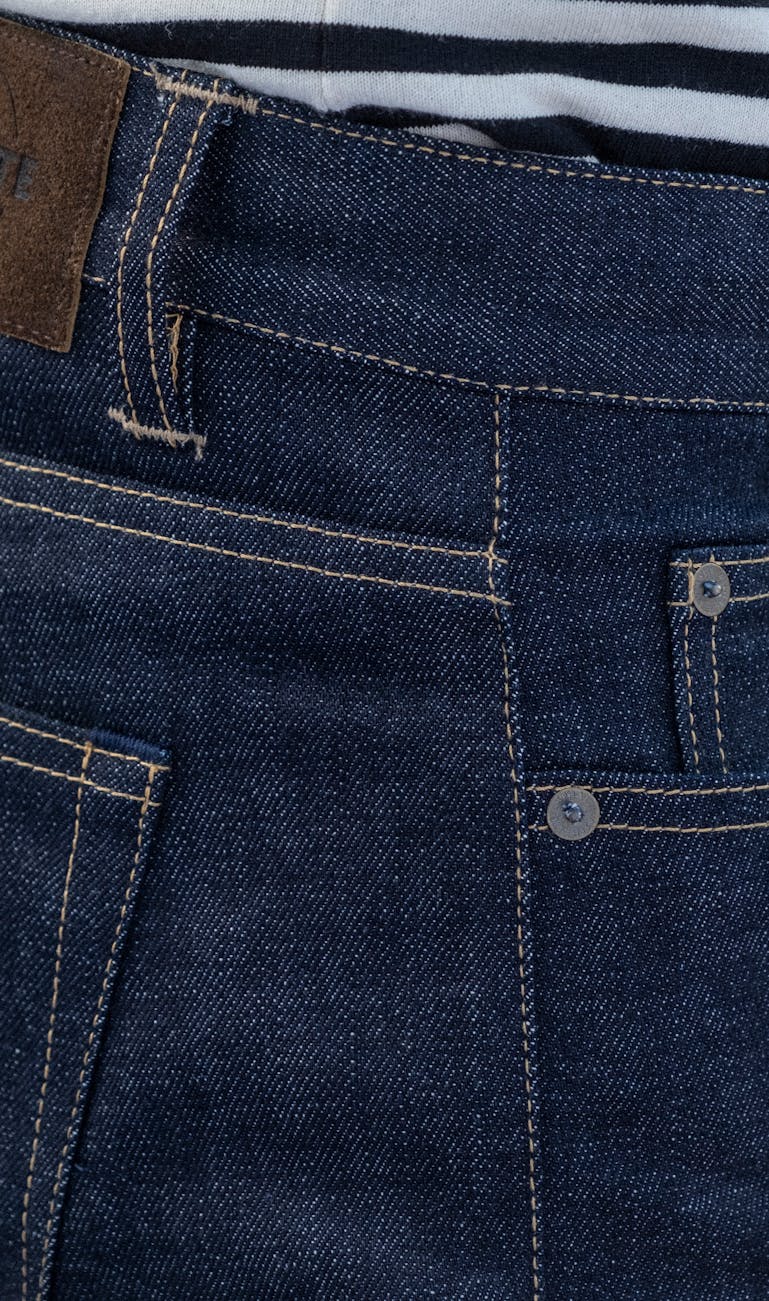 SOLID STITCH
We reinforced the seams and overlocked the inside leg for greater durability. The inside leg's thinner, which minimises friction without compromising on durability.
METAL-HEAD
The buttons are all made of zamak, a resistant metal alloy. 
The purists out there will appreciate the brass rivets fastened to the denim with a fabric washer. The old ways are sometimes the best ways.
DAY IN DAY OUT
Your Ultimate Jeans will soon feel like a second skin. We've been wearing ours for close to 3 years and they've only become better with time.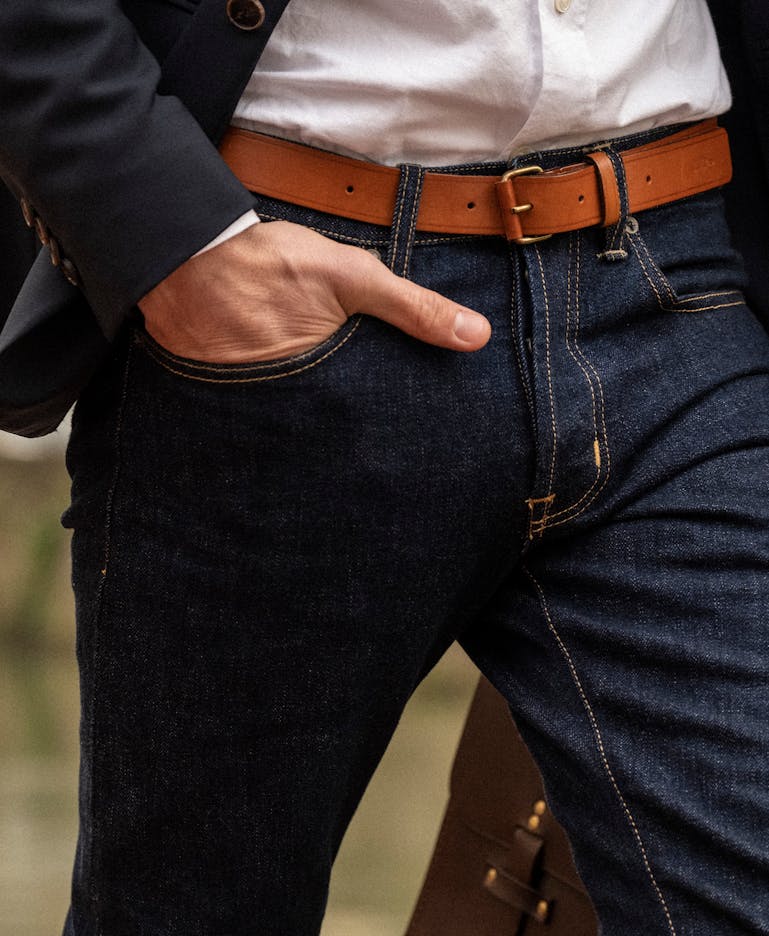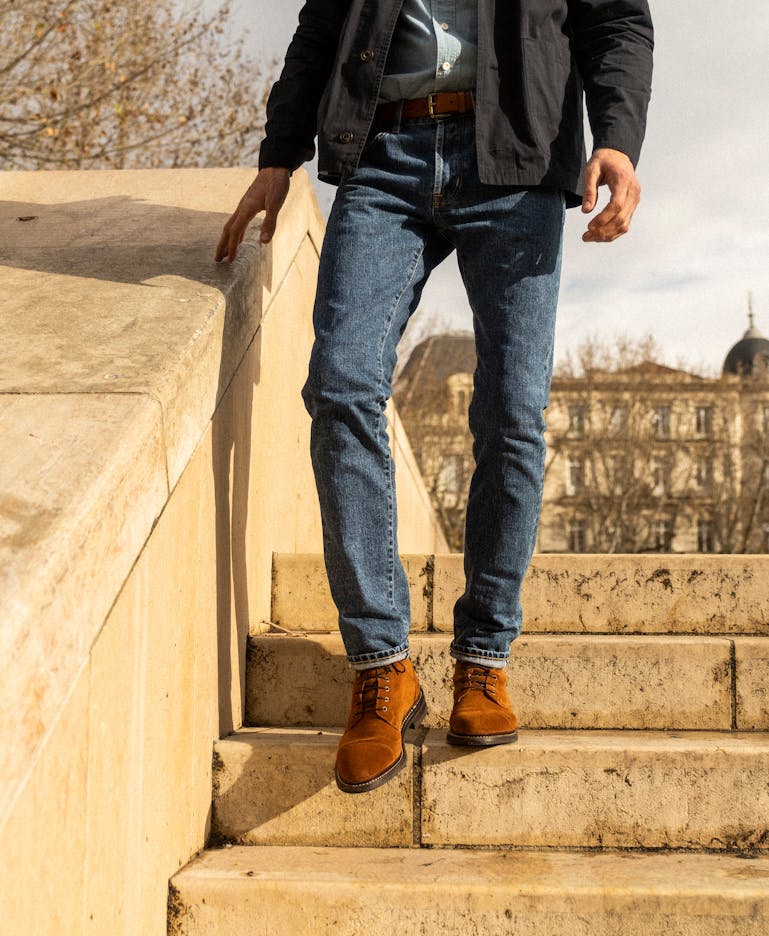 THICK AND SNUG
An imperial 14oz Japanese selvedge (400g/m2), which is heavier than your average (11-12oz). Some Japanese brands will go even thicker. For us, 14oz struck the goldilocks balance between durability and comfort and you don't feel like the tin man.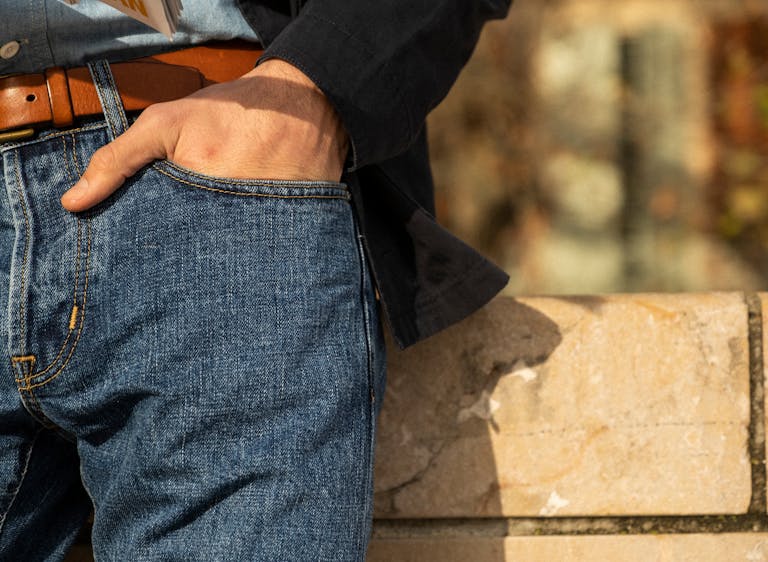 DEEP POCKETS
The pocket bags are deep (26 cm - 10") so you can carry your essentials without printing the outlines on your thighs every time you sit down. We added an extra line of stitching to fend off any attack from sharp-edged keys.
EXTRAS
We never stop until we've taken care of all the finishing details. For the Ultimate Jeans that means chain-stitching the hem and signature selvedge edge. These things matter.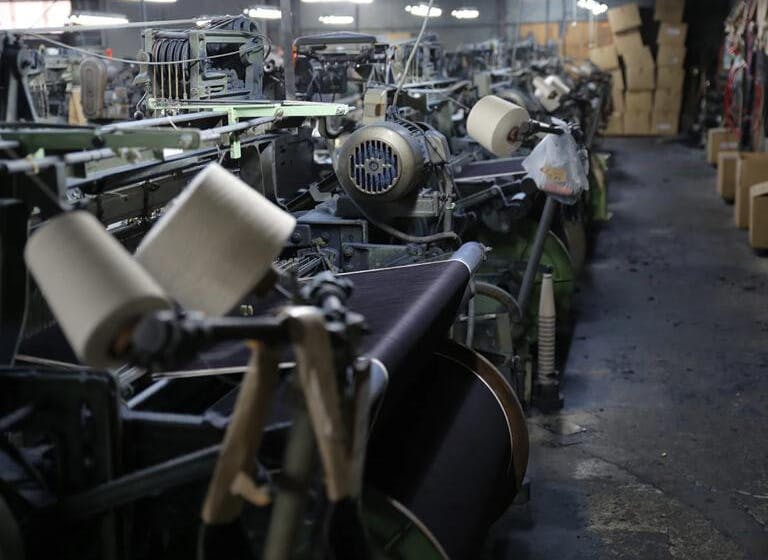 The art of jeans
We found the selvedge denim for our Raw, Rinse and Stone at Collect Fabric, part of the renowned Japan Blue Group. The good stuff's made in a workshop of a dozen people called Shinya.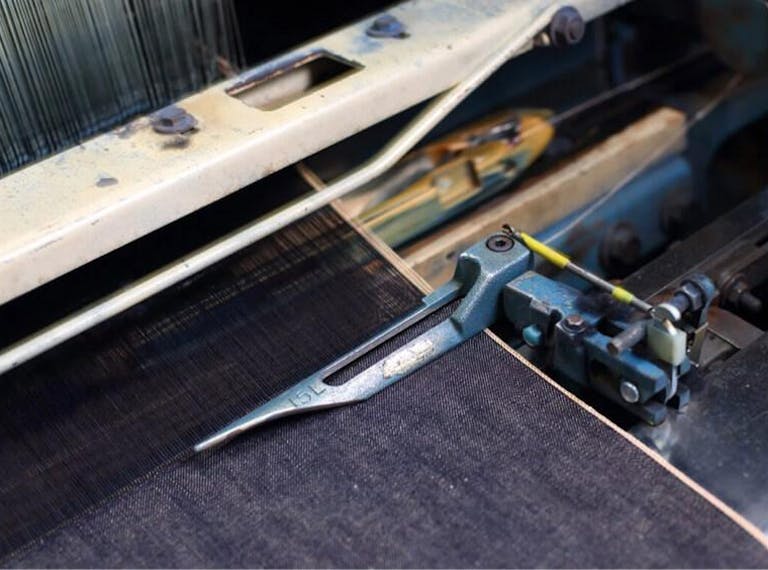 Slow denim
Selvedge denim is made on old shuttle looms. Quality selvedge weavers only manage an output of about 50m per day compared to 350m for standard denim on modern machines. What they lose in volume they make up in quality, the unique selvedge characteristics are the product of taking your time.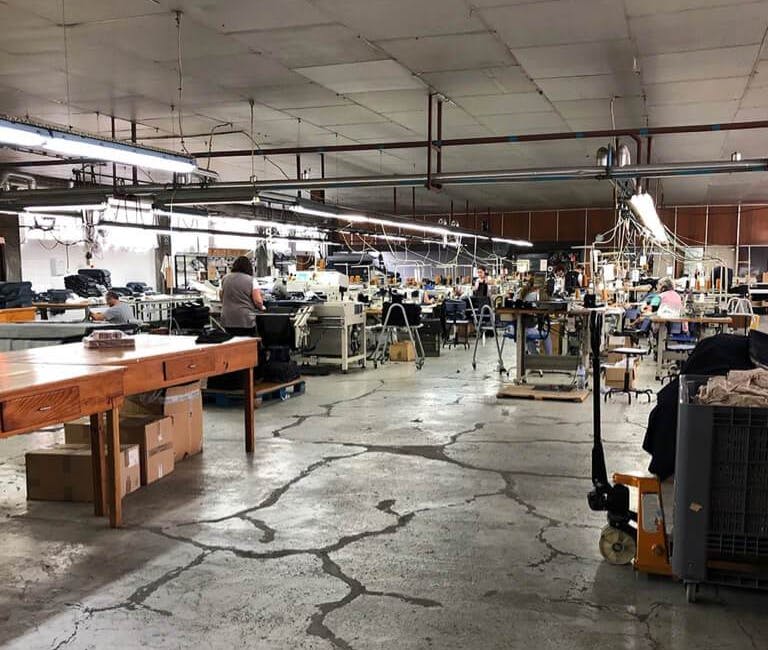 Produced in Portugal
All 3 denims are sent from Japan to our partner CM Borges, close to Porto to be made up into jeans.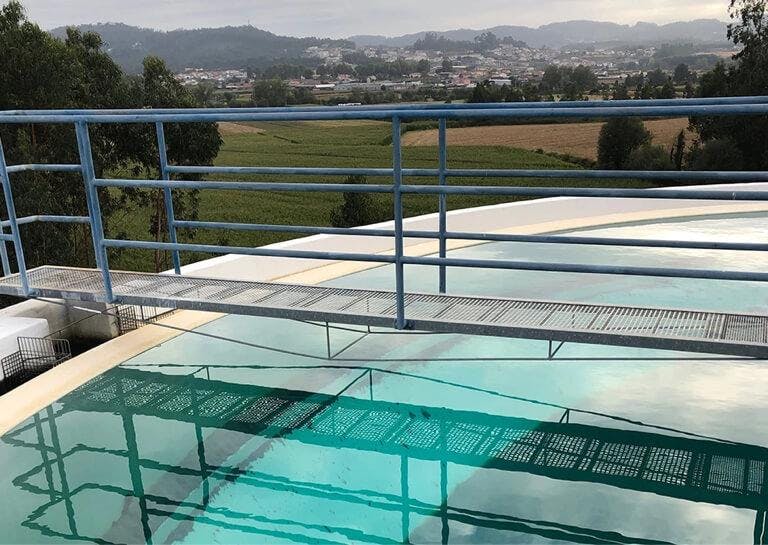 Washed with care
IVN is a specialised denim-washer just a few minutes down the road from CM Borges. They are OEKO-TEX certified. Also, 100% of the water they use is recycled, ½ of which in closed-circuit. That means they use half as much water as traditional finishers.
Environmental Impact
Our aim is to always give you as much information as possible on the clothes we make so you can make an informed decision before preordering. This includes the environmental impact of each pair of Ultimate Jeans we produce expressed in simple terms that we can all easily understand. There's no point hiding from it: 
6.90 kg
of CO2 emitted
Equivalent to 61 kms (or 38 miles) travelled by car.
1,330 L
water consumption
Equivalent to 19 five min showers.
93.9 MJ
energy depletion
Equivalent to 31 hours of electric heating (in average appartment).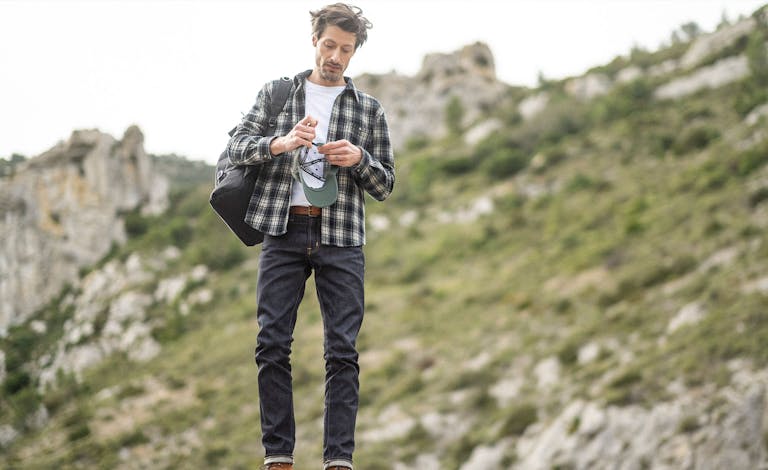 Raw
The original denim jeans, as crisp as a Japanese lantern and a beacon for all purists. Break them in the way you want to.
Delivery costs
We deliver worldwide. For orders in selected European countries* including the UK, we charge a flat fee of 9€ irrespective of how much you order. For deliveries in the rest of Europe and outside of the EU, the cost is 15€.
Easy changes of size
If you get the wrong size, fear not, we accept returns and exchanges. For orders in Europe, these are free. For countries in the rest of the world, we ask you to pay the return cost and we will take care of the cost of sending out an exchange. Just log into your Asphalte account and we'll get that sorted.
Satisfied or your money back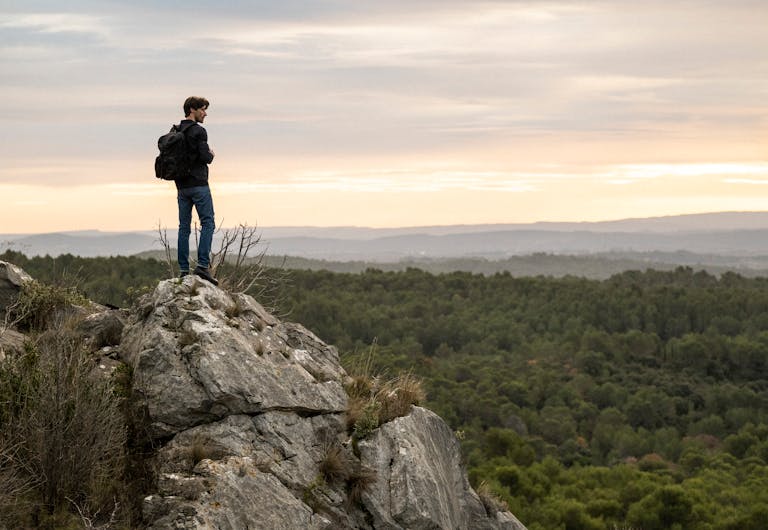 It costs nothing to try
If you ever change your mind or the product doesn't meet your expectations when you receive it, all you have to do is send it back unworn and we'll refund you. Easy.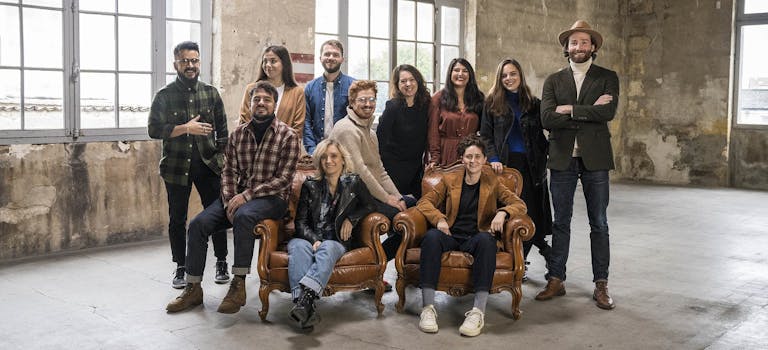 Four of us started Asphalte back in 2016. With a few years of experience in fashion under our belts, we wanted to make clothes, but not just any old clothes. Well-made clothes, designed to last, using great materials and made in good conditions.
The guys we wanted to kit were our mates, who liked clothes but who weren't willing to go all out on a pair of jeans. We send them a survey to find out what they expected from a brand. Their answers were so enlightening that we opened the questionnaires up to everyone. Best decision we ever made.
Since then, you've been at the start of every clothes we make. We ask for your opinion on a product before we get busy with the design process, and that's the way forward for us.
We're not here to reinvent the wheel. We're here to make your wardrobe classics with the best materials and the best manufacturers. Above all, we're here to make things simple, stuff that you'll still be able to wear in ten years' time.
Over the last 4 years, we've gradually put together the dream team to make it happen on a larger scale. Today, there are 45 of us working to make your favourite clothes, in a quality that was once reserved for a handful of men.