The Hoodie
100% organic cotton and made in Portugal
Brushed reverse for extra comfort
Reinforced ribbing for extra durability
Back one day
Sign up here to be notified when the item is available for preorder:
All in the ring
Once again, we picked your brains to find out what's under the hood…
And 5,000 of you told us about all the low blows you've suffered when it came to hoodies:
3
The hoodie loses its shape
In high cotton
Our Hoodie's 100% cotton and weighs in at 500g/m2. A tough cookie but soft on the environment, packing only GOTS certified organic cotton. It's a no brainer, as it's cleaner for the planet and lighter on resources.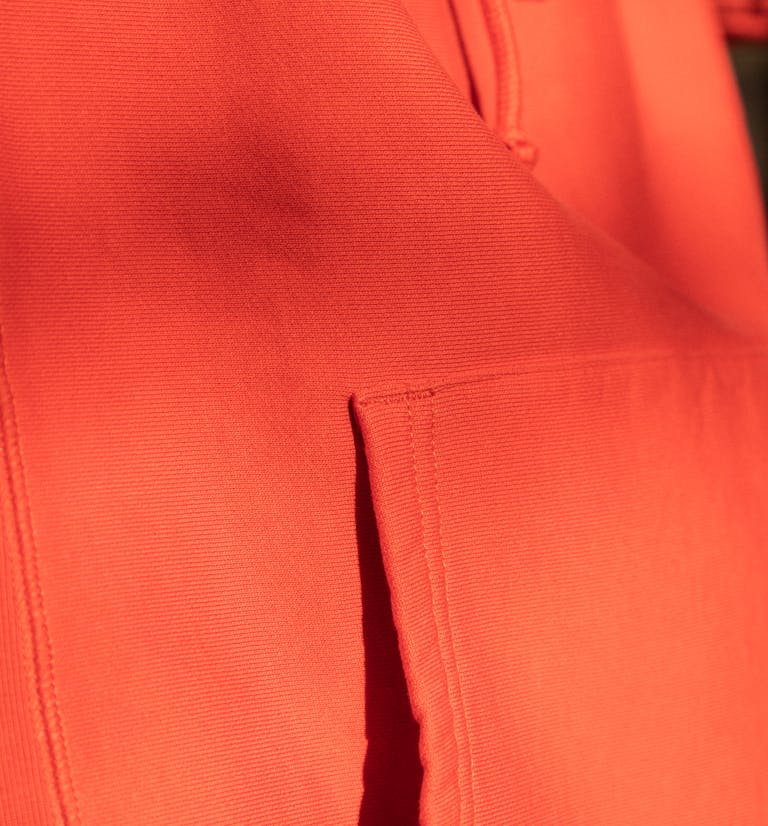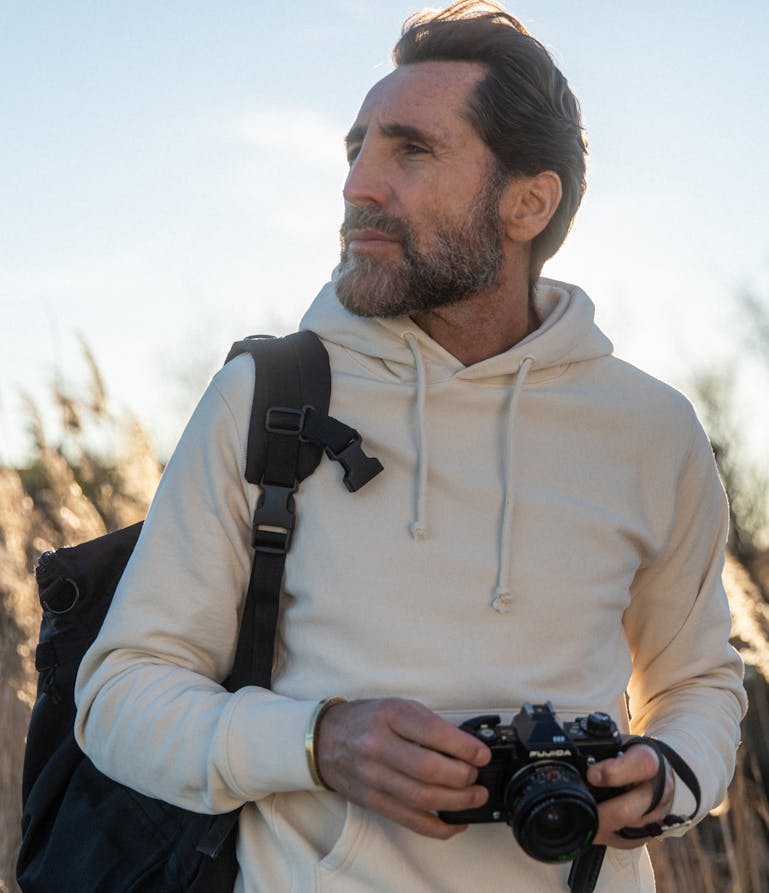 Oldie but Hoodie
As always, we tested the durability of the iconic piece to make sure it was strong enough and didn't pill, both on the outside and reverse. We added a tad of elastane in the ribbing and the Hoodie racked up the points getting 4.5/5 on the SMT lab scorecards.
Upper cut
We prototyped many samples and kept the winner. Our Hoodie has a straight cut, is a bit more roomy than our Sweatshirt but in no way baggy. The ribbing around the waist and wrist keep it tight enough to fight off the pesky drafts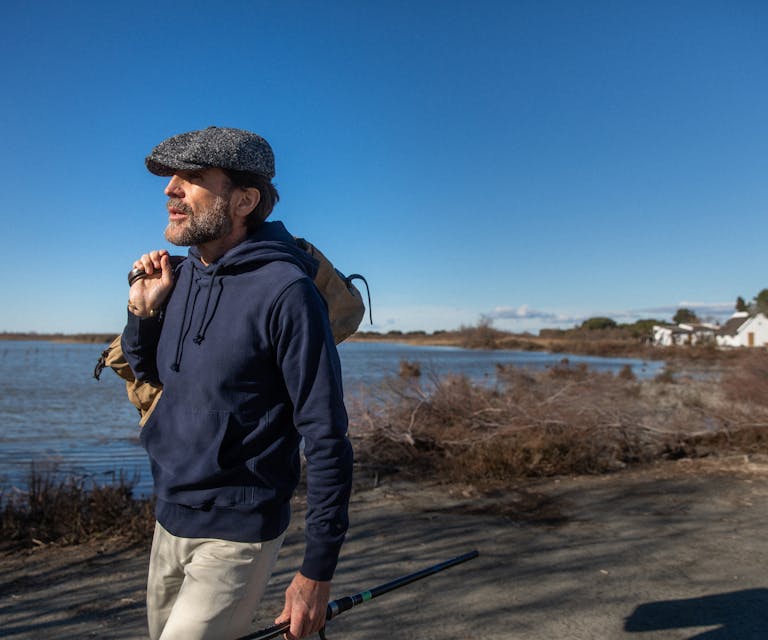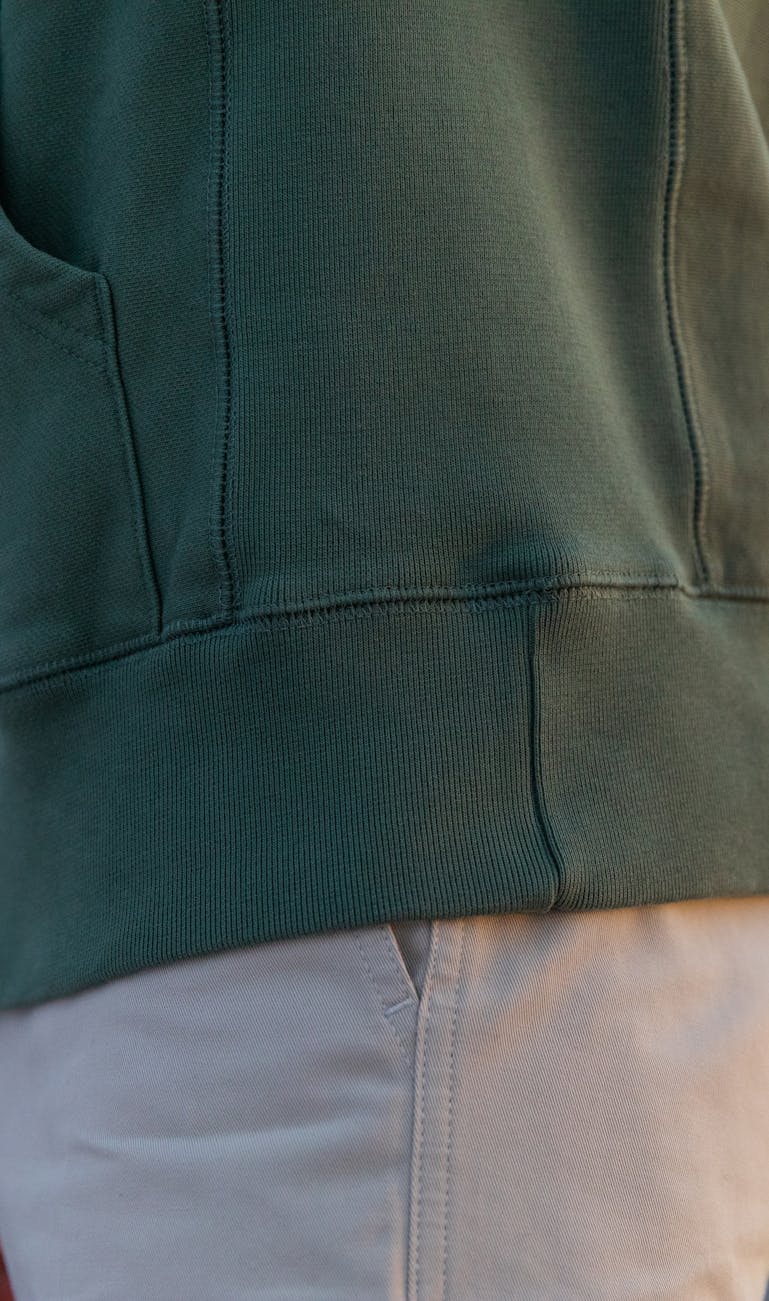 Jersey Sure
We were very careful to make sure the Hoodie goes the extra distance. This means cutting the fabric horizontally to allow it to stretch when worn but without losing its shape after three spins in the wash. We've also added rib side-panels to allow for more movement so don't be shy throwing your arms about. 
A stitch up
The Flatlock is not an MMA throwdown, but a reliable seam that's flat and strong and allows some stretch. The front and back of the Hoodie are sewn together for more flexibility without comprising the durability of the piece. Next round.
Under the hood
A snail's shell is to a slug what a hood is to a sweatshirt. It makes it a different animal. The hood is cut from the same jersey as the body and attached to the neck with a layer of bias tape to make it sit better and more durable. When things get rough, pull the cord and adjust the hood through the embroidered rivets.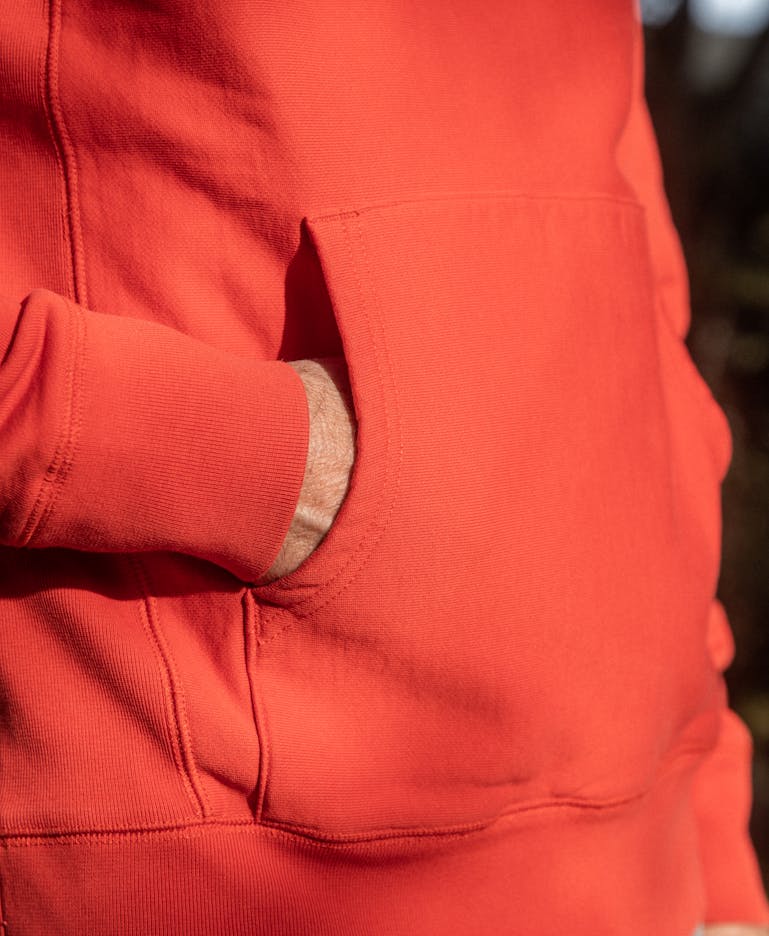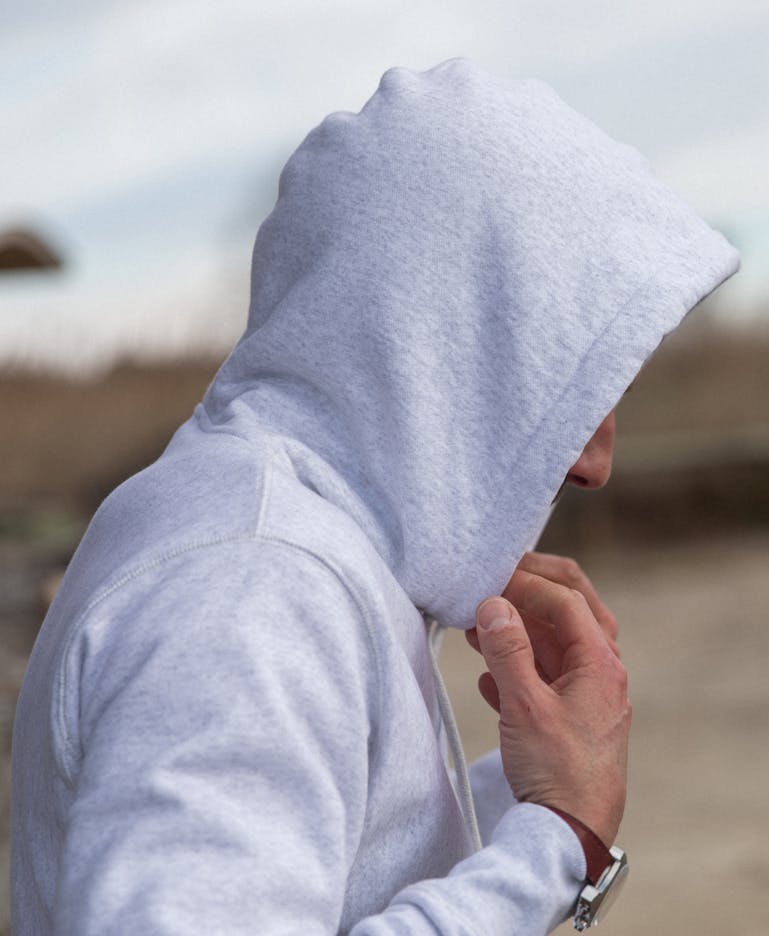 In the pocket
The kangaroo pouch is a nod to the Hoodie's sporty beginnings. We bar tacked the edges so that they don't rip open and brushed the inner to treat your joey hands to some extra comfort.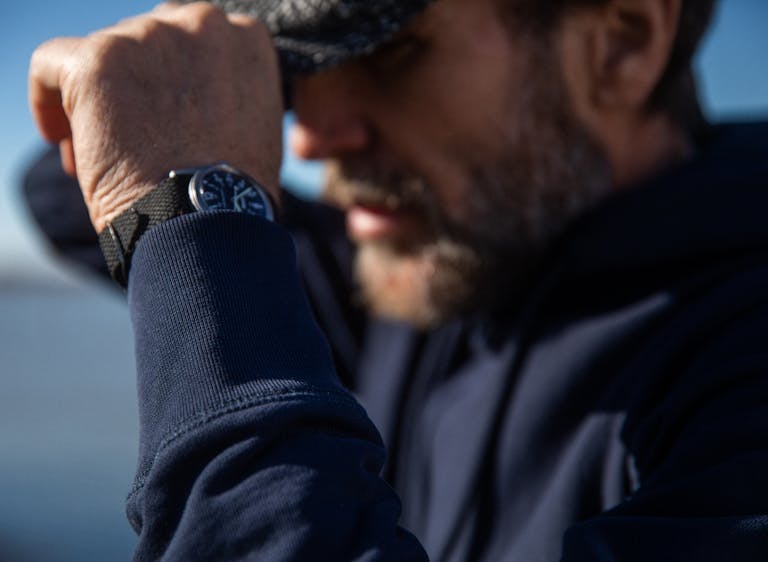 No loose ends
The waist and cuff are in the same 1x1 100% organic cotton ribbing. Strong and comfortable so you can stay warm even when you're being jabbed by the weather.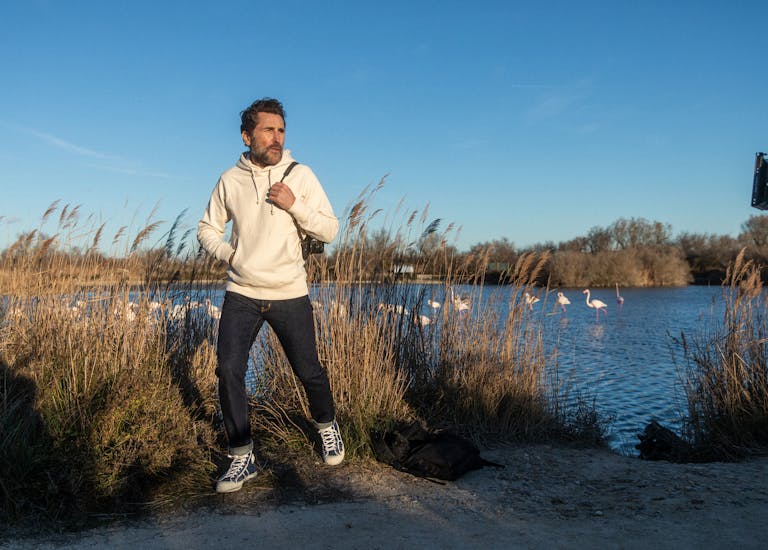 All good in the hood
Our Hoodie's a comfortable, hard-wearing piece with a sharper cut.
Now every day's a Hood day as our Hoodie is one you'll be happy to wear for years to come.
Just like Woody, the Hoodie won't let you down.
Traceability
What goes into making your Hoodie.
The materials have traveled a total of 12,610 km (8,735 miles) from field to doormat.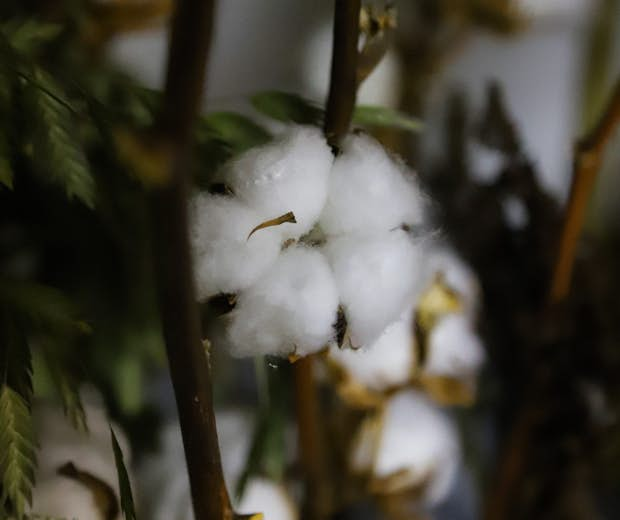 1/7
Production of raw materials
India
Environmental certification : GOTS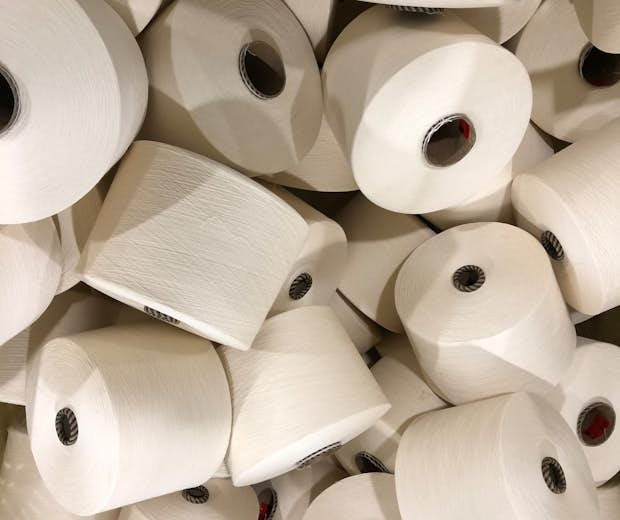 2/7
Spinning of raw material
Kikani Exports India
Environmental certifications : GOTS, BCI
Social certifications : OCS, BCI, OEKO-TEX Standard 100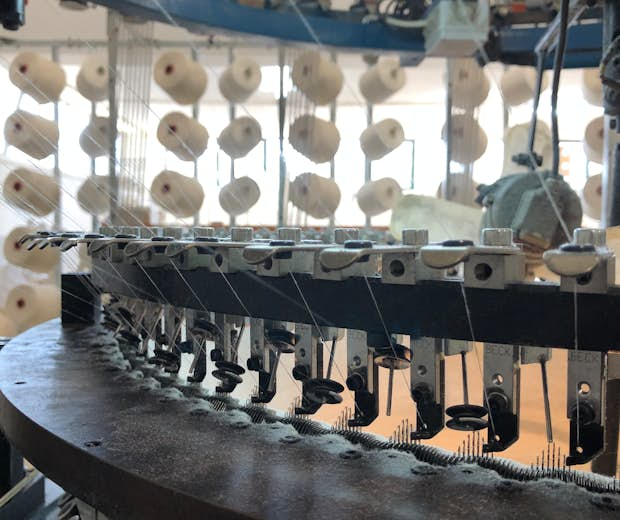 3/7
Knitting
EIGUI Portugal
Environmental certification : OEKO-TEX Standard 100
Social certification : BSCI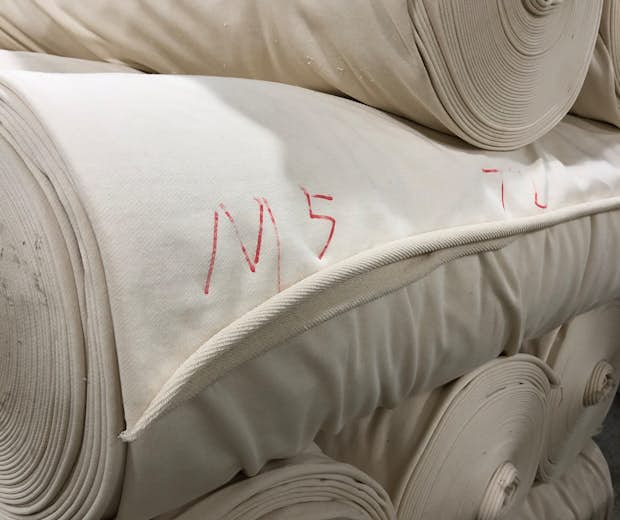 4/7
Dyeing
Gravotêxtil Portugal
Environmental certifications : GOTS, Greentowear
Social certifications : OCS, RCS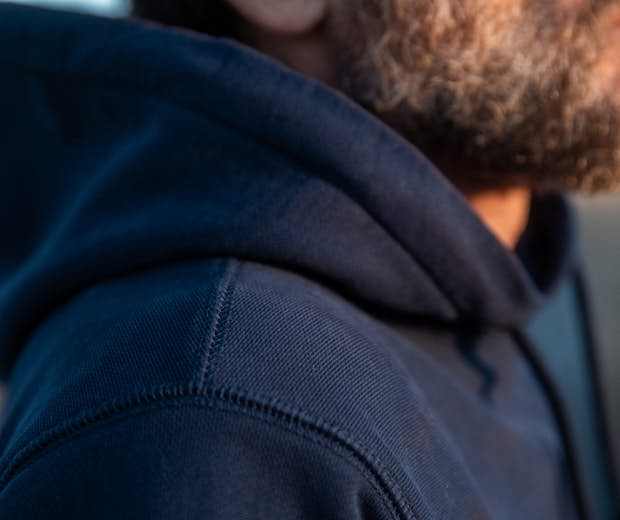 5/7
Garment make
EIGUI Portugal
Social certifications : OCS, RCS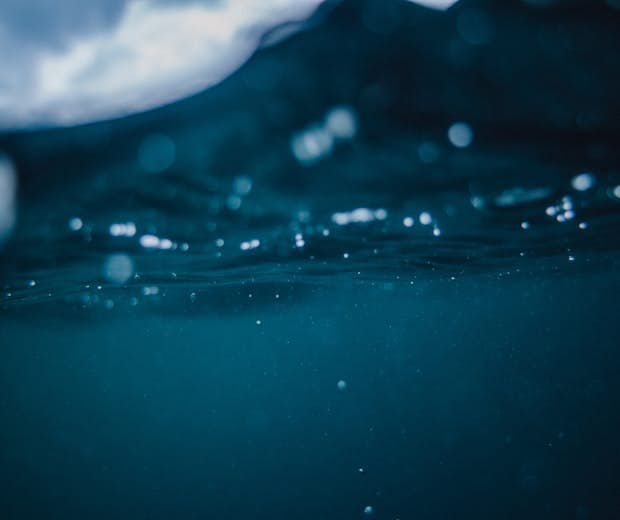 6/7
Finishing
LAVAFE Portugal
Environmental certifications : GOTS, OCS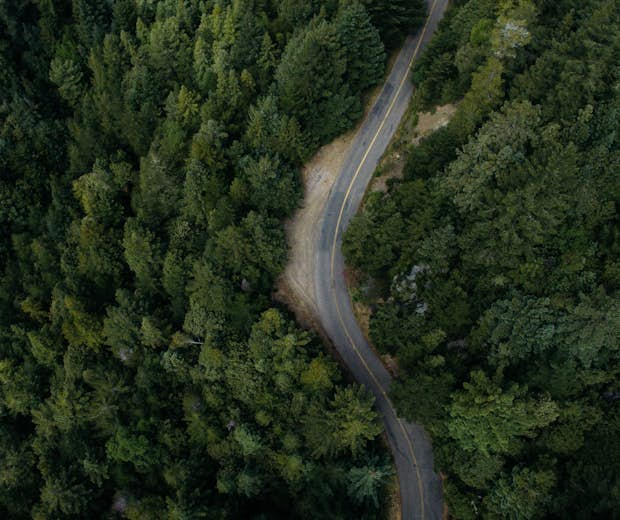 Environmental Impact
Our aim is to always give you as much information as possible on the clothes we make so you can make an informed decision before preordering. This includes the environmental impact of each Hoodie we produce expressed in simple terms that we can all easily understand. There's no point hiding from it : 
13.6 kg
of CO2 emitted
equivalent to 247 kms (153 miles) travelled by car.
335 L
water consumption
equivalent to 5 showers lasting 5 min each. 
223 MJ
energy depletion
equivalent to 92 hours heating (in average appartment).
5 colours waiting in your corner
Delivery costs
We deliver worldwide. For orders in selected European countries* including the UK, we charge a flat fee of 9€ irrespective of how much you order. For deliveries in the rest of Europe and outside of the EU, the cost is 15€.
Easy to change your size
If you get the wrong size, fear not, we accept returns and exchanges. For orders in Europe, these are free. For countries in the rest of the world, we ask you to pay the return cost and we will take care of the cost of sending out an exchange. Just log into your Asphalte account and we'll get that sorted.
Satisfied or your money back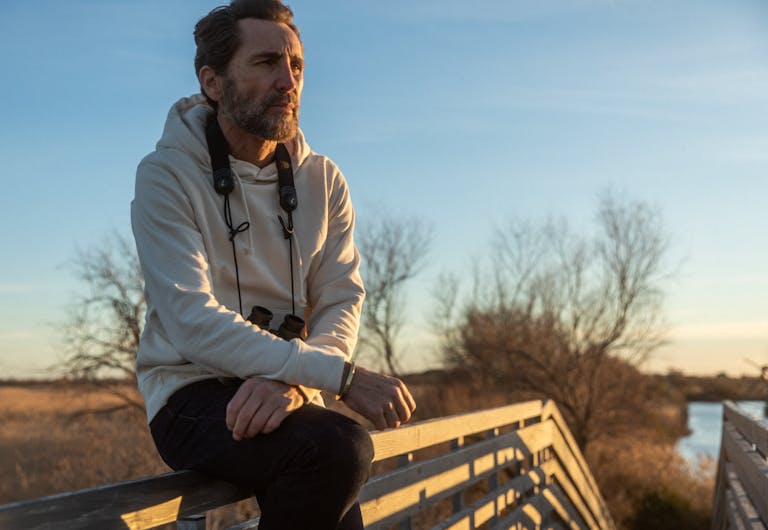 It costs nothing to try
If you ever change your mind or the product doesn't meet your expectations when you receive it, all you have to do is send it back unworn and we'll refund you. Easy.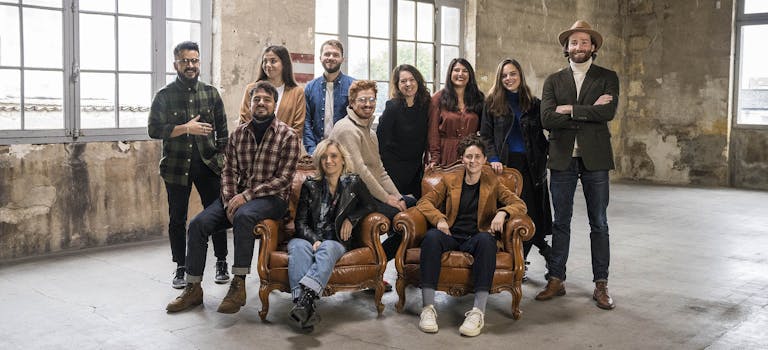 There were four of us when we launched Asphalte in 2016. We had a few years' experience in fashion and we wanted to make clothes, but not just any old clothes. Well-made clothes, designed to last, using amazing materials and made in good conditions.
The guys we had in mind were our mates, who liked clothes but who weren't willing to bankrupt themselves for a pair of jeans. We asked them questions to find out what they expected from a brand. Their answers were so enlightening that we opened the questionnaires up to everyone. Best decision.
Since then, you have been the focus of our thoughts. Asking for your opinion about a product is the starting point for our design process, and that won't change.
We're not here to reinvent the wheel. We're here to make your wardrobe classics but with the best materials and the best manufacturers. Above all, we're here to make things simple, things that you'll still be able to wear in ten years' time.
Over three years, we've gradually put together the dream team to take on the world. Today, there are 40 of us, and our only aim is to make your favourite clothes, in a quality that was once reserved for a handful of men.