The Harrington Jacket
Organic water-repellent cotton canvas
Tartan lining made in France
Tailored fit made in Portugal
Back one day
Sign up here to be notified when the item is available for preorder:
Enduring style, enduring quality.
Paul Weller haircut optional.
Won't get fooled again
We're stood atop a mountain, clad in lederhosen, on a beautiful spring day. We blow into one those giant Alpine horns, and a chorus of voices replies. That's more or less what our job is like. We ask you what you want, and you always heed the call. You're never shy in letting us know what you look for in a bit of clothing, and what you've disliked about things you've owned in the past. This time around, we've cooked up a classic Harrington. When we blew the horn and asked you what you wanted us to watch out for, here's what you had to say about the issues you'd faced with unruly Harrington Jackets.
2
It's missing inside pockets
3
The garment doesn't hold up
Cheaper than a vintage Vespa and twice as reliable.
In Mods we trust
You might have had a Harrington in the past that's been all shapeless and blousy. You'll have no such worries with this one. A jacket so closely associated with the mod subculture deserves a sharp fit, and that's exactly what ours has.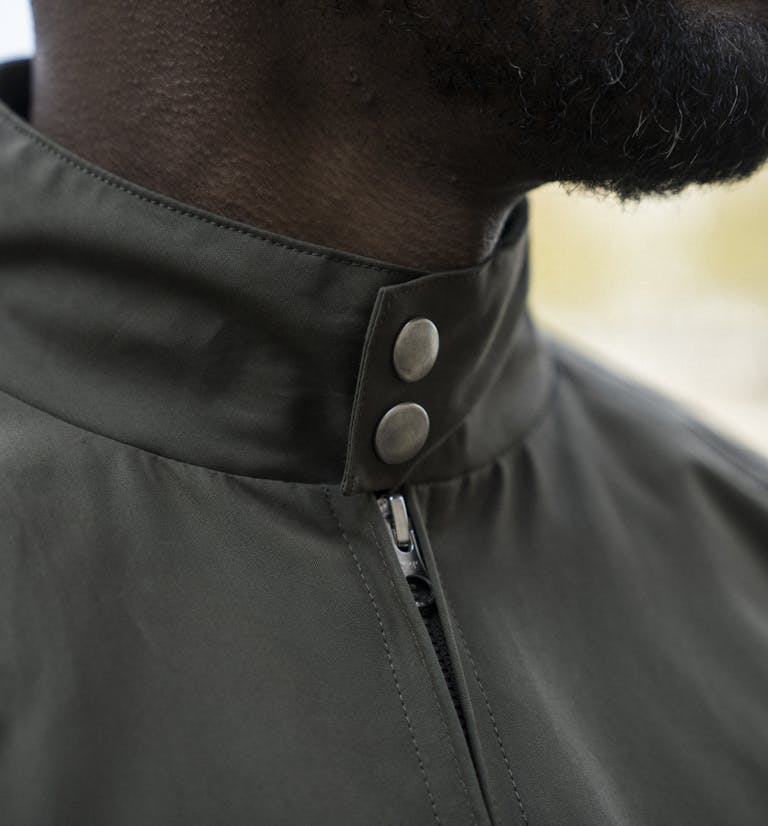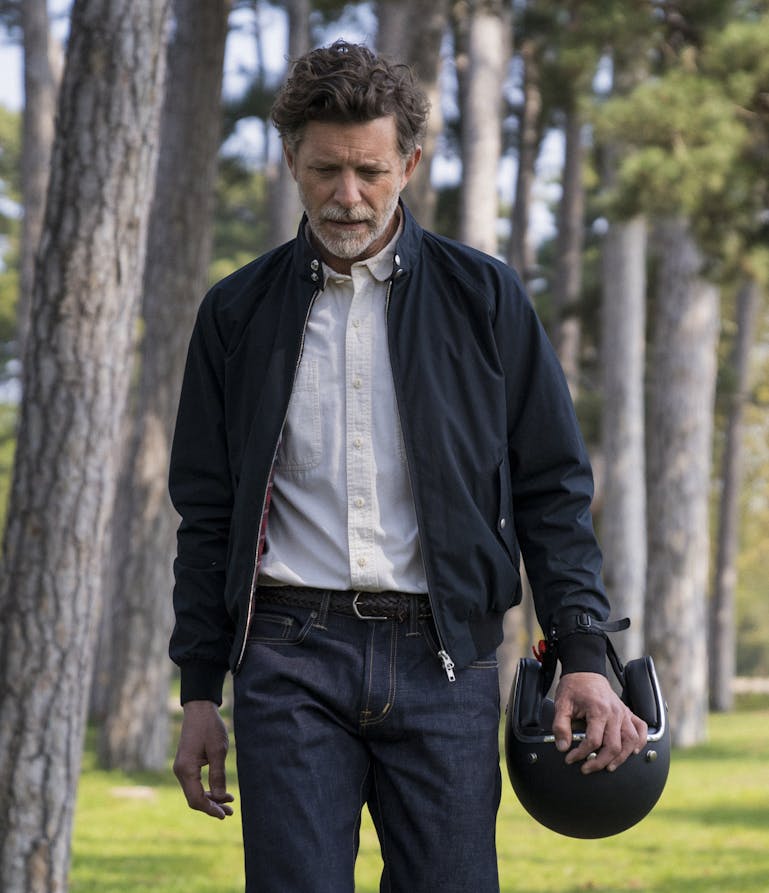 Necktar
One of the most distinctive features of a true Harrington Jacket is the collar, or lack of one if we're being precise. Instead it has a no-nonsense standing tab collar that closes with 2 press buttons if you should ever need to do so, either to keep out the wind or dial up the attitude.
Room to spare
There's nothing worse than running out of pocket space, and having to constantly shift all your belongings around like you're playing a game of Buckaroo. Our Harrington has two decent-sized handwarmer pockets (not just for hands), and two pockets on the inside.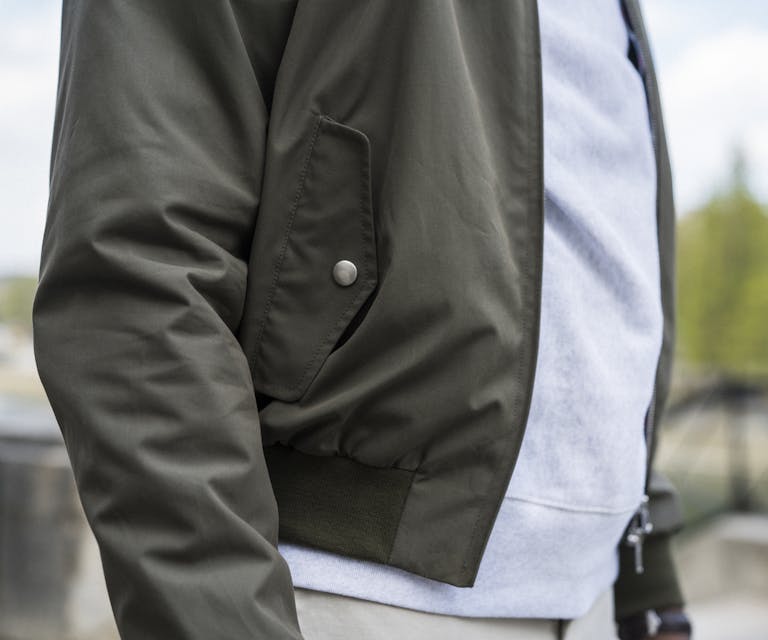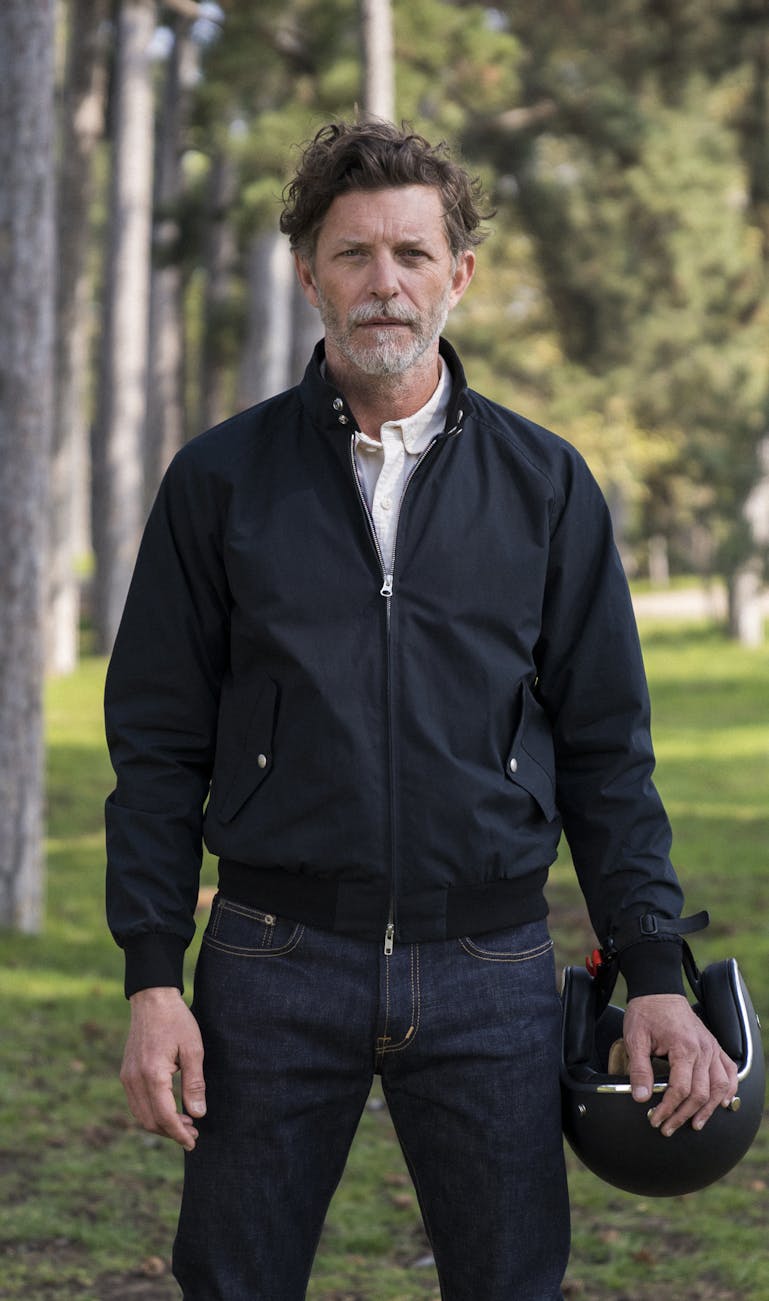 Fits a phone
It probably hasn't escaped your attention that phones these days are massive. In fact, you're probably reading this on a massive phone. Seemingly, mobile technology moves faster than pocket technology, as too often jackets have no space for your phone. But this is 2021, so we've made our pockets phone friendly. Thank us later.
Dry as a bone
This stellar cotton yarn then gets woven into fabric. This particular fabric is water-repellent, so a sudden downpour needn't ruin your day. It was rated five out of five in a water-repellency lab test, so if the fellas in the white coats have given it the thumbs up you should be fine.
Tell-tale tartan
What's a Harrington without a checked lining? It's a key detail that's been in place since the jacket was invented, so who are we to rock the boat? We chose a cotton woven by Emanuel Lang, who we trust with a fair amount of the fabrics we use.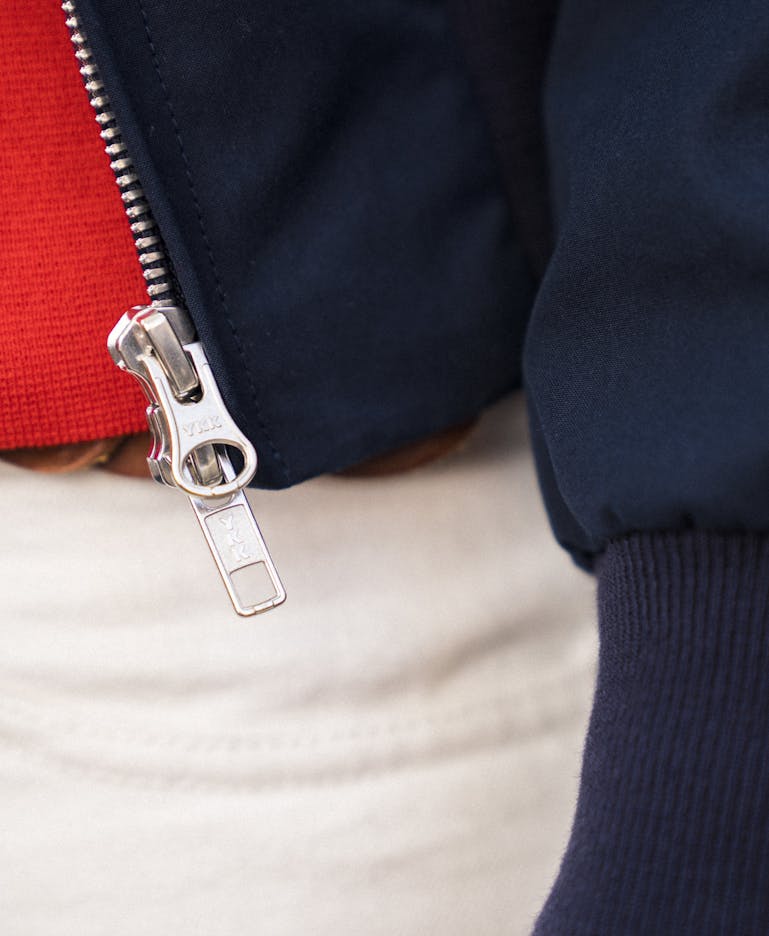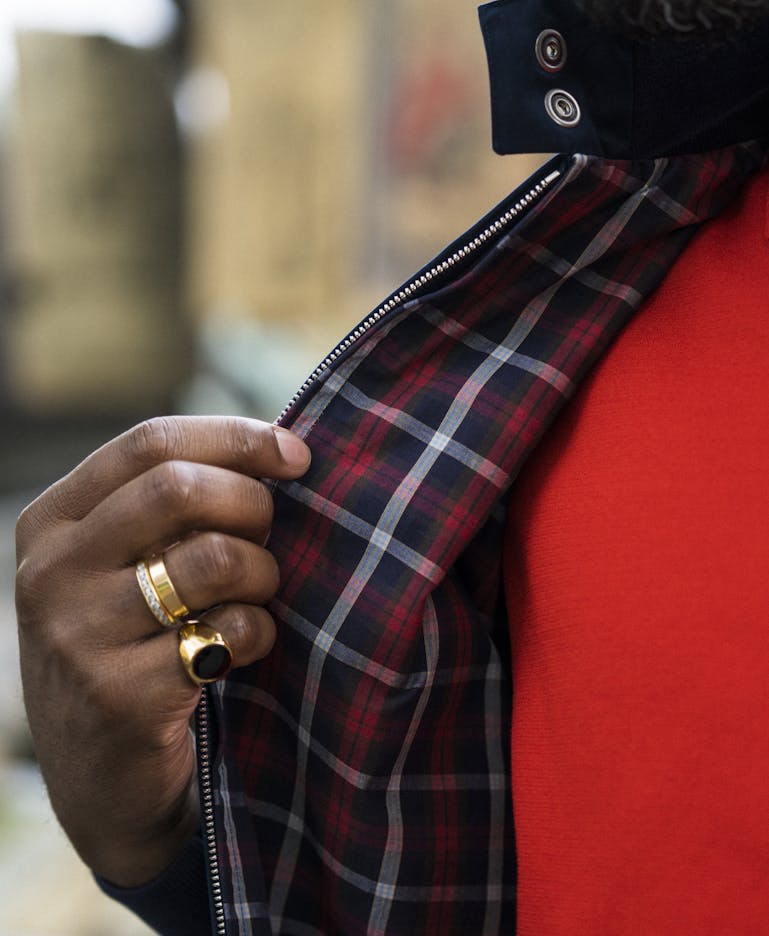 Zip it, will you
A zip is a zip, right? Wrong. There's zips, and then there's zips. What we've got here is very much the latter. It's a double zip from YKK, so you can unzip from the bottom as well as the top. You might think that's a feature you'd never use, but you'll be surprised.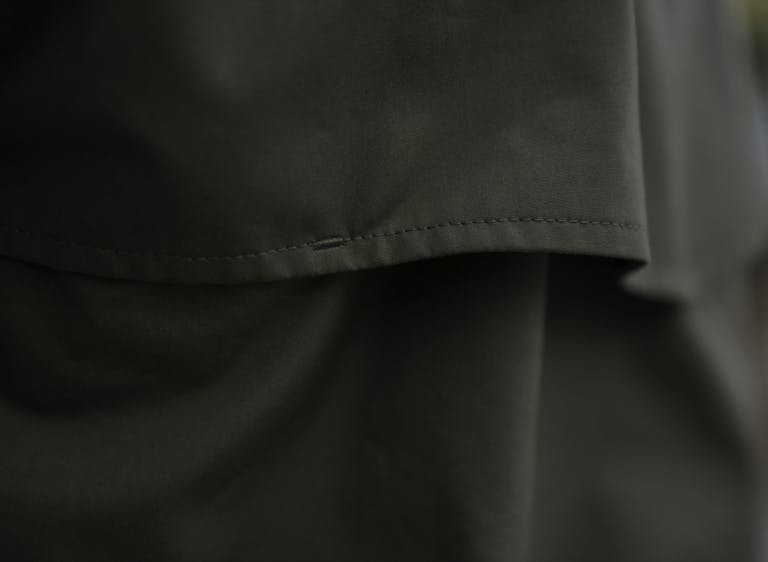 When the going gets tough
Durability is something you always ask for. Of course it is. How are you supposed to relax and enjoy yourself when you're worried about your clothes falling apart? We've reinforced all the stress points on this jacket, so you're covered for all eventualities. Who doesn't want less stress? But we still included a pleated or action back for, yes, you guessed it...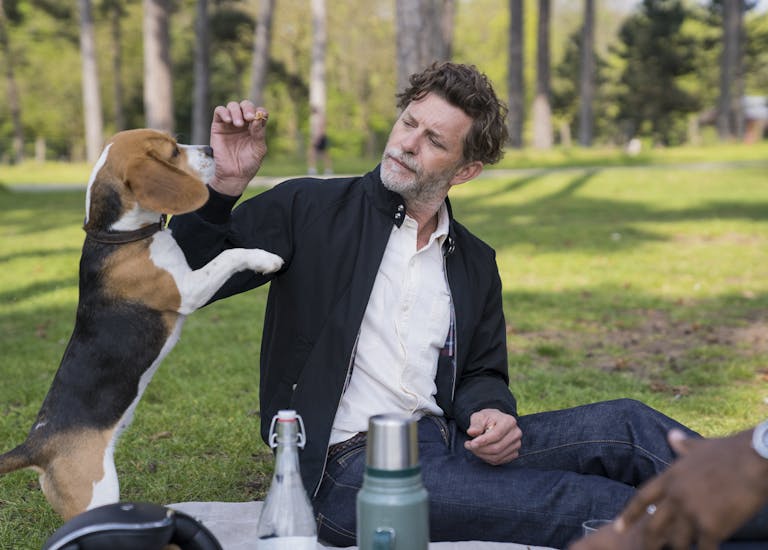 Portuguese perfection
Not content with excelling in seafood and fortified wine, the Portuguese are handy when it comes to clothing, too. We put our heads together with the fine people at Carjobel to rustle up this little number. We've worked with them on a number of pieces before, and the quality always speaks for itself.
Stylish in 1960. Still stylish in 2021.
Traceability 
What goes into making your Harrington Jacket.
The materials have travelled a total of 6,869 km (4,268 miles) from field to doormat.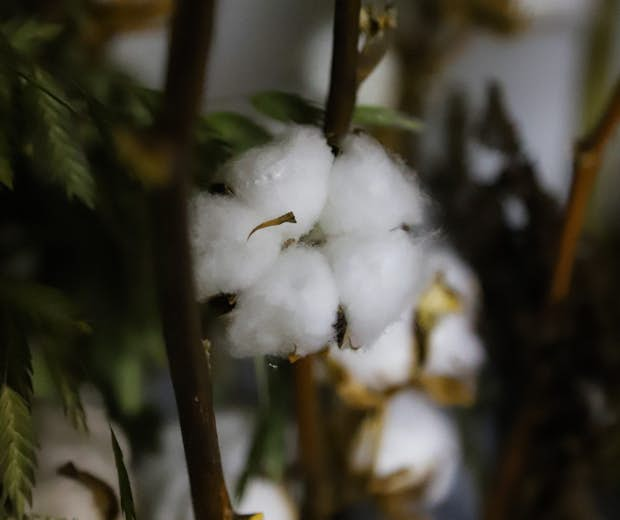 1/6
Production of raw materials
Cooperative farm Egypt

Environmental and social certification : GOTS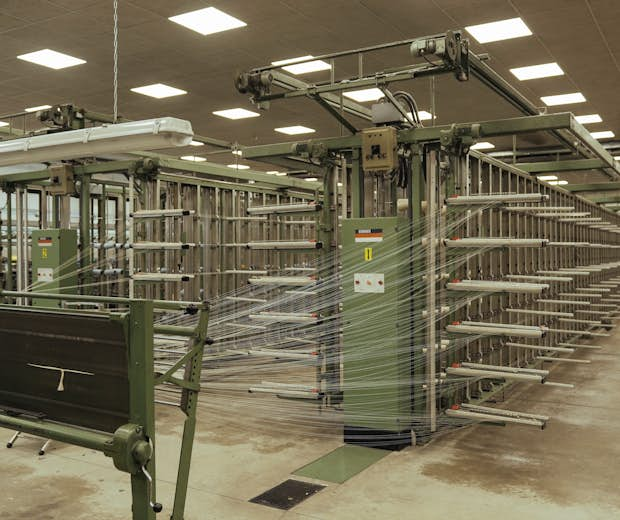 2/6
Spinning
Mediterranean Textile Company (MEDTEX) Egypt

Environmental certifications : GOTS, ISO 14001, OCS, OEKO-TEX Standard 100
Social certifications : ISO 90001, ISO 45001, ICS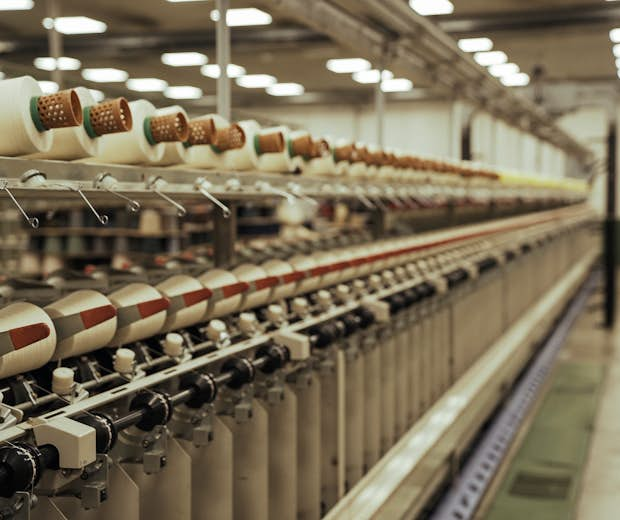 3/6
Weaving
Elvy Weaving Sae Egypt

Environmental and social certification : OEKO-TEX Standard 100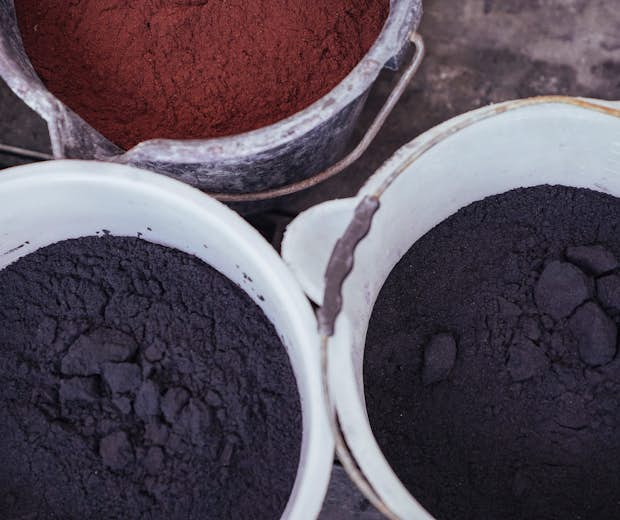 4/6
Dye
Stotz & Co Switzerland
Environmental certifications : GOTS, ISO 14001, OCS, OEKO-TEX Standard 100
Social certifications : ISO 90001, OCS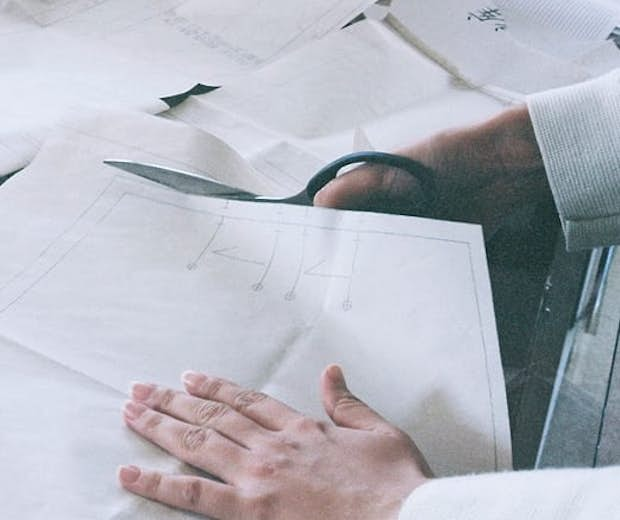 5/6
Finish
Carjobel Portugal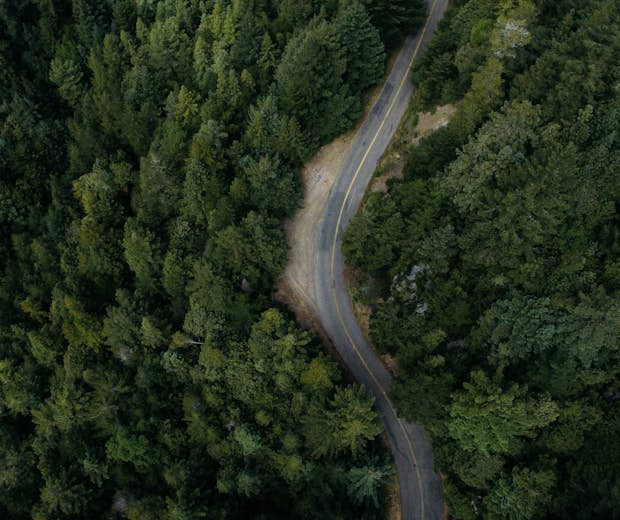 Environmental Impact
Our aim is to always give you as much information as possible on the clothes we make so you can make an informed decision before preordering. This includes the environmental impact of each Harrington Jacket we produce expressed in simple terms that we can all easily understand. There's no point hiding from it :
11 kg
of CO2 emitted
Equivalent to 200 kms (or 124 miles) travelled by car.
583 L
water consumption
Equivalent to 9 five min showers.
199 MJ
energy depletion
Equivalent to 66 hours electric heating (in an average appartment).
Delivery costs
We deliver worldwide. For orders in selected European countries* including the UK, we charge a flat fee of 9€ irrespective of how much you order. For deliveries in the rest of Europe and outside of the EU, the cost is 15€.
Easy to change your size
If you get the wrong size, fear not, we accept returns and exchanges. For orders in Europe, these are free. For countries in the rest of the world, we ask you to pay the return cost and we will take care of the cost of sending out an exchange. Just log into your Asphalte account and we'll get that sorted.
Satisfied or your money back
It costs nothing to try
If you ever change your mind or the product doesn't meet your expectations when you receive it, all you have to do is send it back unworn and we'll refund you. Easy.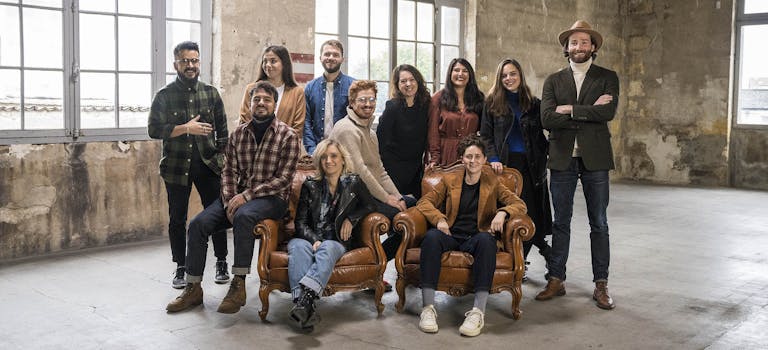 There were four of us when we launched Asphalte in 2016. We had a few years' experience in fashion and we wanted to make clothes, but not just any old clothes. Well-made clothes, designed to last, using amazing materials and made in good conditions.
The guys we had in mind were our mates, who liked clothes but who weren't willing to bankrupt themselves for a pair of jeans. We asked them questions to find out what they expected from a brand. Their answers were so enlightening that we opened the questionnaires up to everyone. Best decision.
Since then, you have been the focus of our thoughts. Asking for your opinion about a product is the starting point for our design process, and that won't change.
We're not here to reinvent the wheel. We're here to make your wardrobe classics but with the best materials and the best manufacturers. Above all, we're here to make things simple, things that you'll still be able to wear in ten years' time.
Over three years, we've gradually put together the dream team to take on the world. Today, there are 45 of us, and our only aim is to make your favourite clothes, in a quality that was once reserved for a handful of men.