The Derby Boots
Italian suede
Extra durable Itshide (UK) sole
Made in Portugal
Back one day
Sign up here to be notified when the item is available in stock:
The problems with boots
We've often wondered why it's so hard to find a comfortable pair of boots and get more than one winter out of them. Either that or being put off by the price.
Well 4,700 of you stood your ground and took part in our questionnaire to give bad shoes the boot: 
Here are the four problems you told us we needed to kick into touch:
1
The leather doesn't hold up, creases or stays stained.
3
The shoelaces are not strong enough.
4
They're not as comfortable as you'd hoped.
Boots that are comfortable, durable and look good.
BEND OVER BACKWARDS
The leather's the main thing we had to get right, so we didn't hold back. Calf suede is both a flexible and hard-wearing leather which will keep your boots trotting for years. We even made them flex 10,000 times in an independent SMT lab test, and the boots didn't have any marks to show for it.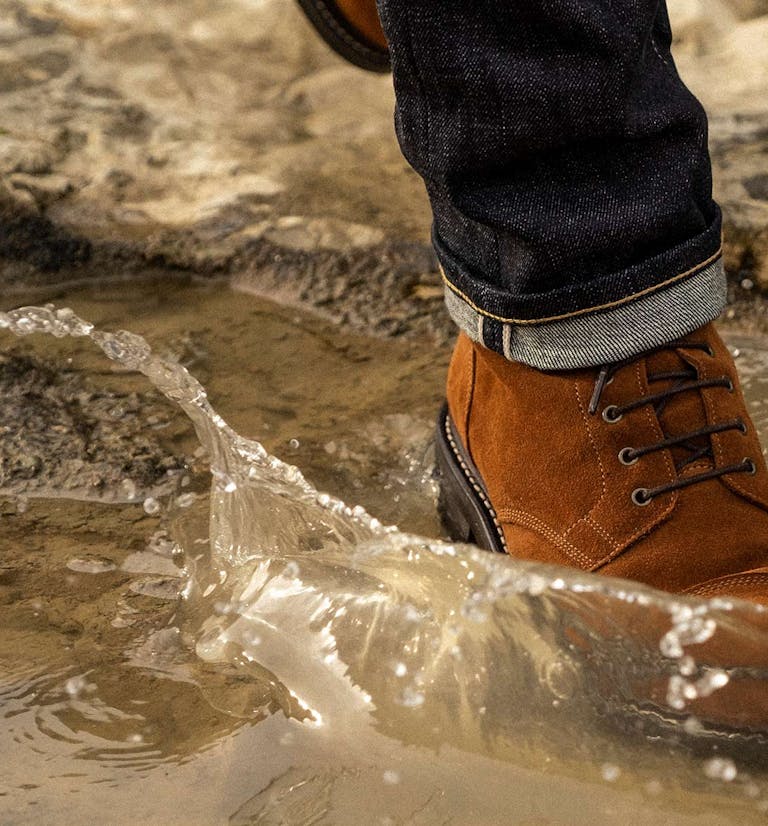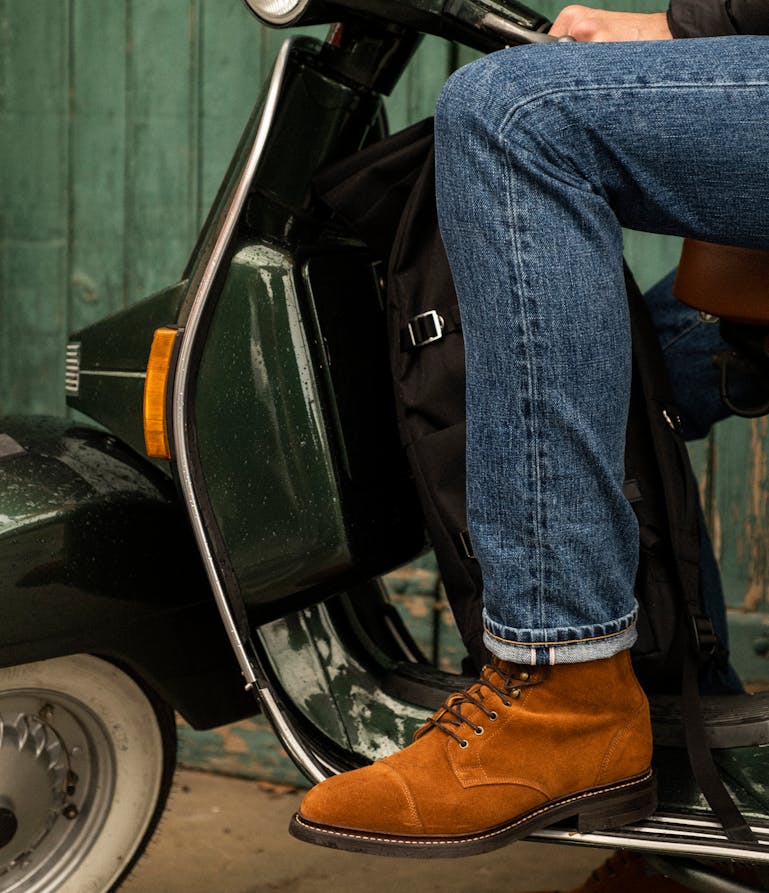 TAKING ON WATER
Calf suede, like cats and cactuses, is not a big fan of water. We coated it with a stain-resistant and water-repellent treatment so you won't have to watch out for the weather or spend your life looking out for puddles. We still recommend that you waterproof your boots before wearing them for the first time though for good measure, and from time to time after that when you care for them.
ROCK SOLID SOLE
Our Derby Boots are sure-footed thanks to the Itshide outsole, the company from Northamptonshire who've been nailing sole making since 1875. Their strong studded rubber "Commando" soul is as durable as hell and comfortable to walk in so you'll get your step-count in no problem.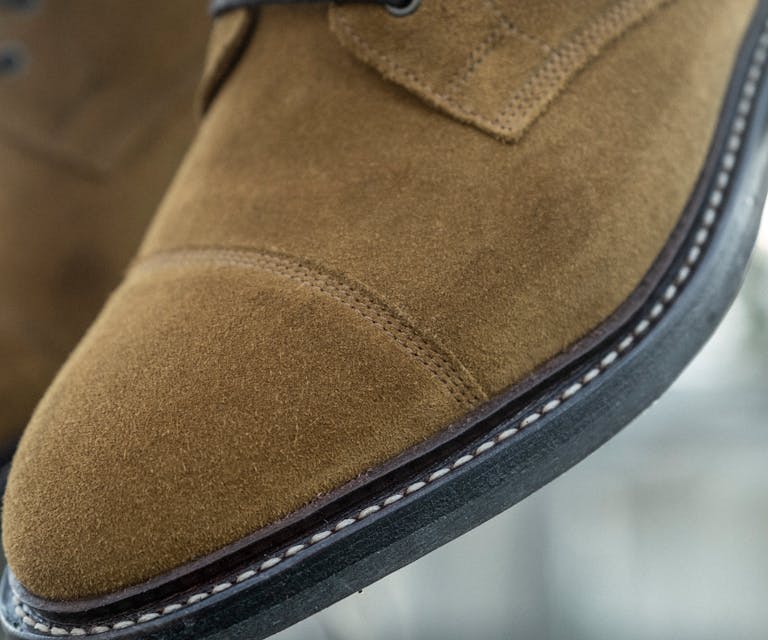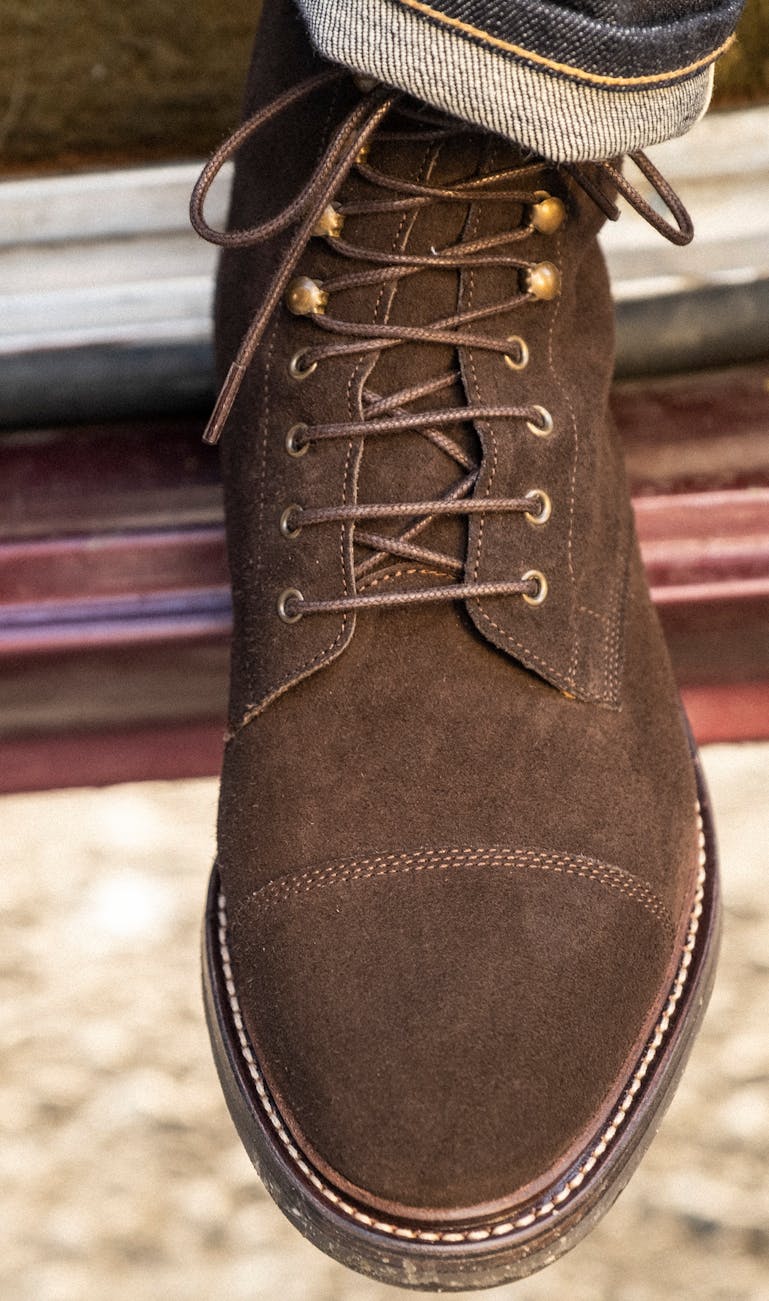 UPPER HOOK
You asked us for hooks on the top of the inserts to make it easier to lace-up. That's 4 on each side for you.
PUT THEM THROUGH THEIR LACES
You also told us how frustrating it was when you're left with half a lace in your hand. We added some low-friction metal eyelets so your laces slide through smoothly and tubular waxed laces for extra strength.
EASE-UP
But if a boot's only nice on the eye and eyelets, it's not doing its job properly. We made sure your feet step straight into the comfort zone.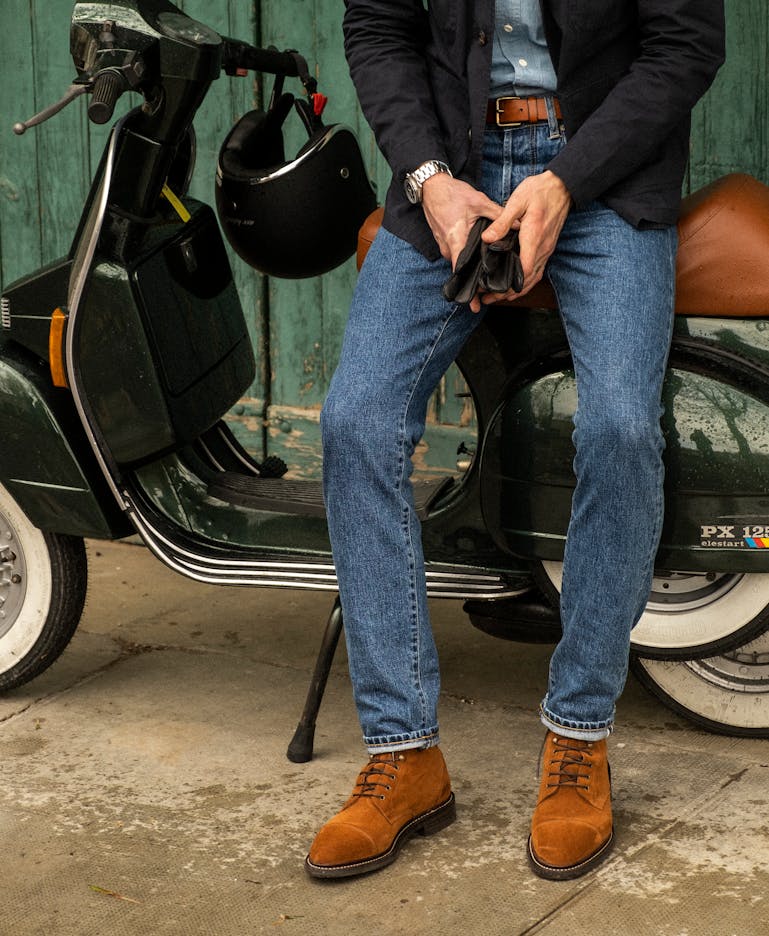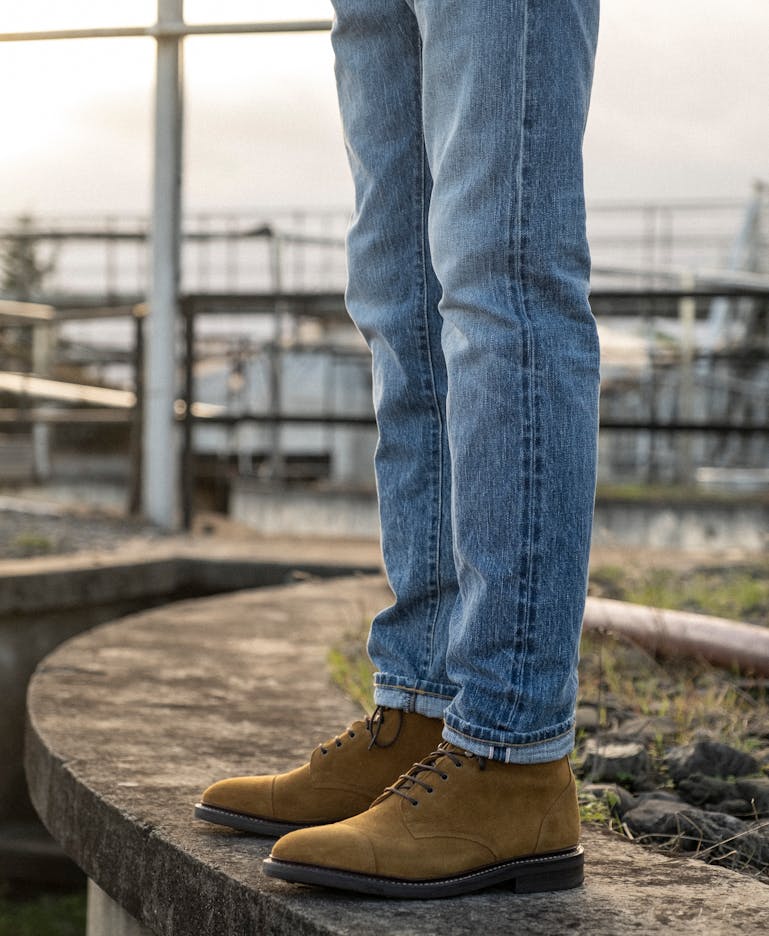 LOOKING FINE
We wanted the 4th version of our Derby Boots to be versatile so they would be just as at home in the office as down the pub. And to make them as comfortable as possible we added the heel inserts that you requested to cushion each step.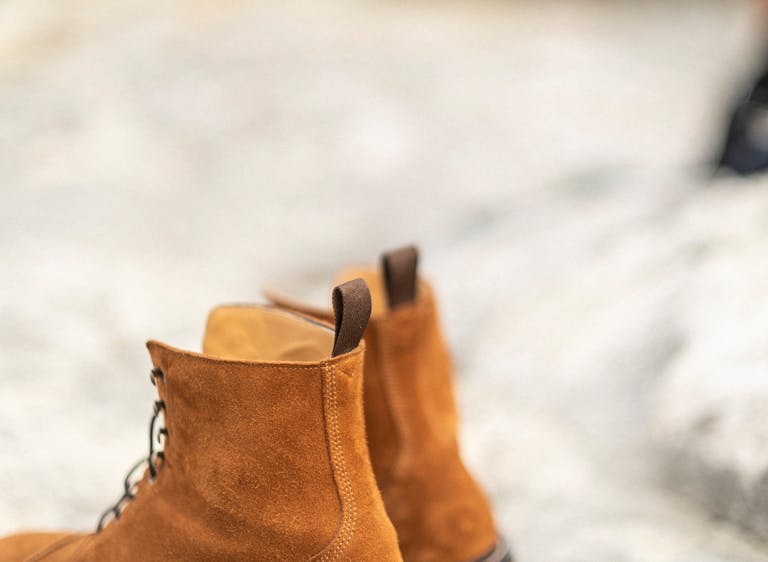 KEEP IT SIMPLE
We designed our Derby Boots to look sleek with a sharper design from heal to toe and added a heel loop so you can get them on more easily.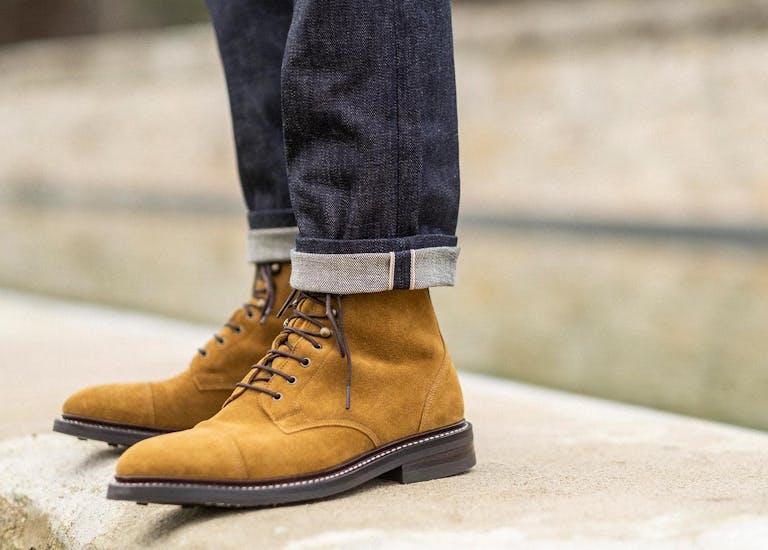 YOU'LL BE WALKING FOR A WHILE
Every detail in the Derby Boots is conceived with durability in mind. And we managed to make sure that didn't get in the way of their looks. They're a 229€ investment that'll make sense over the years. Your local shoe repair store'll know how to chose the right outsole for the Goodyear welt and put your Derby Boots back on their rubber feet when the time comes. Good as new, they'll say. And they'd be right.
Feel at home : it's a Derby
More details on the production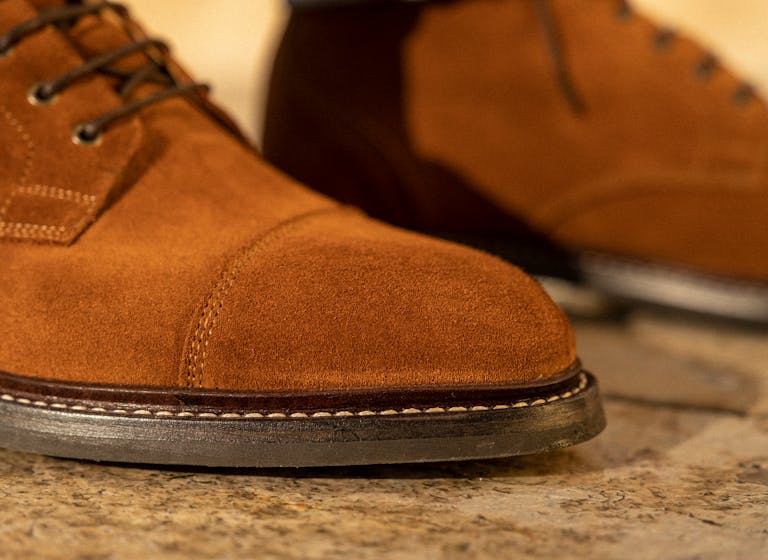 FROM THE LAND OF THE BOOT
Our Derby Boots leather is a calf suede from Europe. Suede is the reverse side of the hide, which is naturally smoother and softer with a greater texture than nubuck. The calfskin is tanned, washed and treated in Italy by Zabri, one of the top leather producers.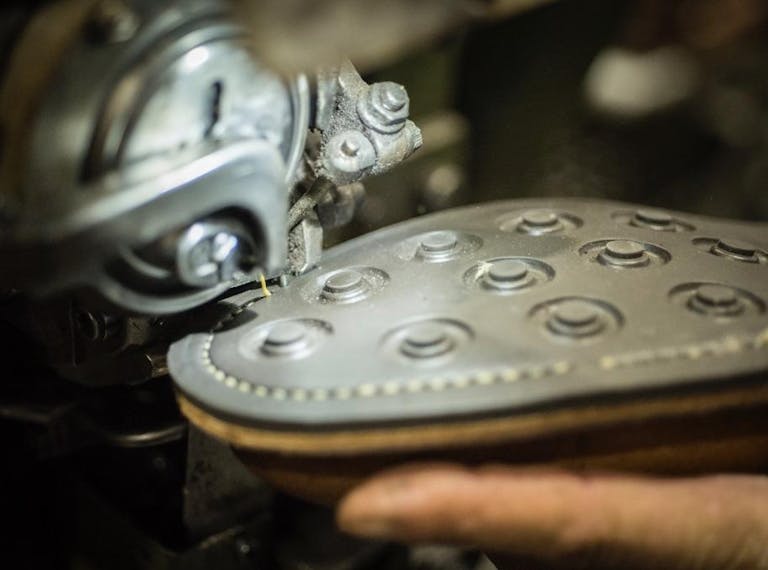 KEEPING IT UNDER WRAPS
Our 100% rubber Commando studded sole from Itshide, made in the spiritual home of English shoemaking: Northamptonshire. It's been specially designed to fit the Goodyear welt shoe. A seriously durable combination.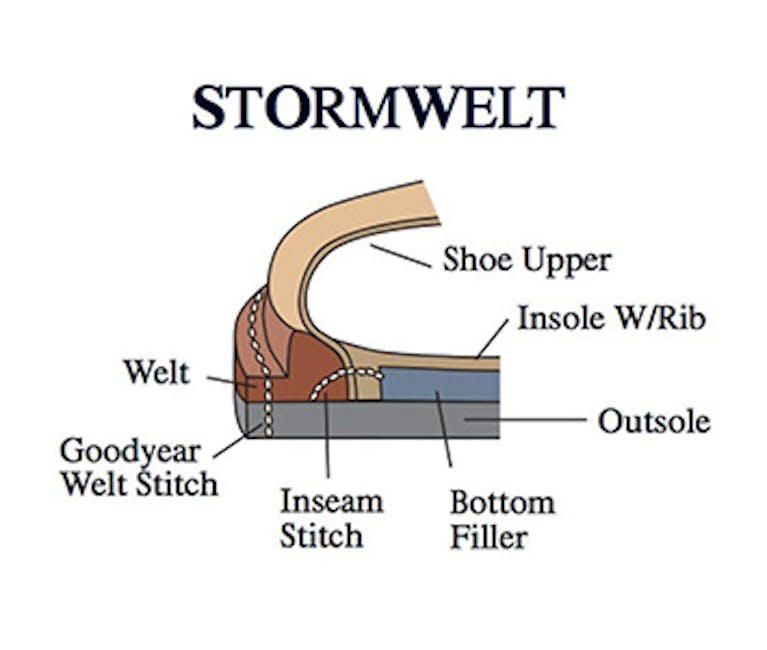 TWO WORDS: GOODYEAR STORMWELT
It's one of the most durable welts out there, sewing all parts of the shoe as one. It'll weather the storm, keep the water out and you can have the outer sole easily refitted without compromising the welt.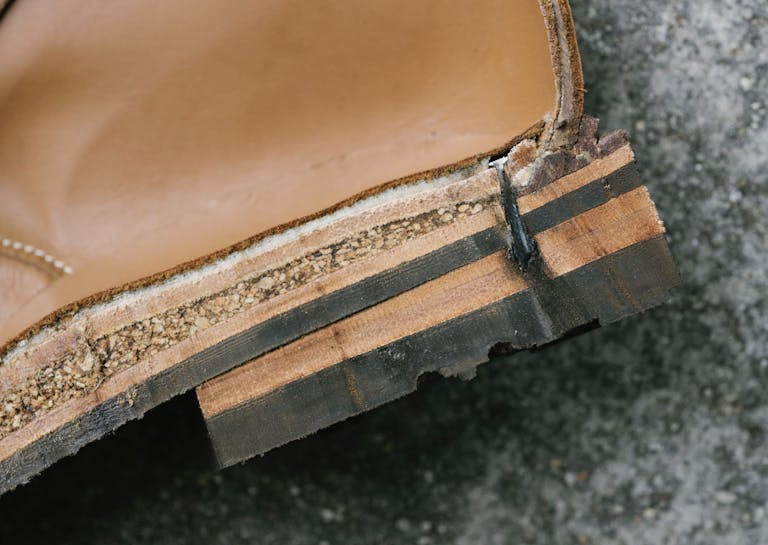 THE ROOTS OF THE BOOTS
Hard to find craftsmen that can make the Goodyear welt these days. But Penha have been making shoes this way for more than 50 years so we're in good feet.
Environmental Impact
Our aim is to always give you as much information as possible on the clothes we make so you can make an informed decision before preordering. This includes the environmental impact of each pair of Derby Boots we produce expressed in simple terms that we can all easily understand. There's no point hiding from it: 
10 kg
of CO2 emitted
equivalent to 181 kms travelled by car.
204 L
water consumption
Equivalent to 12 showers lasting 5 min each. 
314 MJ
energy depletion
Equivalent to 105 hours heating (in average appartment).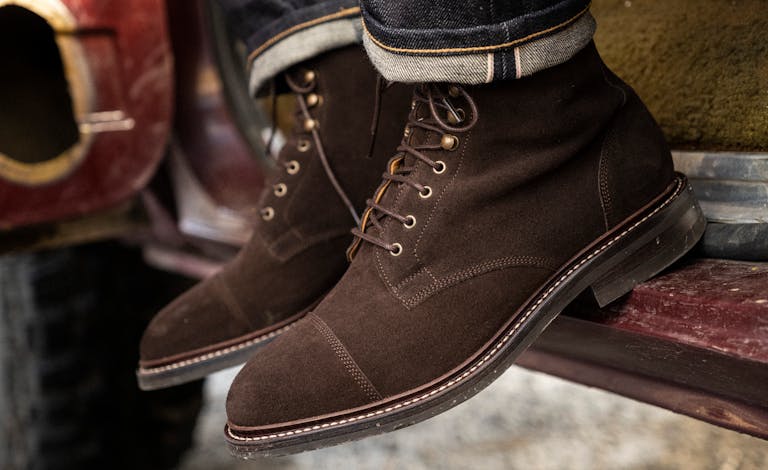 Dark Brown
A classic that perfectly showcases the calf suede texture.
DELIVERY COSTS
We deliver worldwide. For orders in selected European countries, we charge a flat fee of 9€ irrespective of how much you order. For deliveries in the rest of Europe and outside of the EU, the cost is 15€.
EASY TO CHANGE SIZES
If you get the wrong size, fear not, we accept returns and exchanges. For orders in Europe, these are free. For countries in the rest of the world, we ask you to pay the return cost and we will take care of the cost of sending out an exchange. Just log into your Asphalte account and we'll get that sorted.
Satisfied or your money back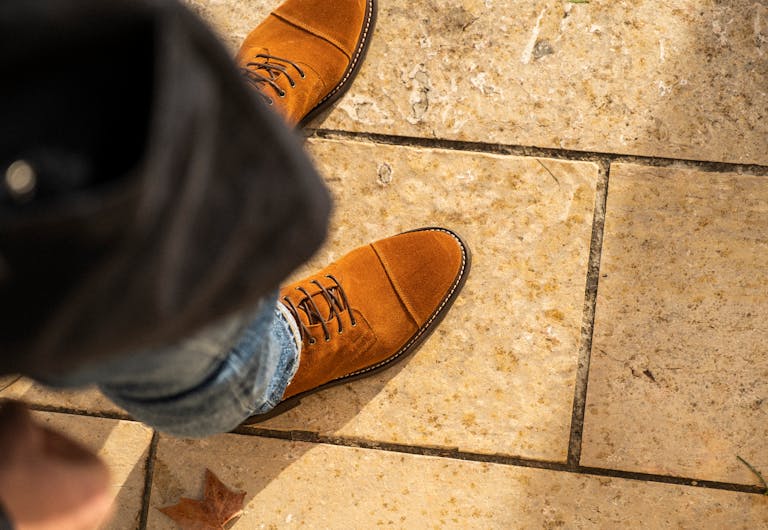 IT COSTS NOTHING TO TRY
If you ever change your mind or the product doesn't meet your expectations when you receive it, all you have to do is send it back unworn and we'll refund you. Easy.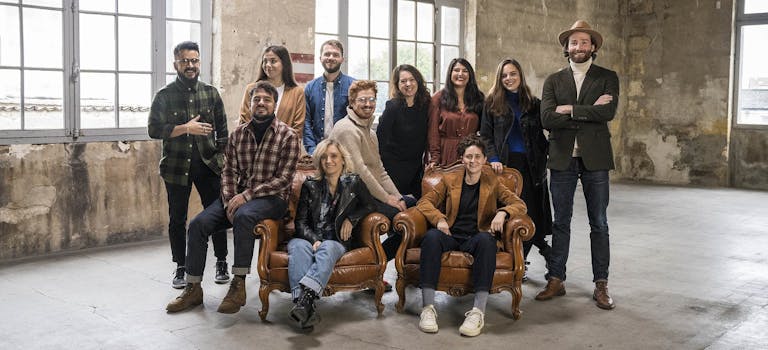 Four of us started Asphalte back in 2016. With a few years of experience in fashion under our belts, we wanted to make clothes, but not just any old clothes. Well-made clothes, designed to last, using great materials and made in good conditions.
The guys we wanted to kit were our mates, who liked clothes but who weren't willing to go all out on a pair of jeans. We send them a survey to find out what they expected from a brand. Their answers were so enlightening that we opened the questionnaires up to everyone. Best decision we ever made.
Since then, you've been at the start of every clothes we make. We ask for your opinion on a product before we get busy with the design process, and that's the way forward for us.
We're not here to reinvent the wheel. We're here to make your wardrobe classics with the best materials and the best manufacturers. Above all, we're here to make things simple, stuff that you'll still be able to wear in ten years' time.
Over the last 4 years, we've gradually put together the dream team to make it happen on a larger scale. Today, there are 30 of us working to make your favourite clothes, in a quality that was once reserved for a handful of men.