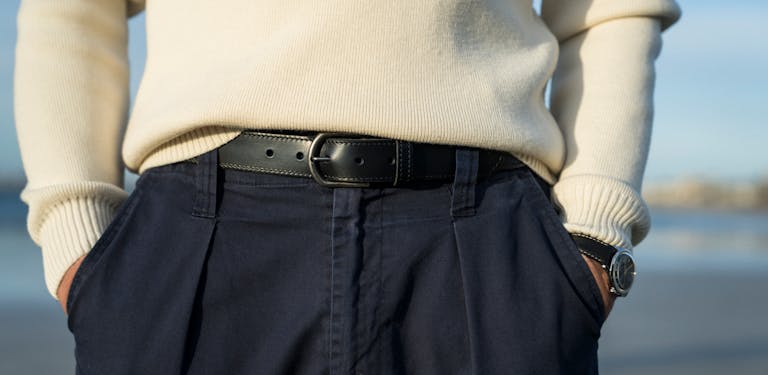 July 28, 2021
What a belter
The choices we make define us, and that includes our choice of leather goods.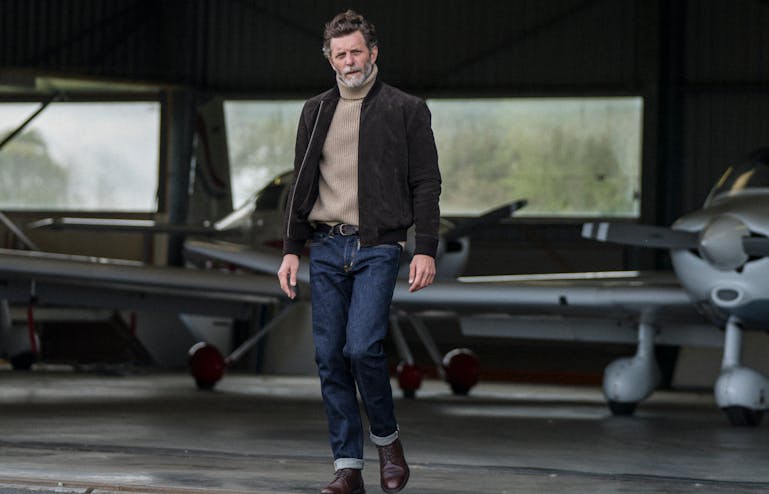 You could buy yourself a nice belt, or you could just save your money. But what would the consequences be? Buy the belt and it could be a turning point, the moment when everything comes together for you. The world starts showing you the respect you deserve. You become master of your own destiny.
And what happens if you pass on the belt? Well, nothing, at first. But something has to keep your trousers up. For a while, that would be you just hoisting your chinos up now and again, but that can only go on for so long. It's unsustainable. You make do as best you can until one day you wake up and you're wearing elasticated waistbands.
You've no idea how it happened. You can't pinpoint the moment everything changed, but now it's all you have in your wardrobe. Maybe you run into an old pal at the checkout that you haven't seen for years. He's definitely clocked the elasticated trousers. He goes and starts a WhatsApp group with your other friends because he's worried. 'I saw Geoff at the supermarket the other day and he was wearing elasticated trousers. Is everything ok?'
The choice is yours, of course, and choose you did. Here's what you asked us for:
-  A high quality, durable leather
-  Well made to avoid any embarrassing belt malfunctions
-  Doesn't stretch out of shape
- Leather that isn't too thin
When you're talking smooth leather goods of any kind, they have to be of the full grain variety. This means real deal leather with nothing done to it, because it doesn't have anything to hide. A belt that feels too flimsy is a recipe for anxiety, so for our belt we went with an unsplit full grain leather that's over 2mm thick. And relax.
Regular readers will know that vegetables aren't just an important part of a balanced diet, but an important part of the leather tanning process, too. Actually, vegetable tanning involves things like bark and leaves rather than aubergines, courgettes or yellow peppers, but it's the only way to go when it comes to colouring leather. It doesn't use nasty chemicals like chrome so it's far less polluting, and results in a richer, more natural finish.
How many times have you bought a brand new belt only for it to be all stiff and rigid for the first few days, weeks, or even months? As well as using natural vegetable dyes, the leather we have used is processed using a 'drum tanning' technique, which softens the leather up a bit, and also adds a nice patina to it. So it looks great right away, no wearing in period.
And now for the brass section
There's no better material for a belt buckle than solid brass. It's tough as nails and full of character. You could say that brass and leather are the perfect double act, like Morecambe and Wise, Tango and Cash, Hall and Oates. This particular buckle is made by the brass masters of ANYSA in Spain.
On the belt's reverse we've used a wax coating to give it a raw, authentic feel. No one wants a flimsy, delicate belt that you have to baby. Your belt goes through a lot when you think of it, so durability is key.
Existentialism. Haute cuisine. Impressionist painting. The French excel in many fields, and it turns out leather goods is one of them. The Smooth Belt was crafted in a workshop in Brittany, using top-secret belt knowledge passed down through generations.
A veritable buffet of belts
Three timeless options to choose from :
Black – If you want to feel a bit like Johnny Cash.
Light Brown – The colour of the caramel inside a Twix. Sweet.
Dark Brown – Now we're in Dairy Milk territory.
A few months back we committed to giving you the full environmental impact of every item we release. La totale as we say in France.
So this is what goes into, and comes out of each Smooth Belt.
- 1.05 kg of CO2 emissions, which is equivalent to travelling 19,1 km (11 miles) by car. Here's how our partners at Fairly Made come up with that number link*.
-  11.2 litres of water used for each belt, which equates to a 1 minute shower.
- 16.5 MJ of energy, which is about 6 hours of electric heating for an average flat.
Belt it over to the preorders now
The Smooth Belt will be available to preorder for 59€ from the 6th of July. If you want first dibs, you can sign up below and we'll be sure to notify you when you can grab one.
You can expect the Smooth Belt to land on your doormat around mid-October (anytime between the 11th and the 20th).
And if it doesn't work out when your Smooth Belt arrives, returns and exchanges are easy. The return costs are on us.