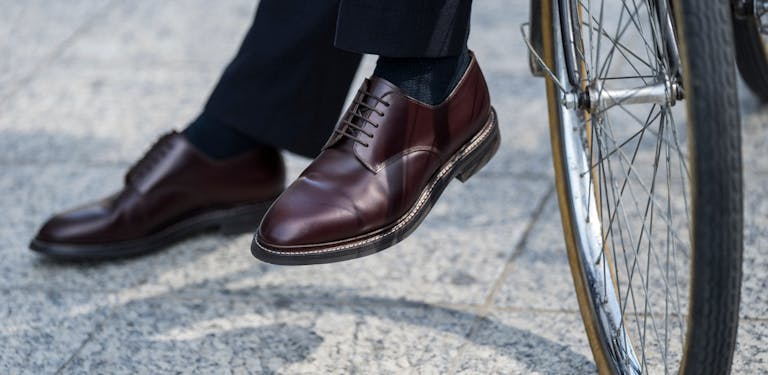 July 28, 2021
The sturdy shoe with style
It's time to leave your trainers on the rack.
Like a Jaguar E-Type or an Olivetti typewriter, the Derby Shoe is one of those classic functional designs that happens to look really, really good.
With their trademark open-lace design, they're the shoes for those who don't usually wear shoes—sharp enough for weddings and the occasional job interview, but still substantial enough to be worn with a pair of selvedge jeans as you zip around town on a Vespa.
His name was Earl… sort of
You can thank the 14th Earl of Derby for this fine piece of footwear. The story goes that the Earl's portliness meant he struggled to get in and out of his boots, so he called upon a bootmaker to come up with a more practical design. He wanted something that was comfortable, but still tough enough to put up with the occasional country pursuit. The result, as you've probably already guessed, was the Derby.
It wasn't long before the design spread beyond his estate, and what was created with hunting in mind soon became the go-to shoe for anyone who needed both style and function—from private eyes to those in 'waste management'. Next time you're watching The Sopranos, peel your eyes away from those lavish plates of gabagool and check what Tony's trotting about in.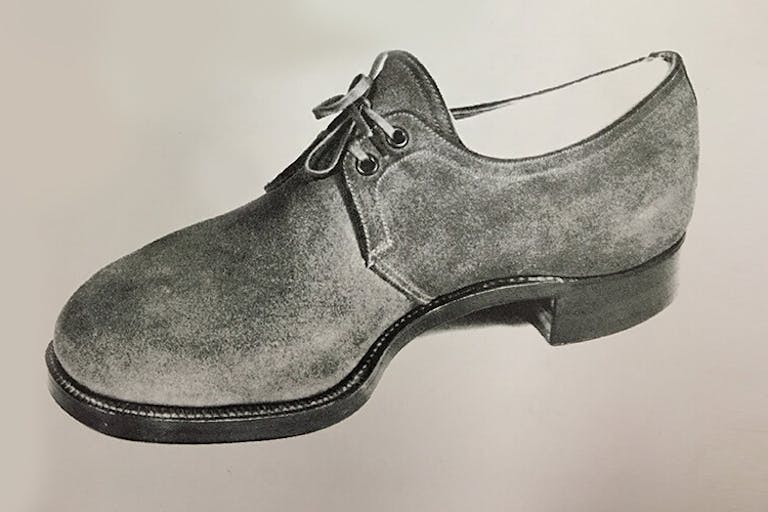 When we put the word out we were making a pair of Derby Shoes, you told us you wanted them hard-wearing, made out of good-quality leather, with a solid construction and a hard-wearing sole: a heavy-duty shoe that didn't skimp on comfort. We dived feet first into giving you just that...
For our Derby Shoes we hunted down not one, but two, ultra-high-quality leathers.
Both the Black and Burgundy shoes are made from super-smooth full-grain aniline leather from Spain, whilst the Light Brown shoes are made from waxed suede from world-renowned Charles F. Stead tannery in the UK.
We'll also mention the suede was treated with Brazilian carnauba wax. Not only does this give them a bit of added water-resistance, but it'll help them develop a really nice patina over time. You'll soon know what we're talking about.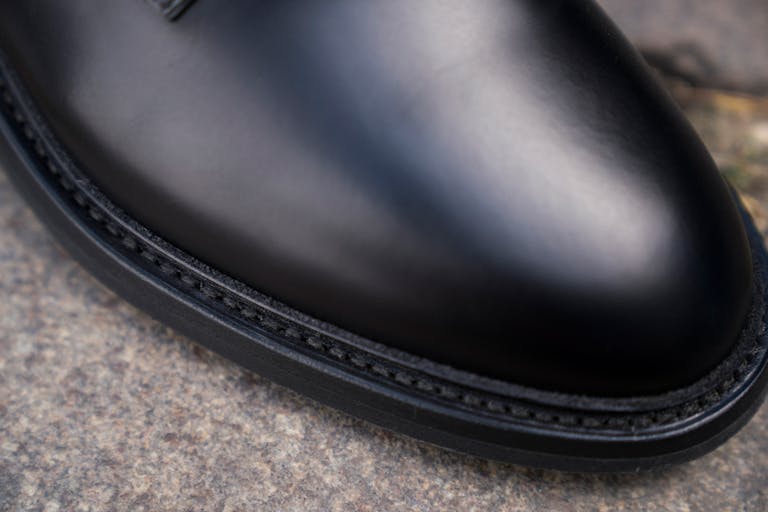 In search of a suitably strong sole, we turned to Itshide and their studded Commando soles. This lot have been making hard-wearing soles from their base in Northamptonshire since the '40s, and when it comes to grip, it's safe to say they know what they're doing.
To attach this fine piece of natural rubber to those swanky uppers, we used nothing less than a Goodyear Stormwelt. As you'd expect from something with such a dramatic name, this is serious business. Rather than lying flat on the sole, this welt rises up the upper in a Y shape to provide extra protection, and comfort. The combination of Itshide soles and Goodyear welts is a true match made in shoemaker heaven—and cobblers have been known to resole them in their sleep.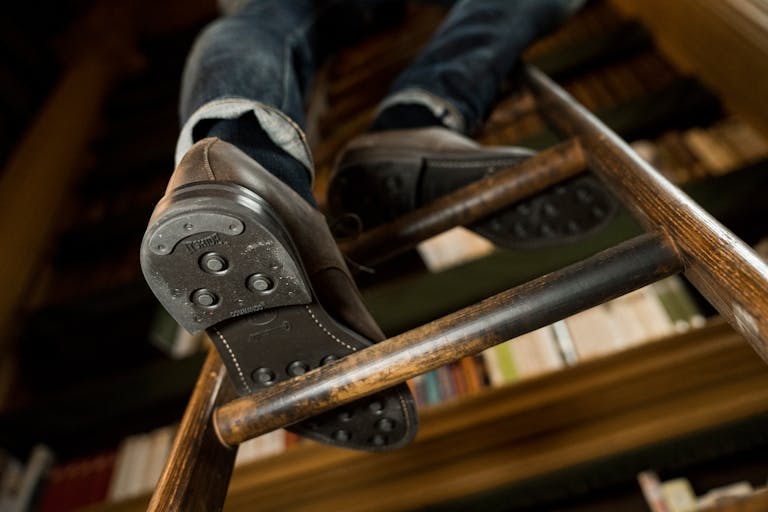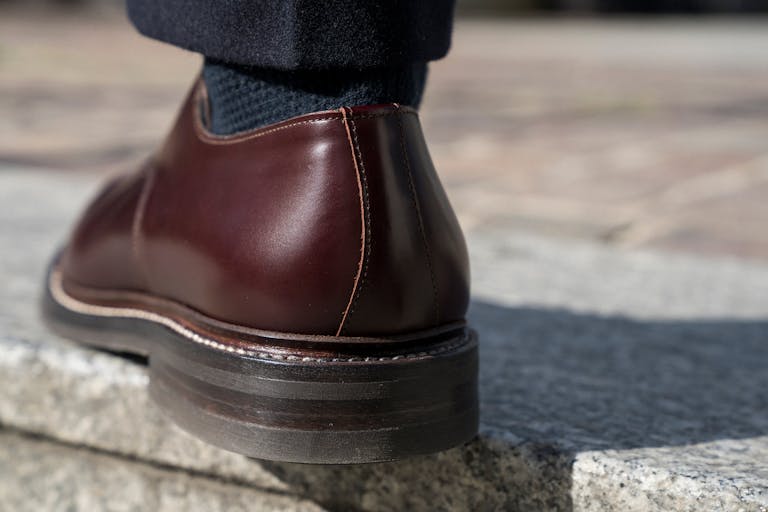 The nuts and bolts of shoe construction are in the stitching. To join the welt with the sole, we've used a topstitch of waxed and braided thread from Amann in Germany. Sehr gut. 
For the rest of the leatherwork, we've used tripled stitching where the quarters join the vamp, for elegance and extra strength, and single stitching with tone-on-tone thread elsewhere, just what you asked for.
The five sets of eyelets are made with low-tension metal to ensure minimal rubbing and longer-lasting laces. As for the laces, they're thin and waxed for strength. 
Three is the Magic Number
There's no team colours for this Derby, just three classic shades that are always winners.
Black doesn't really need much explanation does it? Seriously classy.
Burgundy is another time-honoured option. Like a fine wine, without the headache the next day.
And finally, there's Light-Brown waxed suede. A slight curveball that really hits the mark.
A few months back we committed to giving you the full environmental impact of every item we release. La totale as we say in France.
So this is what goes into, and comes out of each pair of Derby Shoes.
9.41 kg of CO2 emissions, which is equivalent to travelling 171 km (102 miles) by car. Here's how our partners at Fairly Made come up with that number link.
187 litres of water which equates to 3 five-min showers.
292 MJ of energy, which is about 4 days of electric heating for an average flat.
Like the sound of these? The Derby Shoes are available for 199€ from the 20th to the 1st of August. If you want first dibs, you can hit this link here and we'll be sure to notify you when you can get involved.
Take a look at our size guide below and if it doesn't work out when your shoes arrive, returns and exchanges are easy. The return costs are on us.
Need to know anything else? Ask away via the comments below, or alternatively you can check our international Instagram page for more info.
Cheers,
The Asphalte Team