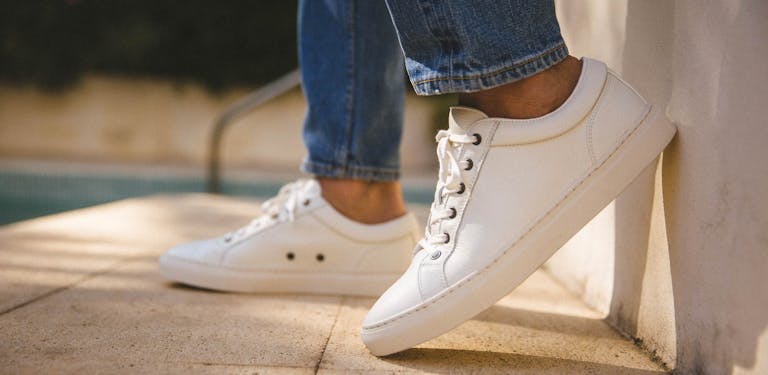 July 27, 2021
Step correct
Classic low-profile design, high-class Italian leather
Hovercrafts… space-shuttles… large, angry wasps conjured up from the darkest realms of H.R. Giger's imagination... nope, we're not talking about the newest sci-fi blockbuster, we're talking about sneakers—and what they look like these days.
All very well if you're an athlete trying to shave seconds off a world record, but for the rest of us, they're maybe a bit excessive—especially with all those big logos and gimmicky details.
Luckily, there is an alternative. Want some comfortable, flexible trainers that side-step the noise? Fancy some sneakers that don't look uncannily like miniature jet-skis? Walk this way, sir.
If we may say so ourselves, the Solid Sneakers are a bit of an Asphalte classic. We've been making them for a good few years now, and they're always really, really popular. It's not that hard to see why either—they're made from really high-quality leather, they feel ace and they're particularly easy on the eye.
Back when we started working on them, you told us you wanted something made from hard-wearing leather, with a tough outsole, laces that would last and stitching that wouldn't split. We took all that on-board, and have continuously looked to improve your comfort from heel to toe with each version we've released.
Our hunt for the finest materials took us to Italy, where we came across Mastrotto, a maker near fair Verona who've been plying their trade all the way back in 1958. This dedicated team makes durable yet flexible full-grain leather and calf-suede that's almost good enough to eat. We wouldn't advise it though.
Our soles come from Italy too—constructed by a company called Margom. They have a solid reputation for crafting indestructible yet comfortable sneaker outsoles, and we've been working with them for years now. 
Next step, making them. Enter Perfect Eject, a manufacturer based just outside of Porto. This is where it literally all comes together. Perfect Eject was founded over 30 years ago by M. Joaquim Carvalho. He runs a team of dedicated and passionate co-workers who are all true masters of their craft. Their work speaks for itself.
Manufac'Tour
Hot on the heels at Perfect Eject
Shoes that fit like a glove
The 'Strobel method' might sound like a breathing exercise devised by an Austrian scientist back in the early 19th century, but it is in fact a classic shoe-making technique that's long been used to make athletic kicks. 
The upper is sewn directly to the inner sole using what's known as 'a Strobel stitch', creating a snug 'sock' that your feet sit into. The rubber outsole is then glued and sewn into place. It's how our Solid Sneakers were put together, and basically keeps them firm, yet flexible.
To make things even more comfortable, the Solid Sneakers feature fully removable in-soles, which sits on top of all this Strobel business. They're made from leather with a layer of silicon, they should put a spring in your step. And because they're removable, they can be easily swapped out with more specialist soles if that's what you're into.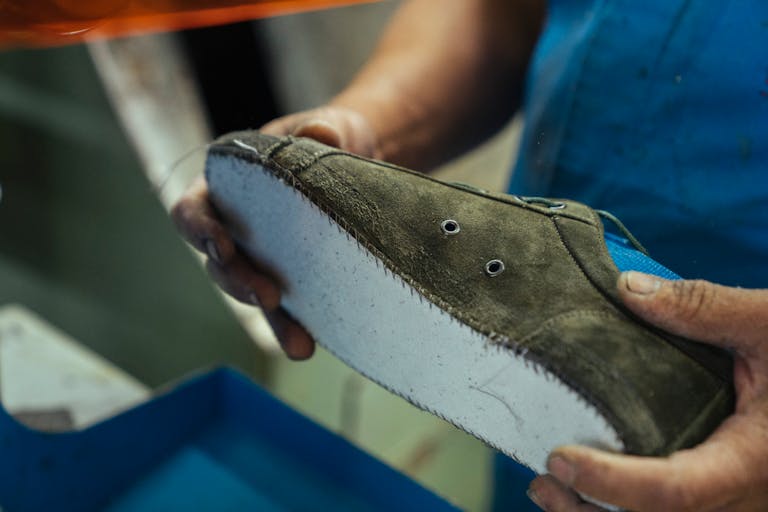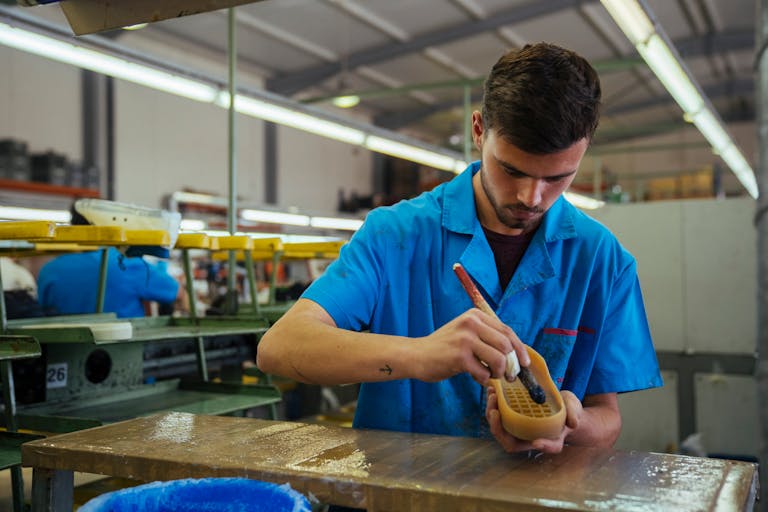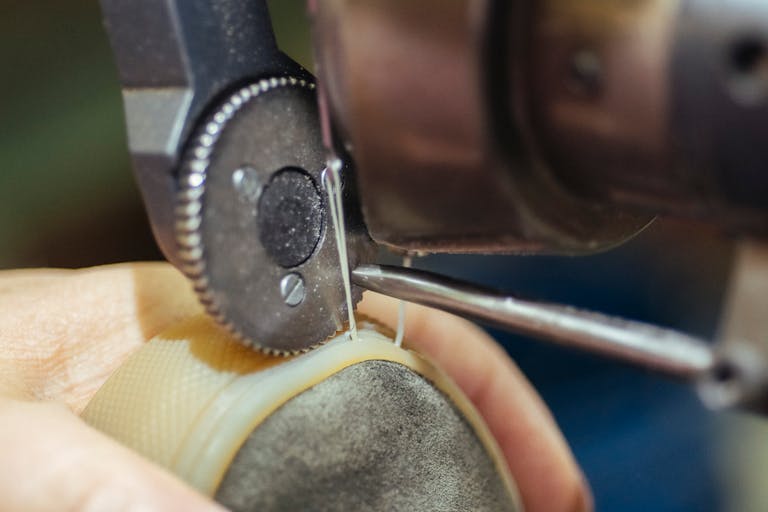 Ripped laces aren't much fun, so to make sure ours aren't going to give up the ghost—whatever that means—we reinforced them with a wax coating. Those low-friction metal eyelets should help too.
Another nifty detail we're quite pleased with is that loop that sits in the middle of the tongue. This subtle feature helps keep the laces and the tongue firmly in place. Okay, it's not going to change your life, but it's a nice touch.
And here's a few more shots for your eyeballs. 
The shoes feature air vents on the side too, for fairly obvious reasons. Sneakers are made for movement, so big, clumpy trainers that get hotter than the inner-portions of a McDonald's apple pie don't make much sense. Ours are a much fresher option—imagine the cool breeze as you walk the crisp sands of a Hawaiian beach as the sun slowly sets and you're halfway to how good these things feel.
Our Solid Sneakers come in four flavours—the white ones are made out of full-grain leather, whilst the others are made from super-supple calf-suede.
At the top, there's the unbeatable White Leather. Always a firm favourite.
Then there's Taupe Suede — a really classy earthy tone that sits somewhere between brown and grey.
The navy suede, floats most people's boats.
And finally we have the outsider… in olive suede but with tasty gum outsole.
A few months back we committed to giving you the full environmental impact of every item we release. La totale as we say in France.
So this is what goes into, and comes out of each pair of Solid Sneakers.
- 6 kg of CO2 emissions, which is equivalent to travelling 105 kms (65 miles) by car. Here's how our partners at Fairly Made come up with that number link*.
- 150 litres of water used from farming to making the finished pair of Sneakers, which equates to 2 five minutes showers.
- 275 MJ of energy, which is about 92 hours of electric heating for an average flat.
The Solid Sneakers will be available to preorder for 99€ from the 29th of June. If you want first dibs, you can hit the link below and we'll be sure to notify you when you can grab them.
For the sharpshooters, your Solid Sneakers will land on your doormat around the end of August. The following batches will drop around mid-September.
And if it doesn't work out when your Solid Sneakers arrive, returns and exchanges are easy. The return costs are on us.
Anything else on your mind, don't get cold feet, we're here to answer you below or on our International IG Account. 
The Asphalte Team