July 27, 2021
Rocky's Sweatshirt
You're in tall cotton with this one. Full marks for effort, for your full comfort.
The sweatshirt is one of those garments that we all have at least one off, but we don't really know where from and why. Like an old friend we can't really remember meeting for the first time, they've just always been there. It's the one piece that manages to board your weekend trip suitcase all year round, keeping you warm, but not overdoing it. A softie on the inside, badass on the outside.
And it's the one piece that so many of you have had something to say about, possibly making it the one item for which we've received the most responses to a questionnaire so far.
You were more than 6,000, that's a hell of a lot. And you spent on average 5 minutes and 38 seconds telling us about the problems that you have with your sweats and how you'd like us to improve them. That makes a total of about 538 hours. Or 22 days. No pressure then...
For those who like to keep a long story short, here's a video about how we tackled your issues before getting into the nitty gritty.
How does one make a good Sweatshirt?
We'll avoid being too technical, but there are lots of specific things to know about this sweat. As we explain in the video, our main goal was to remain true to its sportswear heritage, meaning that we wanted to keep the functional details and comfortable construction that you'll be able to see clearly on the shots a little further below. But we know what you little rascals are dying to see first: Our true colours! So let's just cut straight to that, so we can return to the sweat's core.
A navy that makes you feel blue in the best possible way.
An off-white, plain and smooth
A grey marl, the people's favourite
Bronze-green to hide in (urban) jungles.
Blood-orange, juicy, not sweaty.
Now enough with the warm-up
To make a good burger, you need a good bun.
The same goes for a sweater. You need a good cotton. You might already know ours from our T-shirt or our Henley. It's a GOTS certified organic cotton from India. We're particularly picky with that because organic cotton requires much less water and minimises the harmful outputs of producing. And that's the bee's knees for us.
32% told us your sweats were too light or thin. We were smart on that one and made sure our sweatshirt stayed thick. Weighing in a whopping 500g/m2, this jersey is no lightweight. It's spun and knitted in Portugal with a jersey knitting technique that gives a smooth look on the outside and small loops on the reverse that can be left as they are or brushed, for added comfort.
We all need a little comfort in our lives.That's why we opted to brush the inside, so that every time it comes in contact with your skin, you feel like being hugged by Softie McSoftface. Are we being too soft? We don't think so.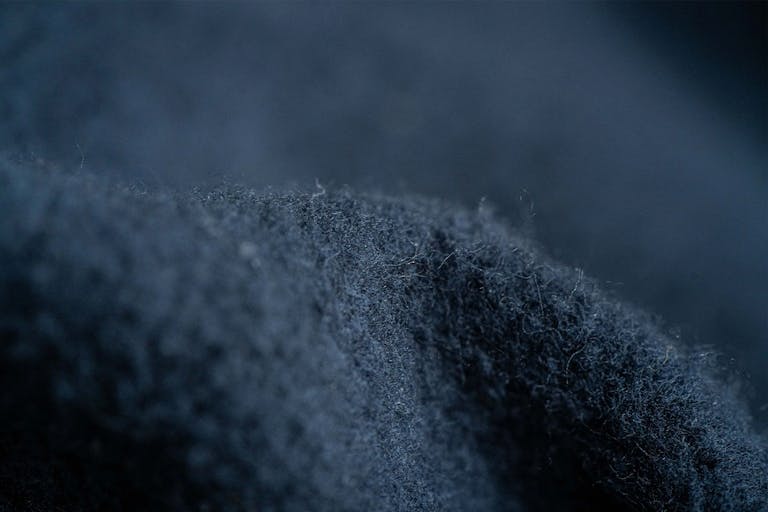 Never. Over. Fitted. Because this is a piece of sportswear to its core, so it should make you feel relaxed on and off the pitch. But that's no excuse to punch in the potato-sack category either, so we created a fit that rests perfectly between sporty and stylish. Not too long, not too short. Not too wide, not too tight. Basically, it's the same fit as this year's Perfect Jumper, for all those that are lucky enough to keep warm in it throughout the winter. The thick, voluminous jersey drapes well and drops nicely on the waist! Check this: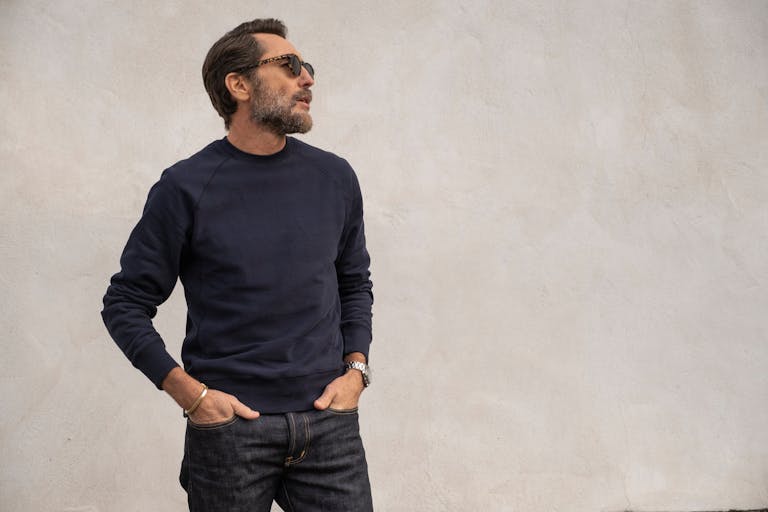 We went for raglan sleeves in order to preserve the sporty and vintage spirit we mentioned. Named after Lord Raglan, who needed more room to use his sword in battle, it's a type of sleeve construction that starts at the neckline and runs diagonally to under the arm, so that there's no seam at the shoulder. With raglan sleeves, you tick the sportswear and style boxes. Round one goes to the rounded shoulders with their subtle play on volume that add a little mystery to your build. Round two goes to just looking real good.
Retro-futuristic construction
This is where it gets technical. But keep your shirt on, we'll try and keep it simple. To make sure that the pieces don't stretch and twist, we cut the jersey horizontally and not vertically, just like our T-Shirt and Hoodie. It's a technique that stems from the big American sweatshirt manufacturers that assembled pieces that way in order to avoid distortion in length or width and to give their sweats a long and happy life.
To stop you breaking into sweat moving around during your next home bbq sess', we needed to sweat the technique. Essentially, most of the sweaters that you know today are constructed in the same way. Four jersey panels, assembled one after the other: One in the front, one in the back, and one for each sleeve.
But while we were doing some digging, we found a vintage sweater that didn't have four panels, but six. SIX PIECES! We know, crazy, you're probably behind your screens right now, unable to fathom this discovery like "How is this even possible? Six panels? I can't, I just can't. I need to check my sweats!".
Ok, maybe that's just us, but what seems like a small detail to you is of the utmost importance to us. Because the two panels are added to the side-body. Also, they aren't made of jersey, no, no way jersey, they are made from 1x1 cotton ribbing. Like this: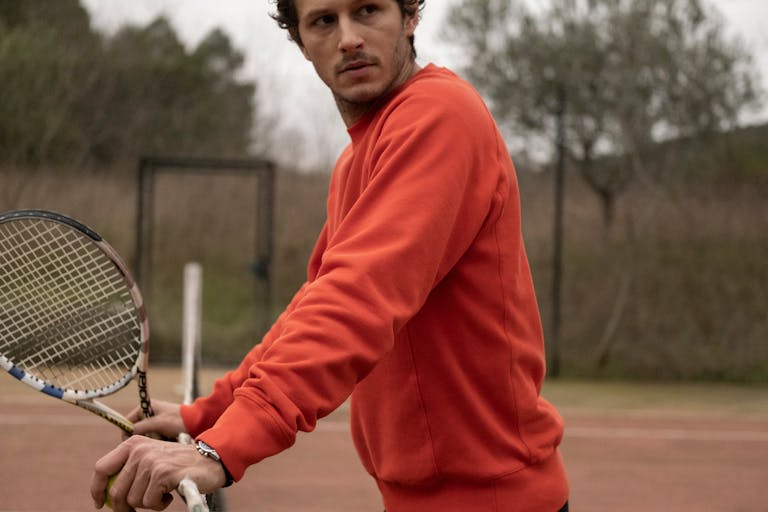 Making moves just got real.
Credit where credit's due, we didn't invent that technique, we saw it on a sweater from one of the oldest sweatshirt manufacturers and it was both technically and visually a total winner. So here's what it does for you: It makes for a sweat that's both durable and flexible and that you'll feel good in when you wear it. And that'll be for a long time. We tested it in an independent lab and also washed it loads ourselves to make sure the sweater didn't mind a wash or 20.
And that's the Henley detail that we fell in love with and can't get enough of. It's a way of sewing the pieces together that looks super retro, but also just simply beautiful and is durable as hell. Flatlocks are so good-looking, we needed to add them everywhere.
A used-look is only cool if it's supposed to look that way, and a worn-out collar just never looks good. That's why we constructed the collar on this sweatshirt exactly like we did on our T-shirt, by adding an extra layer of jersey between the ribbing and securing it with a double top-stitch. And nothing moves. Tip top!
What's the environmental impact?
A few months back we committed to giving you the full environmental impact of every item we release. La totale as we say in France.
So this is what goes into, and comes out of each Sweatshirt
- 14.2 kg of CO2 emissions, which is equivalent to travelling 258km (160 miles) by car. Here's how our partners at Fairly Made come up with that number link*.
- 569 litres of water which equates to 8 five-min showers.
- 235 MJ of energy, which is about 79 hours of electric heating for an average flat.
From the raw materials to the garment make, your Sweatshirt travelled 12,610km (7,835 miles)
So, preorders start next Thursday 24 June at 10am CET and we give you a tad more than a month this time in case you can't make up your mind which colour you want.
Now what about the price? That's 59€ in preorder. Yes, 59€. After all that we've told you, that's almost too good to be true. But it is, so get in there!
Sign up to our page to get a head start and select your size (see the guide below) and colour.
If you have any questions, sweat them out in the comment section below or on our Instagram page