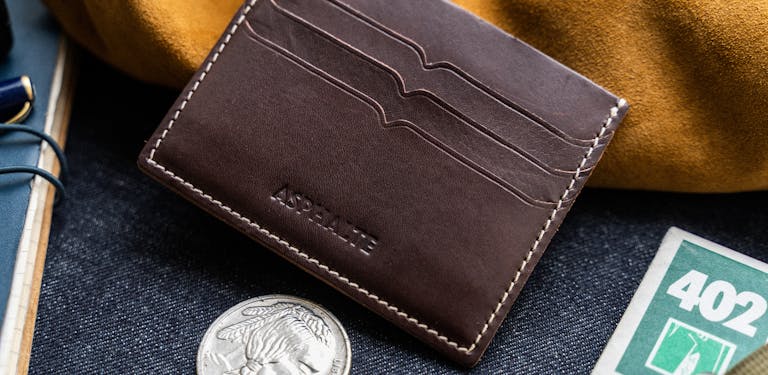 July 27, 2021
Play Your Cards Right
Time to ditch the bulky wallet.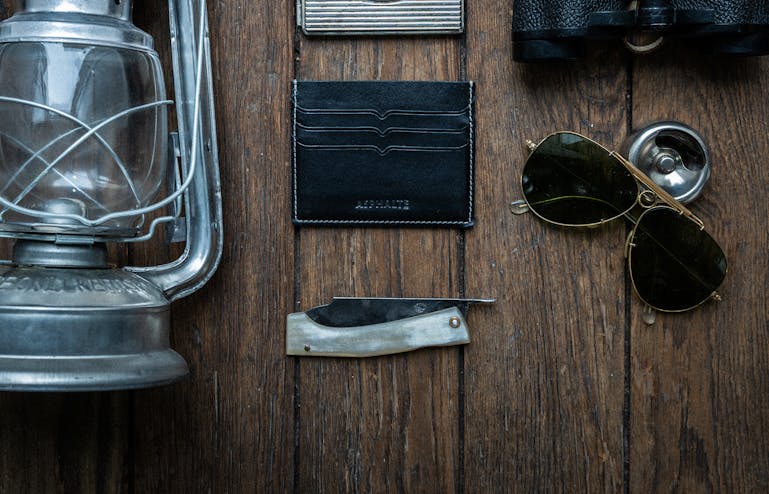 The intervention didn't work, and rehab didn't work, either. Now it's time for drastic measures. The last resort. The only way to stop you from hoarding receipts is by removing temptation entirely. You can't hoard 'em if there's nowhere to put 'em.
You can't even remember the last time you had any cash on you, so that big billfold compartment is nothing but an empty space to fill with bits of paper you'll never look at again. Packet of crisps from Tesco. A tin of paint from Homebase. It's unlikely you'll have to return those items, but best to hang onto the receipts, just in case.
Except it isn't. Snap out of it. Let go. Be free. When you leave the house these days, you only need your phone and a handful of cards, so there's no sense in lumbering yourself with unnecessary bits and pieces. And with all due respect to anyone who uses one of those phone case/card holder hybrids, we think you can do better than that.
Something with one job to do, that's not trying to be all things to all people. Something like our Italian leather Card Holder.
If the whole point of a card holder is streamlining, then it had better be nice and slim. Otherwise, you might as well stick with your chunky old wallet that's been wearing a square patch into your trousers for all these years. Our Card Holder is just 4mm thick when empty, so it slips easily into your pocket, even if you're still clinging onto your skinny jeans.  
How much do you really need to take with you when you leave the house? It's not as much as you'd think. The Card Holder instills some crucial self-discipline by allowing you to carry only the important stuff with you. Three card slots, and a top slit pocket. We reckon that's plenty.
Full-grain calfskin leather from France. Quite possibly the most beautiful sentence in the English language. You can't have leather goods without good leather, so we're picky about ours, and rightly so. This is the best part of the hide – which incidentally has nothing to hide – so hasn't been subject to any unnecessary treatments.
No artificial colours or flavourings
If you're going to take the trouble to source the best leather, then you can't cut corners when it comes to the dyeing process. Vegetable tanning is the only way to go, as far as we're concerned, as it does away with chemicals like chrome that not only produce a more artificial looking finish, but are considerably worse for the environment. The leather we've chosen has been tanned using things like oak leaves and bark. Bet you never thought the contents of your compost bin could look this good.
Besides the leather, the only other component of the card holder is the thread. We've established the leather is top notch, so it would be a bit daft if we phoned it in on the stitching. You know we'd never do a thing like that. Heavy duty waxed thread, stitched with reinforced stops is the order of the day. If nothing else in your life, you can rely on our Card Holder not to fall apart.
French leather, tanned in Italy, then shaped into a card holder in Portugal. Not just somewhere to stylishly store your cards, the Card Holder is a beautiful example of international cooperation. Look at the things we can achieve when we all work together.
Three classy colours to choose from
Black – If you want to channel that 'fiscally responsible bad boy' energy.
Dark brown – When you picture a nice card holder in your mind, it's this colour.
Tan – Open fire optional.
What's the environmental impact
A few months back we committed to giving you the full environmental impact of every item we release. La totale as we say in France.
So this is what goes into, and comes out of each Card Holder.
- 0.24 kg of CO2 emissions, which is equivalent to travelling 4,4 km (2,7 miles) by car. Here's how our partners at Fairly Made come up with that number link*.
- 2.23 litres of water which equates to a 10-sec shower.
- 3.93 MJ of energy, which is about 80min of electric heating for an average flat.
Time to slot in a preorder.
The Card Holder preorder opens next Tuesday 10 am at 39€ a pop and for a few days only.
The sharpshooters will get theirs delivered around mid-November (that's anytime between the 11th and 21st).
In the meantime, you can sign up to get notified for when you order it next week.
If you have any questions, sweat them out in the comment section below or on our Instagram page.
The Asphalte Team.