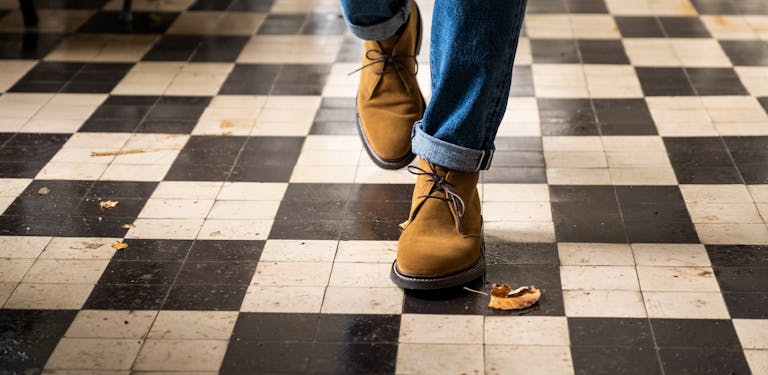 July 27, 2021
Out of the desert
Lightweight, year-round boots that are always up to the task
Chukka… it's a strange word. Any polo players in the audience will know it's what seven-and-a-half minutes of charging around on a horse is officially known as. It also means 'to stroll' in Hindi. Oh yeah, and it's the name of one of the most versatile pieces of footwear ever devised—the Chukka Boot. These boots were made for strolling… and pretty much everything else. 
The term 'Chukka Boot' is used pretty liberally these days, but generally it refers to light-weight, round-toed ankle boots with two or three eyelets. Whilst the history is a little hazy, the consensus is that Chukkas were first devised in South Africa as lightweight walking shoes, all the way back in the 17th century. Thanks to their functional design their use quickly spread across the continent, worn by everyone from, unimpressed kids or preppy students to safari guides—via a few stints in the military.
With so much pedigree to go on, we wanted to get things just right, so, as always, we asked you for your input. The main thing you were after was—surprise surprise—quality. You wanted quality construction, quality leather and quality materials—and rightly so. But you didn't want some stiff, awkward boots that just looked the part either, comfort is a must. We got busy making a pair of Chukkas that would do you justice.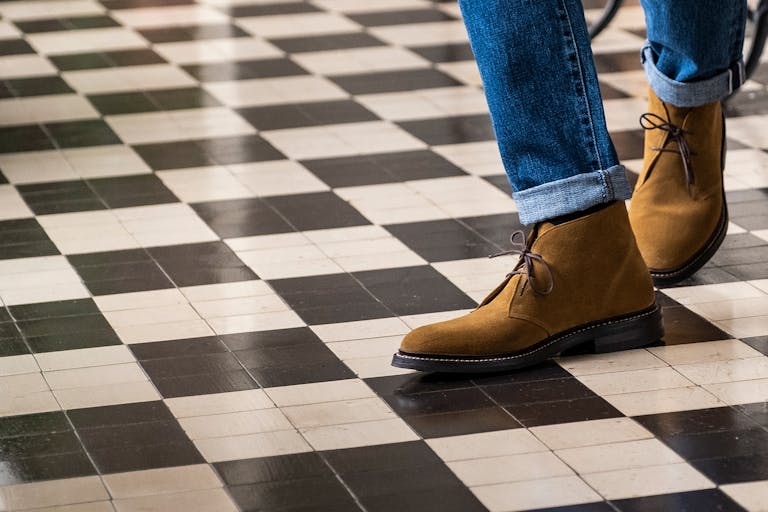 Given we're more likely to be braving wet pavements than sand dunes, we opted for Itshide 100% natural rubber Commando soles instead of the usual crepe. Anyone who has inadvertently found themselves imitating Bambi's first steps after losing their footing on a recently mopped supermarket floor will know how dicey crepe soles can be, so we went for grip overslip. 
We secured our Commando soles with a Goodyear Stormwelt—a combo that's so dependable that it's a bit of an Asphalte signature. For those that don't know, the welt is the bit that attaches the upper to the midsole of a shoe, and the Goodyear Stormwelt is practically the don dada—renowned for keeping feet dry and shoes intact.
1,000 of you that took part in our survey had the idea of adding inserts on the upper and heel for strength. So we tested it out and it worked really well. Not wanting to turn up to the party empty-handed, we went one step further and secured all the seams with a triple stitch.
We balanced out the hard-wearing features with elevated details to bring a bit of finesse to this well-travelled icon. This means a soft leather lining, two pairs of neat eyelets and a raw-edge finish cut just above the ankle. We also added a heel strap so that you can pull them on easily without damaging them over time, and there's a full sponge layer in the insole to put even more spring in your step.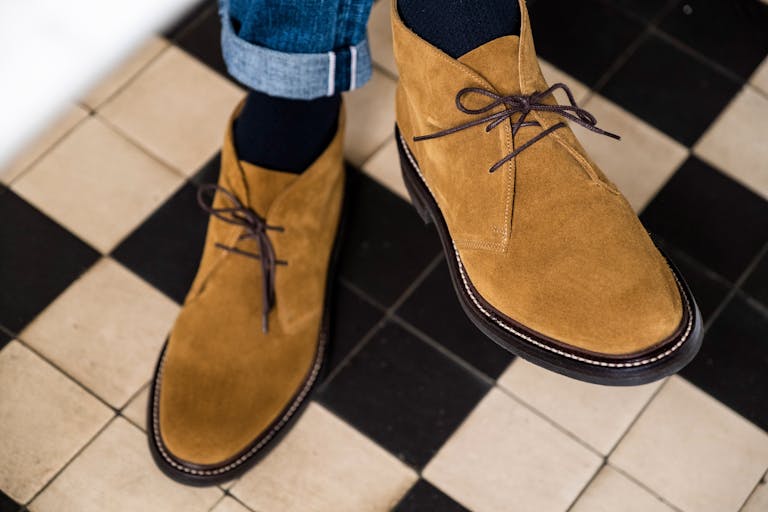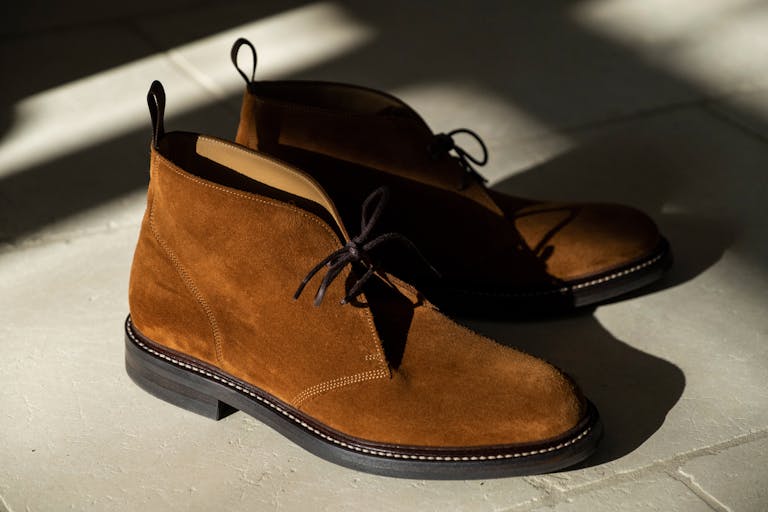 We've got two versions of our Chukka Boots, across four colours. The Dark Brown, Chestnut and Camel boots are made from seriously supple suede, whilst the black version's made from luscious leather, which was a request coming from 11.6% of you.
The suede comes from Zabri—one of Italy's finest leather suppliers, whilst the leather comes from Picusa in Spain. Either way, it feels ace—the suede is soft and buttery, whilst the leather has a really smooth, rich texture.
And for anyone worrying about their suede shoes coming into contact with a bit of H2O, rest easy. They've been given a water-resistant treatment to keep those pesky raindrops at bay, as well as fight off general day-to-day marks. That's one less thing to worry about when after-work drinks get out of hand.
That said, we'd still recommend that you give the suede Chukkas an extra water-proofing before you take them out for the first time, and from time to time after that. All good shoes need a bit of care and attention every now and again.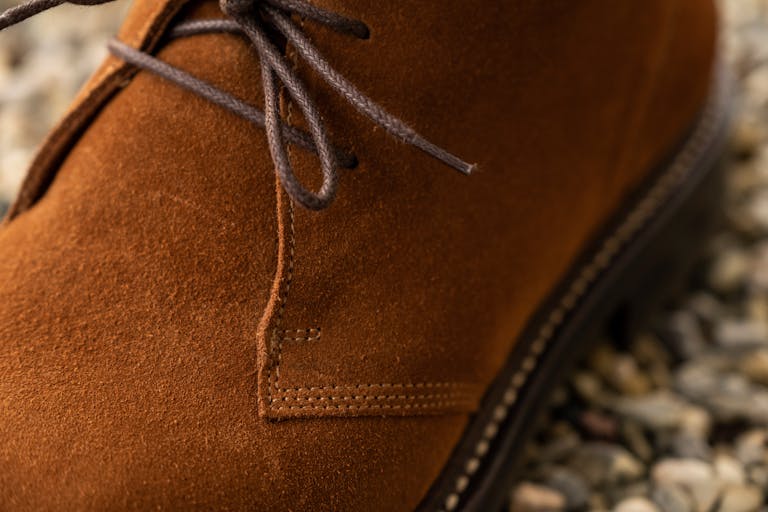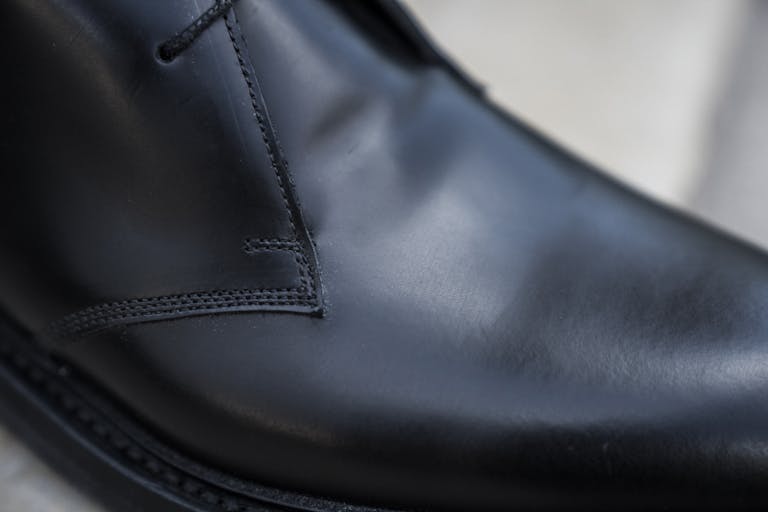 Finally, our Portuguese production partners Penha expertly put the Chukkas together. Working with Goodyear welts is a true skill—and the true artisans here have over 60 years experience in it. Put simply, they seriously know what they're doing.
There are four flavours of the Chukka Boot. The suede options have contrast stitching, whilst the black leather boots are in full stealth mode. 
Then there's Dark Brown. Tastier than a big slab of Galaxy chocolate.
For a bit of autumnal comfort, all year round, there's Chestnut.
And finally, we've got Camel. If Lawrence of Arabia rode a Lambretta, he'd probably wear these...
A few months back we committed to giving you the full environmental impact of every item we release. La totale as we say in France.
So this is what goes into, and comes out of each pair of Chukka Boots.
9.5 kg of CO2 emissions, which is equivalent to travelling 172 km (106 miles) by car. Here's how our partners at Fairly Made come up with that number link.
190 litres of water which equates to a 3 five-min shower.
295 MJ of energy, which is about 4 days of electric heating for an average flat.
Sound good? The Chukka Boots are available for 199€ from the 20th to the 1st of August, with the first batch delivered around the beginning of November.
If you want first dibs, you can hit this link here and we'll be sure to notify you when you can get involved.
And if it doesn't work out when your boots arrive, returns and exchanges are easy. The return costs are on us.
Here's our size guide.
Need to know anything else? Ask away via the comments below, or alternatively you can check our international Instagram page for more info.
Cheers,
The Asphalte Team