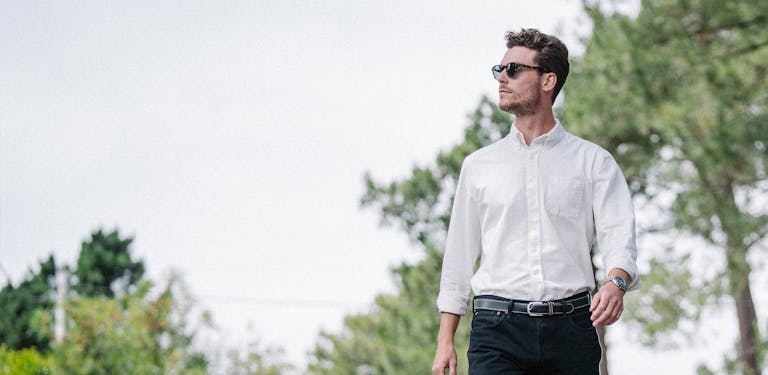 July 27, 2021
No laughing matter
Denim. Not just for jeans. Not just for jackets, either. Is there anything it can't do? 
Admittedly, you might not want to wear a denim cowboy hat like Justin Timberlake circa 2000. But a denim shirt? Now there's a good idea.
And if we're talking about denim, there's really only one country that comes to mind: Japan. There's a reason that denim geeks the world over look to Japan for the fabrics that meet their incredibly high standards. Maybe more than any other nation, they take the little things seriously, and are known to ensure every detail is spot on. That's why we travelled to Japan to source the denim for our new Denim Shirt. Here's what you wanted:
-          A nicely tailored fit
-          A fabric that's not too heavy, and not too light
-          Durable denim with a bit of character
About that Japanese denim
It's probably not escaped your attention that the Japanese have a certain reputation for producing quality denim. We sourced this tasty denim from Japan Blue Co. via the Nomura Mill in Okayama. These are the same cats we trusted with making the denim for our Ultimate Jeans, so their pedigree is guaranteed.
With denim shirts it can be hard to get the right weight. Too light and you're afraid to move your arms for fear of ripping it. Too heavy and you can't move your arms anyway. After feeding all available data into our office supercomputer, the ideal weight was determined to be 240g/m2. So that's exactly what we chose.
Four seasons, like the pizza
Not only is this weight the perfect meeting point of comfort and durability, it's also great for year-round wear. An autumn walk in the park, or a sunny stroll down the promenade, the Denim Shirt is good for both.
As well as weight, the length of a shirt can be a minefield. Too short and it comes untucked when you're reaching up for that last box of Crunchy Nut at the supermarket. Too long and it's a bit more like a smock than a shirt. That's no good, you'll be made a smockery of (ahem). Again, we fired up the supercomputer and calculated the perfect shirt length, whether you prefer to live life tucked or untucked.
It all comes out in the wash
Denim is all about the wash. Think about the sheer number of options when you walk into a clothes shop. Raw, rinsed, one wash, stone washed, distressed wash, bleach wash. Denim's character all comes from the washing process, so there's a lot to consider. We asked you which wash you'd prefer, and an equal number of you said rinse and stone wash, so that's what we made. A renegade splinter group also requested off white, so we've obliged them, too.
As ever, if the fit isn't right then the whole garment is off. We made our Denim Shirt with the same fit as our Button-Down Oxford, which has been carefully honed over years of feedback from yourselves. It's tailored, so it's got a bit of shape, but not too fitted. A perfect, flattering cut, then.
The decision is yours.
Rinse – Denim that's not had much done to it, so the dark indigo colour remains. Good for cultivating an air of mystery.
Stone – If you want that worn in look, but have never done a day's physical work in your life.
Off-White – The mavericks among you requested this, and who are we to deny you?
What's the environmental impact
A few months back we committed to giving you the full environmental impact of every item we release. La totale as we say in France.
So this is what goes into, and comes out of each Denim Shirt.
- 7.7 kg of CO2 emissions, which is equivalent to travelling 140 km (87 miles) by car. Here's how our partners at Fairly Made come up with that number link*.
- 4,907 litres of water which equates to 72 five min showers.
- 108 MJ of energy, which is about 36 hours of electric heating for an average flat.
Stroll on over to the preorders
The Denim Shirt preorder opens next Tuesday 10am at 79€ a pop and for a few days only.  There will be 7 sizes available from XS to 3XL.
The sharpshooters will get theirs delivered around the end of September (that's anytime between the 21st and 31st).
In the meantime, you can sign up to get notified or size up to prepare for when you order it next week.
If you have any questions, sweat them out in the comment section below or on our Instagram page.
The Asphalte Team.