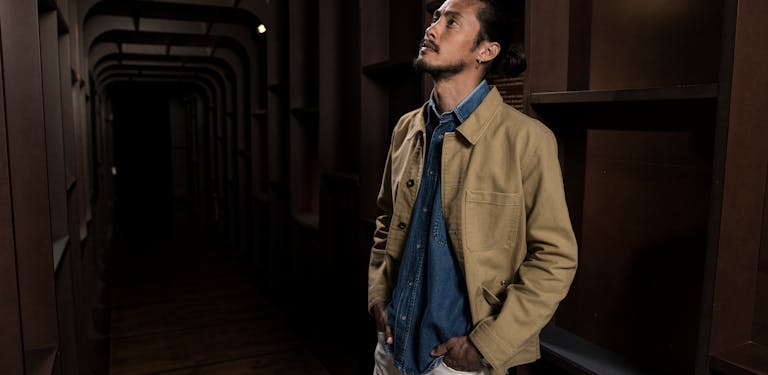 July 27, 2021
Hanks for the memories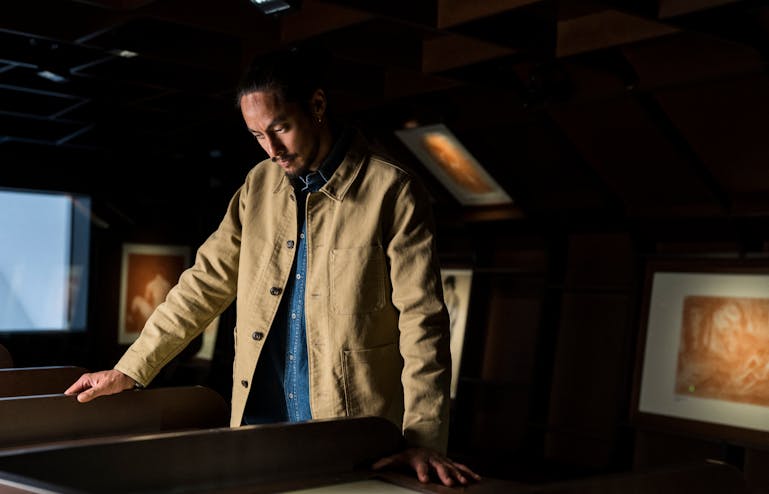 Let's play a game of Would You Rather. Would you rather hang out with Kanye West, or Tom Hanks? Maybe it's a strange question, but an important one. A few things are obvious: if you're looking for sheer entertainment value, then Kanye is your man. No doubt about it. You can almost guarantee he'll be wild, controversial, and unpredictable. You'll certainly come back with some stories to tell.
But what if you fancy a quieter kind of evening? You want to chat about the Great American Novel then be home by 9pm. Well then, Hanks is the choice for you. Both have their merits, undoubtedly, and if you're anything like us your answer would change depending on your mood.
And what if Messrs West and Hanks were items of clothing? Of course, Kanye would be a slouchy and slightly extra-terrestrial down jacket made from wet-look sky blue nylon. Cutting edge and avant-garde, absolutely, but maybe not the sort of thing you'd get a lot of wear out of. Hanks, on the other hand, he's an understated performer, oddly ageless, and has a slight twinkle in his eye. He'd be a moleskin cotton work jacket. Practical, classy, and always in style. A bit like this one:
- A quality fabric that lasts
- Not shaped like a two-man tent
- Made in a range of colours, with some nice details
- Good for wearing in a drizzle
Moles. The snazziest of all subterranean mammals. Burrowing around in their little velvet coats. It's no wonder us humans have tried so hard to copy that nice mole-y texture. What people eventually came up with was moleskin cotton, a cotton twill that's been brushed for a velvety soft effect. It's as close as you can get to the real thing – of course, no moles were harmed in the making of this jacket. And seeing as the work jacket has its origins in France, that's where we went to source the material. A 400g/m2 moleskin, made by the fabric wizards par excellence over at Velcorex.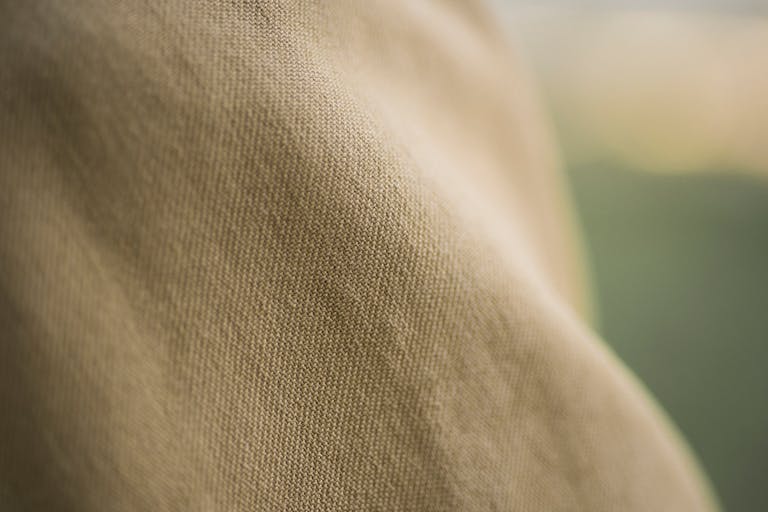 Vintage work jackets are great. They've already got their own stories to tell, their own character from decades of wear and tear. Only thing is, finding one with a decent fit is harder than you'd think as they were seemingly designed to go over your whole wardrobe worn at once. So more often than not the fit is reminiscent of a two-man tent. You wanted that authentic feeling, but with a modern fit. So that's exactly what we've made. The silhouette is neat and tailored, not too baggy, not too slim.
What goes in the pocket stays in the pocket
When you put some money into your savings, you want it to still be there next time you check. Simple enough, right? Pockets are meant to do a similar job, only, they're not always up to the task. Put your keys in your pocket, they should still be there when you get home later. One of the charms of the traditional work jacket is its big patch pockets, but these aren't always the most secure. Thankfully, there's a simple enough solution. We added press studs to our pockets so they close, and stay closed.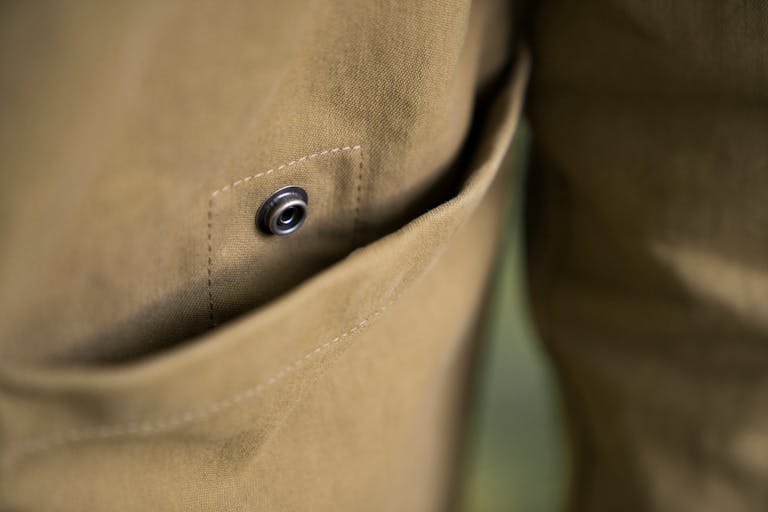 Speaking of pockets, they're not just good for storing stuff. They're good for hands, too. Take a moment to Google pictures of Prince Charles. He's nearly always got his hands stuffed in his jacket pockets. We all know what it's like to feel awkward about being royal - what do you do with your hands? Luckily for us, someone years ago had the forethought to invent pockets. Only thing is, if you spend all your time with your hands in your pockets, they can start to bag and lose their shape. That's why we've taped the openings of our Moleskin Work Jacket's pockets to reinforce them and keep them looking crisp. In fact, we've added crucial points of reinforcement throughout, to make sure this is a jacket that you and your hands will still be enjoying in the distant future.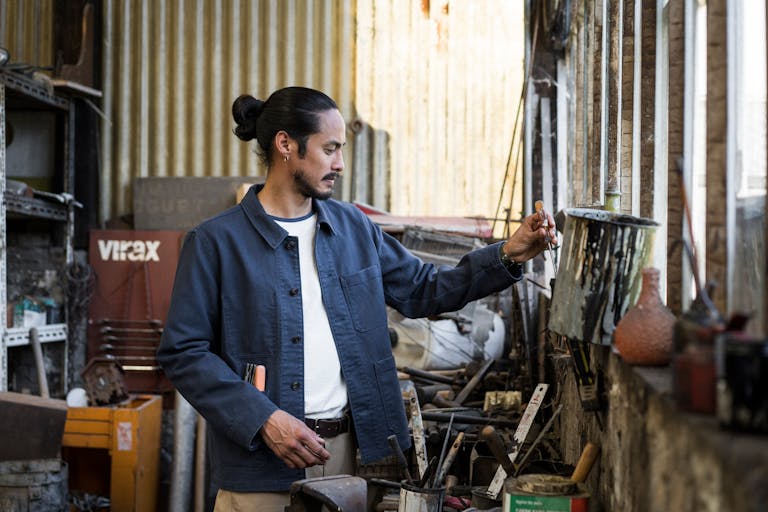 Chipped buttons. Not as enticing as a chip butty, unfortunately. Plastic buttons just don't last that well, and we've all had to go through the minor annoyance of button breakages. Would we go to the trouble of making a top-notch work jacket, only to blow it when it came to the buttons? You know us better than that. Rather than plastic or anything like that, we've gone for Italian horn buttons. Not only are they hard-wearing, but they look a treat, too.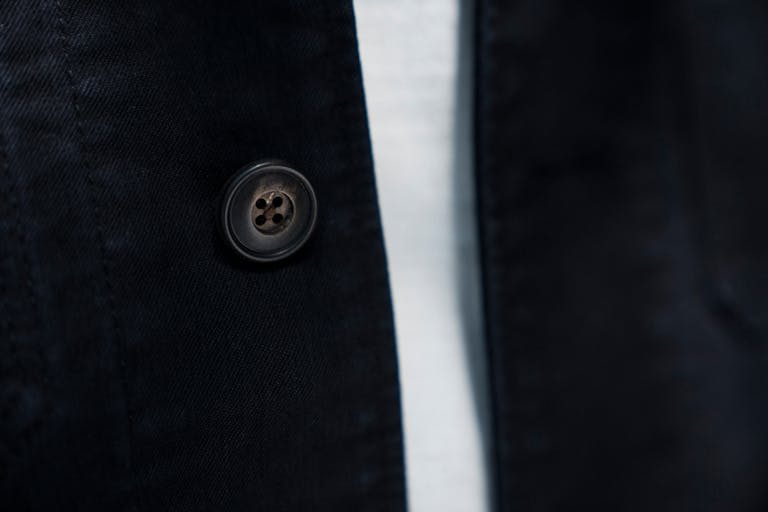 Unless you're lucky enough to live somewhere with perpetual sunshine (and in which case you're probably not in the market for a jacket anyway), you're going to get caught in a shower every now and again. No one wants to lug an umbrella around just in case, so you need a contingency. Again, like Mr Hanks, beneath the Work Jacket's unassuming appearance lies unique talent. Specifically, in this case, that talent is being water-repellent. Admittedly, they're not handing out Academy Awards for water-repellency these days, but you'll be glad of it when the heavens open.
We've given you more choice than those 19th century French artisans had. It's called progress.
Camel – Moles. Camels. Who knew the animal kingdom were such trendsetters?
Navy – Mais bien sûr. There has to be a navy option.
Black – Good for hiding motor oil stains.
What's the environmental impact?
A few months back we committed to giving you the full environmental impact of every item we release. La totale as we say in France.
So this is what goes into, and comes out of each Moleskin Work Jacket.
7.65 kg of CO2 emissions, which is equivalent to travelling 139 km (86 miles) by car. Here's how our partners at Fairly Made come up with that number link.
226 litres of water which equates to 3 five-min showers.
119 MJ of energy, which is about 40h of electric heating for an average flat.
Burrow over to the preorders now
The Moleskin Work Jacket preorder opens next Tuesday 10 am at 99€ a pop and for a few days only.
The sharpshooters will get theirs delivered around the beginning of October (that's anytime between the 1st and 10th of October).
In the meantime, you can check out the size guide below and sign up to get notified for when you order it next week.
And if it doesn't work out when your Moleskin Work Jacket arrives, returns and exchanges are easy. The return costs are on us.
Anything else on your mind, give us a heads up on our International IG Account.
The Asphalte Team