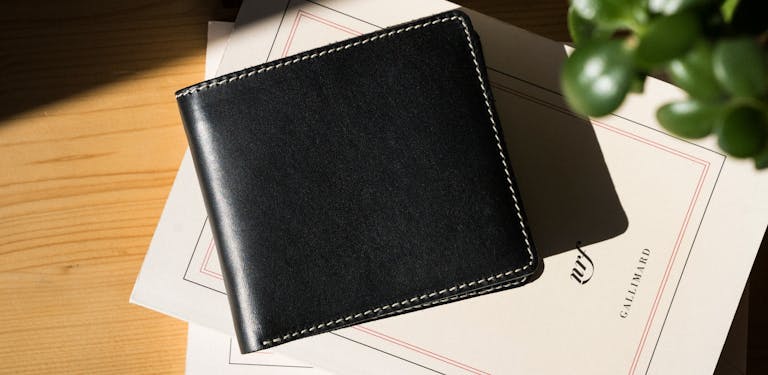 July 27, 2021
For a few dollars more... 
For all their years of service, don't your credit cards deserve somewhere better to live?
If wallets weren't important, would A Tribe Called Quest have written a song about them? That's a rhetorical question, don't worry. And admittedly, that song isn't about wallets, per se. But when Q-Tip got back to Brooklyn and realised his wallet was still in El Segundo, he was devastated. You couldn't shut him up about it.

Sure, part of his frustration was in losing the money. But if that wallet hadn't had a dollar left in it, he'd still be mourning its loss.
In a chaotic world, your wallet is a constant, even if your bank balance isn't. It's there when your horse wins the Grand National. And it's there when your utility bill comes in before payday. Okay, it's just a bit of leather, maybe you don't have an emotional connection to your wallet. But imagine if your wallet could talk! What would it say? Maybe, 'Please, I'm so tired, let me rest.' Time for a new one, perhaps.
Time you threw that elastic band away
Sounds like plenty of you are in the market for a good wallet. Here's what you didn't want: 
1.   A product that doesn't age gracefully
2.   Poor quality leather that marks or discolours
3.   Not enough slots for all your platinum cards
4.   Seams that can't take the strain of all your spending
I wanna know, have you ever seen the Grain?
Full grain leather. Are there three more beautiful words in the English language? If there are, we've not heard them. Full grain leather is basically real deal leather. It's the highest quality part of the hide, and is left pretty much in its natural state, as it doesn't require any unnecessary treatment. Thing of beauty.
Our full grain leather comes from Italy. Is that important? Well, as a matter of fact, it is. There's a reason why you've heard Italian leather mentioned so much. It's a byword for quality, for the crème de la crème, or whatever that phrase would be in Italian. The fine folk who run those tanneries know a thing or two, and most of them come from a long line of tanners.
Vegetables: Not just good for your health
The leather we've used for the wallet is vegetable tanned. Sounds delicious, we know. What it means is that the leather is dyed using natural materials – bark and leaves from oak trees, no nasty chemicals. Who knows where these wise old Italians get their oak leaves from, but judging by the stellar end result, we'd be willing to bet they're nicer leaves than the ones you've scooped out of your guttering.
Another advantage of a full grain, veg-tanned au naturel leather is that it ages nicely over time. "But wait!", we hear you cry, "We specifically asked for a leather that doesn't mark!" Well, there's marks and there's marks. Chrome dyed leathers will look a lot more artificial, and not hold up as well over time. The veg-tanned variety, however, will wear in gently, and start to take on personality over the course of its lifetime, a bit like you. This is what we call 'patina.' Trust us, it's a good thing.
The chunky wallet has a bad reputation, and rightly so. No one wants their wallet to be bulging out of their jeans pocket, like a pack of cigs stashed in the t-shirt sleeve of a 1950s street tough. No, discretion is the key, here. We've made our wallet so it's just 10mm in thickness – turn it sidewise and it will practically disappear.
More robust than your credit score
And finally, with a spending habit like yours, a wallet needs to be made of tough stuff. We can't have it falling apart on you just as you're getting going, now, can we? All the stitching is made using a wax thread with reinforcement stops, and the compartments are lined in a sturdy cotton twill.
Three timeless tones to choose between.
Black - Take your finances seriously
Dark brown - The most requested option
Light Brown - Good enough to eat
A few months back we committed to giving you the full environmental impact of every item we release. La totale as we say in France.
So this is what goes into, and comes out of each Leather Wallet.
- 0.47 kg of CO2 emissions, which is equivalent to travelling 8,4km (5 miles) by car. Here's how our partners at Fairly Made come up with that number link*.
- 4.25 litres of water used from farming to making the finished jumper, which equates to a brisk 20-second shower.
- 7.49 MJ of energy, which is about 2.5 hours of electric heating for an average flat.
From the cow farms in France and Switzerland to making its way to the confection factory, your Leather Wallet travelled 4.374 km (2.717 miles).
Our advice, never underestimate the benefits of a good wallet.

Our Leather Wallet is available to preorder for 69€ from Tuesday 22nd to the 27th of June.
For the sharpshooters, your Leather Wallet will land on your doormat around mid-September. The following batches will drop around mid-October.
And if it doesn't work out when your Leather Wallet arrives, returns and exchanges are easy. The return costs are on us.
Need to know anything else? Ask away via the comments below, or alternatively, you can check our international Instagram page for more info.
Cheers,
The Asphalte Team