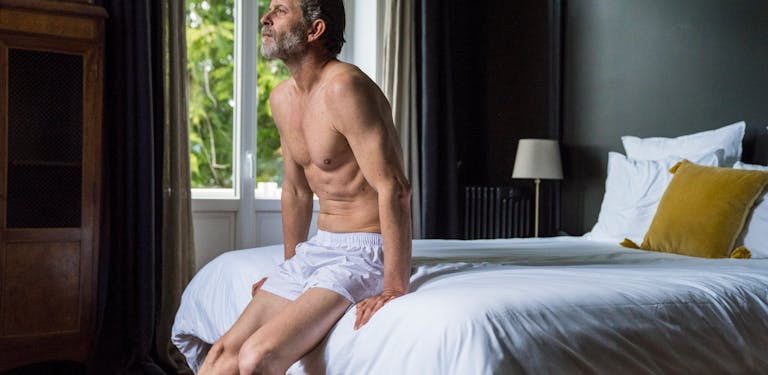 July 28, 2021
And the Winner Is…
You take care with the rest of your clothes, so don't blow it when it comes to your boxers.
It's that same old recurring dream. You're sitting in your seat, anxiously awaiting the announcement. They open the envelope and read your name: the Oscar for Best Actor goes to you! You walk up there and start your gracious speech. Only, you're not dressed for the occasion. In fact, you're not dressed at all. You're stood at the podium in nothing but your smalls. Meryl Streep doesn't look impressed.
It wouldn't be so bad if you had some decent Boxer Shorts on, rather than those sad, threadbare shorts that should have been put out to pasture a long time ago. If you were wearing premium Italian cotton, with mother of pearl buttons and a special French-made waistband things might play out differently. Suddenly that deathly silence becomes a standing ovation.
We asked you, the Asphalte voting council, and here's what you said it takes to land the Best Underwear award:

- Comfortable, first and foremost
- Durable, as well
- Not too baggy, not too long
- Made from pure cotton
If we're talking about boxers then comfort is key, and a big part of that comfort comes from the fabric itself. We didn't want these to remind you of the cheap, synthetic pants your mum used to buy you in three-packs from the supermarket. No, this is a 103 gram/m2 organic cotton from Egypt, woven in a two-ply fashion in Italy. It's light, smooth, durable, comfy, and just a tiny bit luxurious.
Don't let your standards slip
You wouldn't want plastic buttons on your shirts, so why should your pants be any different? Top notch natural mother of pearl buttons are the order of the day here. Sure, no one's going to see them, but you'll know in your heart, and that's all that matters.
Details only you will see
And on that subject, the boxers are finished with a care and attention that a lot of people wouldn't put into a pair of pants. It's not like you'll be getting 'nice pants, Steve!' comments when you stroll into the office on a morning, after all (please make sure you wear your trousers in to work). A top-stitched button flap, a side slit for comfort. It all makes a difference.
We've made our Boxer Shorts with a mid-thigh length, which you let us know is ideal. And we feel you're right: Too short and you're flirting with disaster. Too long, and you might as well be wearing two pairs of trousers at once. And if you're partial to a pair of short shorts in the summer, then the last thing you want is your undies peeking out the bottom. No such problem here. Crisis averted.
The Boxer Shorts are made in Portugal, but we went to the French waistband specialists at Berthea to craft the extra-comfy elasticated waistband for each pair. That's how serious we are about good pants. Berthea have a special machine that's designed explicitly for sewing waistbands, so as to ensure maximum durability, as well as comfort. You won't have to worry about the elastic in these giving up the ghost too soon.
We might give the impression that we dish out all the hard work to a crack unit of scientists and specialists, but we aren't averse to rolling up our sleeves when the occasion calls for it.
The Boxer Shorts were rigorously comfort tested by the Asphalte team, who bravely put these pants through their paces until we arrived at the perfect pair. Oh to be a fly on the wall for those Monday morning meetings.
We've kept the options classic.
Navy – Boxers that mean business.
Blue Check – Italian checked poplin's not just for shirts, you know?
Navy and Red Stripe – If you're feeling jaunty
Navy Stripe – Even your pants are classy
What's the environmental impact
A few months back we committed to giving you the full environmental impact of every item we release. La totale as we say in France.
So this is what goes into, and comes out of each Boxer Shorts.
1.8 kg of CO2 emissions, which is equivalent to travelling 33 km (20.5 miles) by car. Here's how our partners at Fairly Made come up with that number link.
32.1 litres of water which equates to a 2.5 min shower.
27.3 MJ of energy, which is about 9h of electric heating for an average flat.
Preorder some premium pants
The Boxer Shorts will be available to preorder for 24€ from the 15th of July. If you want first dibs, you can sign up below and we'll be sure to notify you when you can grab one.
For the early risers out there, the first batch will be delivered around the beginning of November.
Swot up on the size guide below to prepare for the preorder starting next Thursday.
And if it doesn't work out when your Boxer Shorts arrive, returns and exchanges are easy. The return costs are on us.