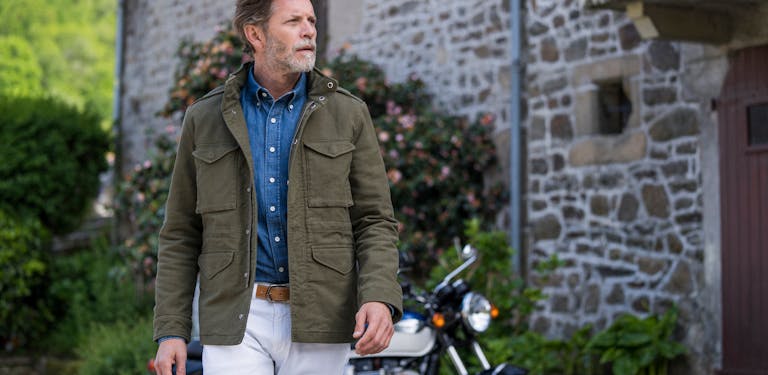 July 27, 2021
A military masterpiece
A hard-wearing functional classic, made from organic cotton moleskin
If there was ever such a place as the 'Outerwear Hall of Fame', there'd have to be a full wing dedicated to the M-65 Jacket. Picture it—a military spec khaki-cotton carpet on the floor… Rambo's Yamaha in the corner… countless black and white photographs of cool counter-cultural cats pinned to the walls. 
Yep, as far as history and heritage is concerned, this utilitarian wonder is top of the tree. 
Originally created in 1965 as a field jacket for the US Army—reappropriated by anti-war protestors—worn by pretty much every grizzled anti-hero who's graced the silver screen—it's pretty much what the word 'classic' was invented for. We knew ours had to be pretty special.
When it comes to clothing, you lot know your onions, so we always like to make sure you get a proper hand in the design process. As Patti Smith says, the people have the power. 
When we put the word out on our metaphorical Tannoy that we were on the quest to make the perfect M-65, you were quick to radio in with your input. You wanted a sharp, tailored fit, hard-wearing cotton fabric and a high level of attention to detail. Oh yeah, and on the subject of details, you were keen for us to keep those trademark shoulder epaulettes too. Roger that, Roger.
No moles were harmed in the making of this jacket
The M-65 has a bit of a reputation for being a tough cookie—sort of like the jacket equivalent of Vinnie Jones—so making one out of light, flimsy fabric wouldn't be right. Nope, a serious jacket like this demands serious fabric. 
Ours is made from 380 g/m2 organic moleskin cotton. To help put that in perspective, our Western Shirt—which is plenty tough—is made from 240g/m2 denim. So you don't need one of those bionic headsets that Jean-Claude wears in Universal Soldier to understand that 380g/m2 is suitably hefty. 
It's comfortable too, and as it's moleskin, it's got a soft, almost 'suede-esque' texture that feels a lot more luxurious than most military fabrics out there. Because it's been washed, there's no awkward breaking-in stage, as it already has that soft, worn-in feel, straight out the gate. If all that wasn't enough, we've also added an organic cotton poplin lining too, making things even more wearable.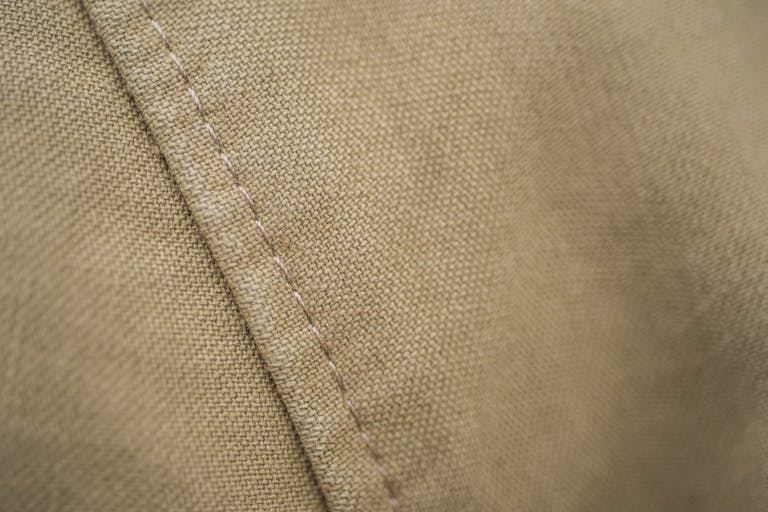 You told us you wanted everything in its right place, and we were happy to oblige. After all, an M-65 wouldn't be an M-65 without four big pockets on the front and those epaulettes on the shoulders. Taking cues from vintage pieces, we kept these trademark features firmly in place, whilst adding another nifty inside pocket perfectly suited for top secret documents and prized snacks.
Another design quirk we're fond of is the aptly-titled 'action back'—that's that gusset detail near the shoulders which help with swinging your arms about. This was originally added to help with general Action Man activity like steering little Jeeps and lobbing grenades, but these days it comes in handy for sun salutations and changing light-bulbs. Ours uses elastic so it'll fall nicely back in place, and has built-in air vents for when the mercury rises.
As for hardwear, we kept things hardy. We're talking YKK zips, chunky metal press studs and horn buttons. Remember the scene in First Blood where Rambo spent half an hour painstakingly sewing a new button to his jacket? Us neither. It didn't happen to him, so it shouldn't happen to you.
Stowaways might be the scourge of train-drivers across the land, but they're pretty handy when it comes to jackets. Our M-65 features a stowaway hood craftily hidden in the collar, which can be deployed within seconds when the clouds decide to open.
Anyone who's forked out on an old M-65 will know that a lot of the original hoods were cut out by scissor-happy surplus store owners. Not ideal when you get caught in a biblical downpour, so we kept ours in.
Whilst you were keen to keep the traditional details firmly in place, one thing you were happy to leave behind in the 1960s was that short, wide and boxy shape that old M-65 jackets can often have. Heeding your call, we brought ours up to date with a more contemporary tailored shape that's more generous in the body, with longer sleeves that don't end half way down your forearms. Bad news for Danny Devito, good news for the rest of us.
Our cotton comes from a GOTS-certified grower in Tanzania, and was woven by Velcorex here in France. Founded in 1828, this is a progressive company who are world-renowned for creating hard-wearing fabrics. Like us, they're dedicated to doing things in a safe, sustainable way.
The jacket itself was constructed by Pelintex in Bulgaria. We've worked with the team here a fair few times now, and are alway bowled away by the work they do. Judging by your feedback, we aren't the only ones.
A good portion of the M-65's endless appeal must surely lie in the fact that it can be worn with damn near everything. We could happily list off all the ways you could wear this thing, but why waste your time? 
You know this will look ace with a pair of selvedge jeans and a chambray shirt, and you also know that it'll work great with a hoodie and some trainers. And let's not even get started on how good it'll look over a suit...
As for colours, you told us you wanted three time-honoured military tones. What can we say, you've got good taste.
It goes without saying that there's Military Green—this one's not just for Super Army Soldiers.
And then there's Camel—a heavyweight jacket, in a lighter shade.
And finally, we've got Navy—the stealthy option.
What's the environmental impact
A few weeks back we committed to giving you the full environmental impact of every item we release. La totale as we say in France.
So this is what goes into, and comes out of each M65 Jacket
- 14.6 kg of CO2 emissions, which is equivalent to travelling 265km (164 miles) by car. Here's how our partners at Fairly Made come up with that number link*.
- 709 litres of water which equates to 10 five-min showers.
- 248 MJ of energy, which is about 84 hours of electric heating for an average flat.
The M-65 Jacket will be available to preorder for 179€ from the 22nd of June up until the 27th of June.
And for those who're wondering, if it doesn't work out when your M-65 Jacket arrives, returns and exchanges are easy. The return costs are on us.
You can expect the M65 Jacket to land on your doormat around the end of Septembre (that's anytime between the 21st and the end of the month).
Need to know anything else? Ask away via the comments below, or alternatively, you can check our international Instagram page for more info.
Roger that?
Over.
The Asphalte Team