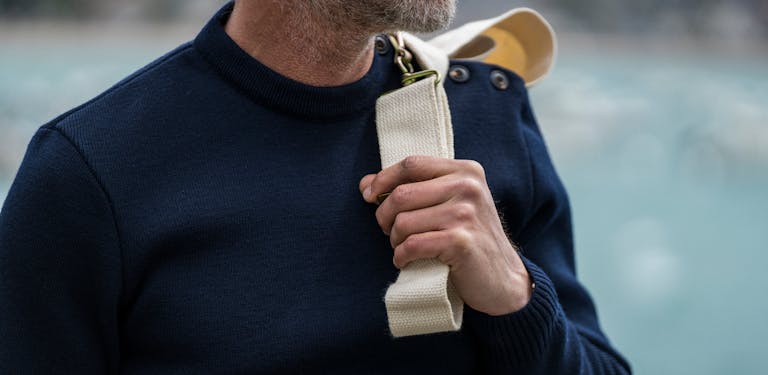 July 27, 2021
Care Guide for the Sailor's Jumper
Getting your head around it shouldn't be too hard.
We worked with our makers to ensure your Sailor's Jumper has a long lifespan. But it is still a piece of knitwear, and a bit of simple care to stay looking ship shape. 
Getting your head around it shouldn't be too hard, whether you need to open 2, 3 or 4 buttons to do so. No judgments. But in any case, no need to pull on the collar, your jumper might pull a face.
You don't. Simple as. Best thing to do here is to bring it to the dry cleaners once a year. Maybe twice if you've fallen overboard. 
Wool is an organic fibre made of keratin. The good news is that keratin takes care of bacteria responsible for bad smells.
And if your jumper has soaked up the smells of your night's dinner or passively inhaled the smoke of nearby smokers you can easily freshen up, by simply hanging it up outside for a few hours, and let the trade winds do their thing. 
Last tip before sailing off
It beats us but if you do wish to iron it, use a low setting (100°C max) and a few presses only so as not to scorch the fabric. 
That's it from us. 
We'll be back in touch in a couple of weeks to see how you're getting on. If you have any comments in the meantime please do share them, however minor –positive or negative – by getting in touch:  help@asphalte-paris.com*.
Thanks again,
The Asphalte Team