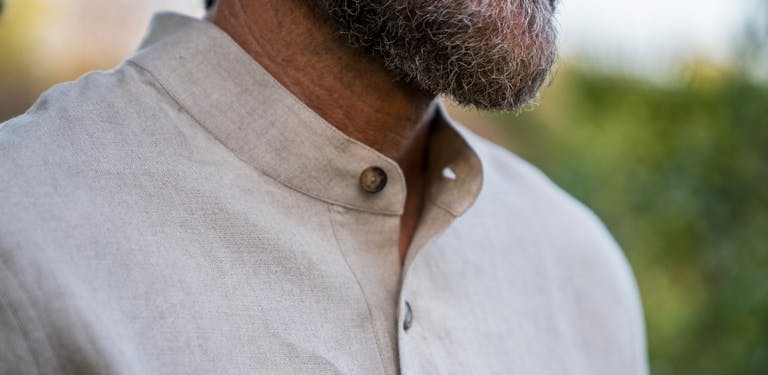 July 27, 2021
Care guide for the Grandad Collar
A Grandad Collar Shirt you can wear all year? With the right care, sure thing.
All care instructions are covered by the care label sewn into the shirt, but here are a few tips all the same.
Linen is a very durable material and doesn't really suffer from high temperatures as much as other fabrics. Having said that, it's not a big fan of being roughed up in the wash so we recommend not going above 600rpm to not damage the fibres.
We also recommend washing with similar colours and if possible similar fabrics too: Linen isn't big on synthetic fibres and could start making a fuss if bundled all together in the wash. 
You may want to invest in a laundry bag which will help minimise friction with the machine drum and the other garments.
Step 2: Hang me out to dry
Linen is a thermoregulating and breathable fibre, which means it'll dry in no time.  So you can save it the unnecessary spin in the dryer, which could damage the fibres by overly creasing it. 
And in the end, it's actually quite easy, let it air dry in the shade on a hanger so it keeps its original shape. A wooden hanger is generally the way to go.
1 law, 2 schools. 
- Those who like a freshly pressed linen shirt, for a brushed up look that doesn't go overboard.
- Those who crave linen's true spirit, its raw feel, rustic edge and bask in the charm in the shirt's natural state.
Don't ask us to pick favourites here, our Grandad Collar Shirt works for both. If you're into ironing your shirt, you'll need to do it with a very hot iron on the reverse and we recommend using a damp cloth to avoid scorching it. You'll probably need to spray some water on it before laying it on the ironing board.
Extra tip: Abstain. Nice and easy does it.
Depending on the culprit, there are several cures for stained linen.
- If it's drinks going overboard, we suggest applying a little salt.
- Bloodstain, a generous amount of cold water and a bit of patience will do the trick.
- For the ever punctual Monday morning coffee stain, white vinegar will save the day.
- If you used your Shirt (and not the jumper as required) for goalposts, you'll be able to work off the dirt with natural soap and any grass stains with a few drops of lemon juice. For the goals you conceded we can only offer our sympathy. 
- Ink stains for the poets out there. Don't let that cut your inspiration short, a few drops of rubbing spirit will take care of that.
- Fatty stains, washing liquid generally works or black soap for the gourmands out there. 
If you take care of it properly, your Grandad Collar will age gracefully over time. A little TLC gets you a long way. 
If you have any questions fire away here help@asphalte-paris.com
Have a good summer.
The Asphalte Team.