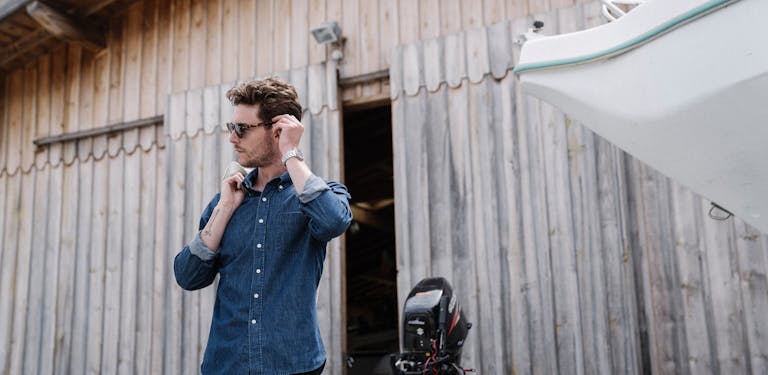 July 27, 2021
Care Guide for the Denim Shirt
Even tough-guy shirts need a little TLC
We sourced the denim for your shirt from Japan Blue Co., via the Nomura Mill in Okayama. That might not mean much to you, but if you know anything about Japan's reputation for denim, you'll know it's an assurance of quality. We've also used some top-notch mother of pearl buttons that are guaranteed to stay the course.
1/ We suggest machine-washing it on a cold setting - 30°C max with similar colours, or alternatively you can wash it by hand. Rinse it using a max 900rpm spin cycle.
2/ Steer clear of the tumble dryer. Your Denim Shirt hasn't undergone any anti-shrinkage prewash, so it could end up looking like we've branched out into kids' clothes. 
3 / Iron it inside-out and on a low setting. Avoid the seams if you can. Make sure your iron's clean as a whistle, otherwise it could leave marks.
4/ For those who ordered their Denim Shirt raw (i.e., the one with the most dye left in it), the colour might bleed a tad, so we recommend washing with similar colours. 
So there you have it, you now know everything there is to know about looking after your Denim Shirt. If we've missed something or you have any questions hit us up in the comment section below or here help@asphalte-paris.com.
We'll be back in touch in a couple of weeks to see how you're getting on.
Until then,
The Asphalte Team: