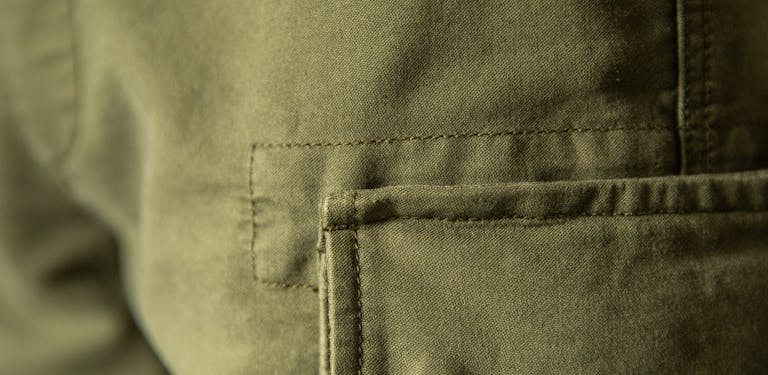 July 27, 2021
Care guide for the Cargo Shorts
Cargo Shorts that can carry you and your belongings on long adventures.
Cut in a 275 g/m2 cotton sateen and made in Portugal by Pinha Mansa, your Cargo Shorts and their six pockets are in for the long run. Here's how to make even more sure of it.
Simple. Undo the zip and buttons to avoid any unnecessary tension points and turn them inside out before tossing them in the washing machine.
Wash at 30°C with similar colours and make sure the wash program finishes on a max. 800rpm spin cycle to get rid of excess water. Don't go any higher, it won't speed anything up and it could risk damaging the cotton.
Dry cleaning is an option. NO bleach though.
After taking them out of the washing machine, roughly stretch the seams with both hands to take out some of the larger creases. Either put them flat or hang them up to finish drying, away from direct sunlight. 
NO tumble drying. This is not only good for your Shorts, but also for reducing energy consumption.
Not everyone irons their casual shorts, but for those of you who do, just before they're totally dry, use a cool iron – the one dot setting of a max 110°C.
So there you have it, you now know everything there is to know about looking after your Cargo Shorts. If we've missed something or you have any questions hit us up in the comment section below or here help@asphalte-paris.com.
We'll be back in touch in a couple of weeks to see how you're getting on.
Until then,
The Asphalte Team: